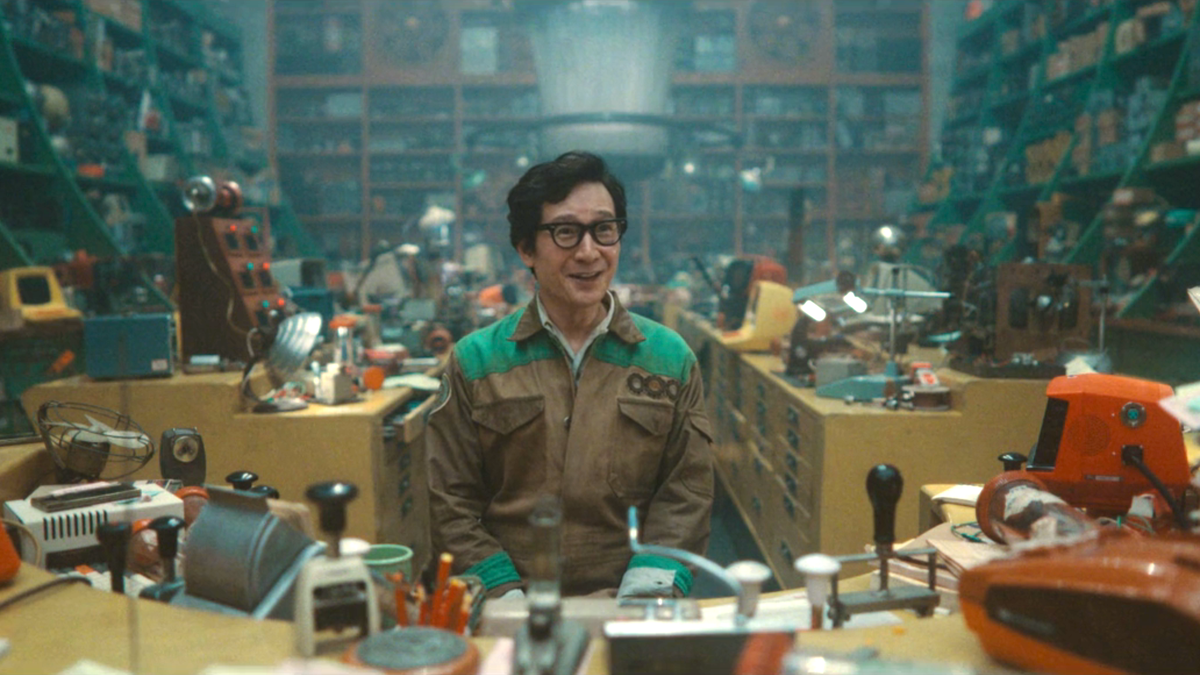 The following story contains light spoilers for Loki Season 2, Episode 1, "Ouroboros."
---
IF THERE'S ONE thing Marvel Studios has always been good at, it's nabbing talent at the best possible time. With Loki Season 2 that's on display more than ever, as the MCU's first-ever second-season-of-a-TV-show is coming not only to continue the time-traveling, universe-sweeping story that Season 1 set up, but to introduce new characters—including one played by someone who won an Oscar less than a year ago.
Loki (Tom Hiddleston) is trying to work with Mobius (Owen Wilson) to get to the bottom of whatever happened after he was shoved through a time door by Sylvie (Sophia Di Martino) in He Who Remains' palace at the void at the end of time. But then something else has starts to happen: he "time-slips," meaning he's jumping back and forth between the past and future of the TVA. Mobius knows exactly what to do.
Enter Ouroboros, a master technician of sorts who lives/works (work/life balance at the TVA… not a thing) deep beneath the TVA HQ, essentially controlling every piece of technology, logistics, and more in the whole joint. He's played by Everything Everywhere All At Once and Indiana Jones and the Temple of Doom star Ke Huy Quan, meaning Ouroboros—or, O.B. for short—has some instant charisma, which goes a long way when he's getting fairly deep into timeline-hopping, universe-jumping, mumbo jumbo.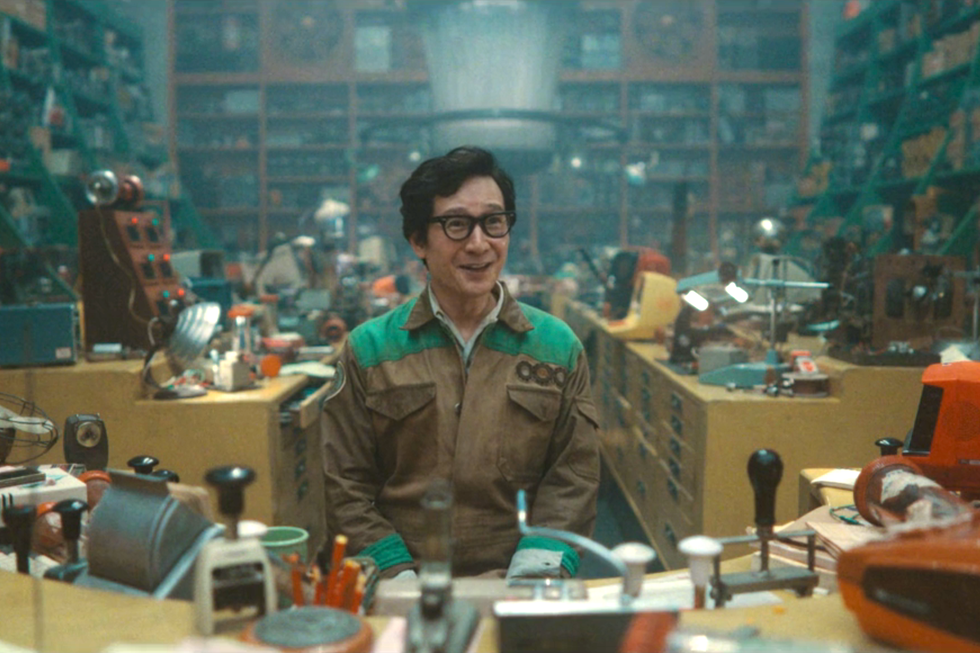 Marvel Studios
Oh and that name? "Ourorboros" is a term from ancient mythology that typically represents the image of a snake that's eating it's own tail. So, very much playing into the "For All Time. Always." theme that Loki has long established.
Ouroboros is along for the Season 2 ride with Loki and Mobius, giving both very detailed instructions in the season premiere—hence the title of the episode being his name—that allow them to fix Loki's time-slipping, and get back on the straight and narrow track. As they move toward their presumed season goal (to find Sylvie and stop Kang the Conqueror/He Who Remains/Victor Timely), it's nice for our heroes to know they've got a resource in Ouroboros… if there doesn't turn out to be a bit more to his story as well.
Ke Huy Quan, the reigning winner of the Best Supporting Actor Oscar, plays Ouroboros in Loki.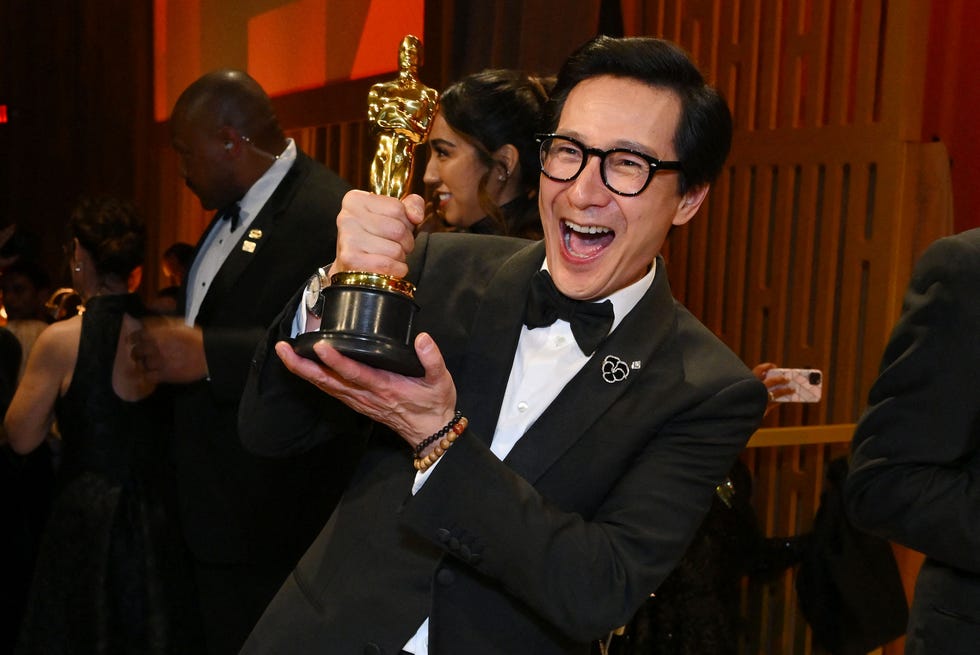 ANGELA WEISS//Getty Images
Between 2022 and 2023, actor Ke Huy Quan mounted one of the most incredible and exciting comeback stories in Hollywood history. Previously best known for his role as Indiana Jones' sidekick Short Round in Indiana Jones and the Temple of Doom, the now-52-year-old actor appeared in 2022's multiverse-hopping adventure film Everything Everywhere All At Once and gave the performance of a lifetime. Playing several different versions of his character Waymond Wong, Quan earned universal praise that led to what was essentially an awards-season sweep in the Best Supporting Actor category, ending with a phenomental moment as he won the Academy Award (and reunited with his old pal Harrison Ford).
Part of Quan's remarkable comeback comes from the fact that the industry was rough on him for the decades between his major roles. At one point, he was working as a stunt coordinator on movies like X-Men (2000), and at another point he had walked away from acting all together .
In addition to his talent as an actor and stunt performer, though, Quan has a noted infectious personality; he clearly is so thrilled and excited for everything happening in his life, and this comes across not only in his speeches and interviews, but on social media as well. He posted selfies with just about everyone he met over the course of the year, and each post was great in its own way.
In addition to his role in Season 2 of Loki, Quan also appeared earlier this year in Disney+'s American Born Chinese, and will next appear on the big screen in The Electric State, an action movie directed by Avengers: Endgame helmers Joe and Anthony Russo.
Is Ouroboros a character in the Marvel Comics?
Marvel Comics
Well… kind of. There are a number of occurrences within the Marvel Comics where the name "Ouroboros" comes up; sometimes in the cosmic outer space lore (a 2022 appearance in Marvel's Contest of Champions had a group opposing the Elders of the Universe called Ouroboros), and other times either as a conduit for a certain type of magic in Doctor Strange, and other times as a character named "Admiral Ouroboros," who shows up in a Silver Surfer story.
The closest Ouroboros for our purposes, though, is one that's spelled slightly differently. In a 2005 She-Hulk comic written by Dan Slott, a judge for the TVA named Mr. Orobourous (note the spelling) made an appearance, himself a clone of a Marvel character named Mr. Paradox. The TVA setting is about the only connection between this Mr. Orobourous and the Ouroboros featured in Loki Season 2, though, as the one in Loki is not a judge (we saw those already, including Judge Gamble, played by Liz Carr), and seems to be kind of doing his own thing in his own world.
Safe to say that the MCU is letting the Ke Huy Quan Ouroboros blaze his own path through time.

Evan is the culture editor for Men's Health, with bylines in The New York Times, MTV News, Brooklyn Magazine, and VICE. He loves weird movies, watches too much TV, and listens to music more often than he doesn't.