Image: Mark Hachman / IDG
At a glance
Expert's Rating
Pros
Two HDMI ports should appeal to PC users
Nice broad port selection…
And an extra Thunderbolt 4 port, too
Cons
Too much instability
Smartphone charging falls to the extra Thunderbolt port
Our Verdict
Kensington's Thunderbolt 4 Dual 4K Docking Station (SD5760T) is a full-featured premium Thunderbolt 4K dock with outstanding specs. Stability issues mar its performance, however.
Best Prices Today: Kensington Thunderbolt 4 Dual 4K Docking Station (SD5760T)
£277.78
$301.13
Put simply, the Kensington Thunderbolt 4 Dual 4K Docking Station (SD5760T) is a premium Thunderbolt 4 dock whose dual HDMI ports should be perfect for the majority of PC users. On paper, anyway. Persistent stability problems mean that I can't totally recommend it.
Prior to this, I've reviewed three Kensington Thunderbolt docks to date: the SD5500T, the SD5780T, and the SD5700T, all winning an Editors' Choice awards. Of the three, only the SD5500T included a pair of dedicated display ports — DisplayPort, in this case. If you want a full-featured Thunderbolt 4 dock with a pair of the most commonly used HDMI ports instead, the SD5760T is what you're looking for.
Remember, Thunderbolt 4 was designed as a tighter, more restrictive Thunderbolt 3 specification to ensure compatibility and stability. This means that you'll really want to own a laptop with Thunderbolt 4 ports for the best experience. Thunderbolt 4 and USB 4 are virtually identical, so don't expect any problems with an AMD Ryzen-powered laptop with USB4 inside.
Further reading: See our roundup of the best Thunderbolt docks to learn about competing products.
Kensington SD5760 specs and features
The SD5760T is a big dock; a little shy of 9 inches long and 3.5 inches wide, with a chunky power brick that's a couple inches shorter. This is clearly a docking station, made from the same plastic construction as other Kensington docks. I didn't experience any thermal issues, however.
The size, though, accommodates a number of ports. There's maybe just a bit less flexibility than the Plugable TBT3-UDZ, which includes both DisplayPort and HDMI display connections, but it's more than enough.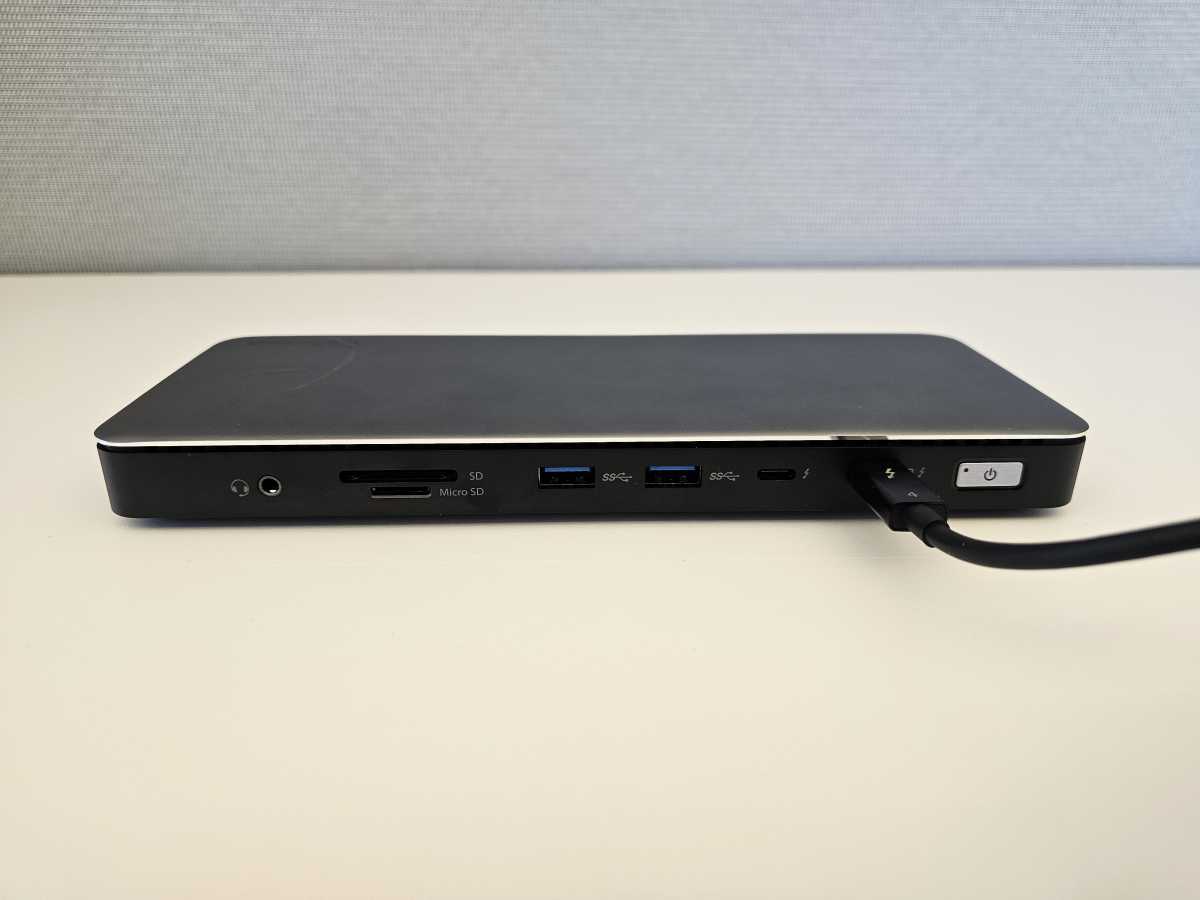 Mark Hachman / IDG
On the front of the Kensington SD5760T are a pair of 5Gbps USB-A ports, an upstream/daisy-chainable Thunderbolt 4 port, as well as a second downstream Thunderbolt 4 port that supplies up to 96W of charging power to your PC via a cable measuring about 2.5 feet. There's also a (UHS-II) microSD and SD card slot, a 3.5mm audio/mic port, and a power button for good measure.
On the back, the SD5760T includes two undisclosed HDMI ports capable of 4K60 resolution, two 10Gbps USB-A ports, a 10Gbps USB-C port, and gigabit Ethernet. Two Kensington locks, naturally, have been built into the side of the dock. Everything is well marked.
How well does the Kensington SD5760T perform?
The SD5760T's charging capabilities are disappointing from one perspective: Both the USB-A and USB-C ports put out about 2.5W to 2.6W, which is enough to charge a smartphone, but only slowly. Most competitors have a dedicated port that can be used for phone charging. On the other hand, if you're not using the second dedicated Thunderbolt 4 port (not the downstream Thunderbolt 4 port, which connects the dock to your PC) then that port can charge a phone and then some. It puts out 11.4W by our measurements, which will fast-charge a smartphone.
There's one aspect of the SD5760T that I have concerns about: its stability. I typically review a dock over the course of a few days, evaluating it in real-world conditions as well as specific test environments.
What I found with the Kensington's SD5760T stability
I began with the SD5760T that Kensington provided for review.
Kensington's SD5760T was generally stable to begin with, though the dock disconnected three times during a Teams call, during which the Ethernet cable was connected to the dock, along with the two test displays. But it also disconnected, then reconnected the displays, on two random occasions the next morning. Thunderbolt docks aren't always known for consistent operation, especially with variances in the hardware and cables. Any disconnects and glitches are annoying, though, and these happened a bit more than I would have liked. (Incidentally, Kensington attaches a three-year limited warranty to the SD5760T.)
Mark Hachman / IDG
Kensington does provide a Dockworks software utility, which I didn't initially install. The utility's documentation doesn't make any explicit promises about stability, just "performance." It's there to allow you to prioritize either Ethernet versus Wi-Fi (if your setup allows it) and allows the dock to mirror your Ethernet's MAC address, for easier networking. (Weirdly, I was able to download and install Dockworks, but never actually launch the application.) I gave the SD5760T an extra day of testing while the Dockworks utility was running (as confirmed by Windows Task Manager).
Surprisingly, the problem worsened. On a Microsoft Surface Laptop Studio, the disconnects happened so frequently that I considered disconnecting the dock entirely. Similar issues occurred when testing on other laptops. (I use a suite of Intel Evo laptops, which Intel engineers test for Thunderbolt performance and other experiences.)
Occasionally I receive a review unit that proves defective, so I asked Kensington for a replacement. I then tested the second SD5760T for an additional 24 hours over the course of two days.
While the dock's stability noticeably improved, it still dropped the display connections three times during a 30-minute Microsoft Teams call. While that was the only time the replacement dock glitched, I think that would be too much for most users. Our review (and our lack of an Editor's Choice award) is largely based upon this, versus my experiences with rival docks.
From a performance standpoint, both instances of the SD5760T dock performed on par with its competition in terms of transferring data over the bus and writing to an SSD. I was able to watch our 4K test video without dropping any frames, even when writing to the SSD. The various ports performed as expected, too.
Should you buy the Kensington SD5760T?
Kensington's SD5760T is priced a bit higher than the SD5500T, a Thunderbolt 3 dock that's predicated on the DisplayPort standard. However, I think the SD5760T's dual HDMI ports will have the broadest appeal among Kensington's Thunderbolt 4 docks. The SD5760T might not support every port that a user will ask for, just the ones that they'll use most often.
That being said, while the other Kensington docks we've reviewed have been excellent, the SD5760T's stability issues make it an exception. Based upon my testing, I wouldn't recommend it.
Best Prices Today: Kensington Thunderbolt 4 Dual 4K Docking Station (SD5760T)
£277.78
$301.13