Image: Michael Crider/Foundry
At a glance
Expert's Rating
Pros
Typical Keychron build quality
Bluetooth and 2.4GHz wireless
Lots of extras
Cons
No per-game programming
No adjustable typing angle
Takes forever to disassemble
Our Verdict
The Lemokey L3 offers a lot of what we love from a Keychron board, such as top-notch build quality and customization, and even makes a few nods to gamers with 2.4GHz wireless and some extra programmable keys, but it falls short of matching the best wireless gaming keyboards out there.
Best Prices Today: Keychron Lemokey L3 keyboard
Keychron is a favorite here at PCWorld. The Q1 Pro has had a spot at the top of our best keyboards list ever since it was released. So the brand's very first shot at a gaming keyboard, along with the new Lemokey sub-brand, was a big deal to me. The L3 might just be the perfect intersection of gaming and premium mechanical keyboard designs. 
It might be, but it isn't. Despite the new label, the L3 is more or less a re-skinned version of the existing Keychron baseline design, with an extra USB-based wireless option. Aside from the faster wireless and the extra programmable keys, there really isn't much extra to make this board stand out for gamers specifically. It's lacking per-game programming options in particular. 
While Keychron's signature laundry list of features and excellent build quality are present, I can't help but find that this first shot at the gaming market is a bit of a miss. Those who want a Keychron with 2.4GHz wireless will be pleased with the Lemokey L3, but gamers used to more robust software options will find it limiting. 
Further reading: See our roundup of the best wireless gaming keyboards to learn about competing products.
Lemokey L3: Design that never gets old
The Lemokey L3 is, in physical terms, extremely similar to the existing Keychron Q3 Pro design. Aside from the slightly retooled macro keys on the left column and a few trim pieces, they're practically identical. And that's not a bad thing, if you're already a fan of Keychron's chunky, super-heavy aluminum bodies and high-quality materials.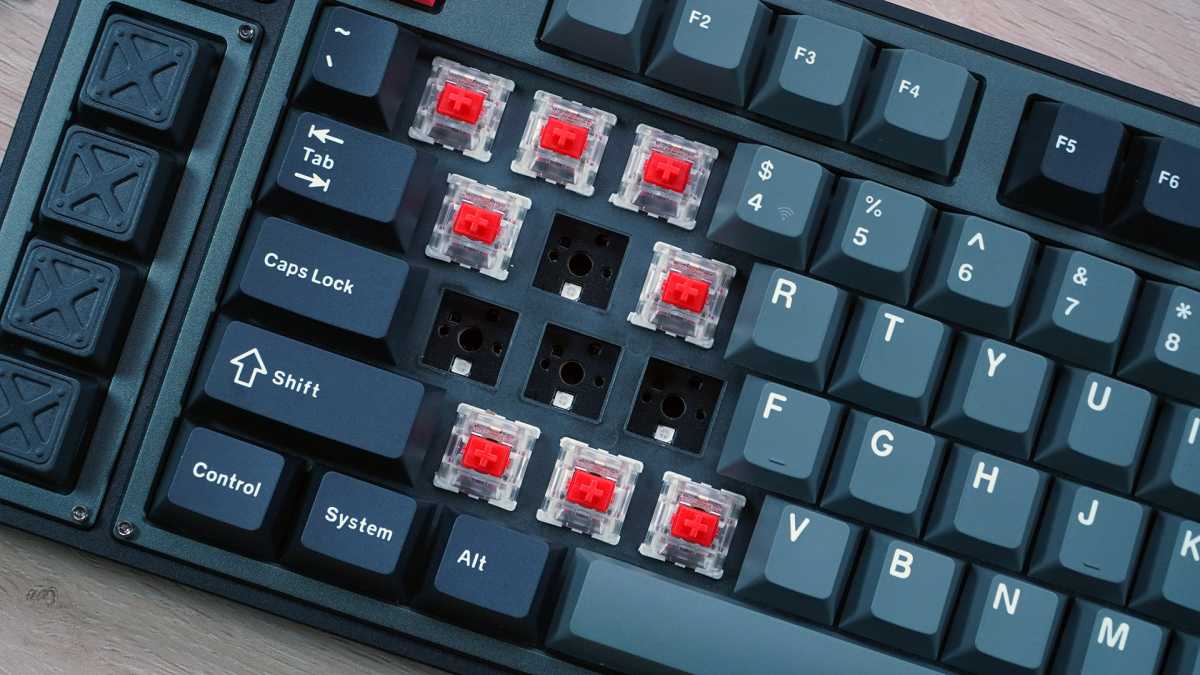 Michael Crider/Foundry
If you've read a review of the Q series before, you know what this looks like. For the sake of brevity I'll go over the L3's headline features double-quick: 
CNC-milled all-aluminum body (4.3 pounds on my kitchen scale!) 
Hot-swap switch sockets with RGB lighting 
High-quality PBT keycaps 
Gateron "Jupiter Red" linear switches 
Two layers of internal foam for sound and vibration reduction 
Double-layer gasket mounting for a slight "give" to the typing 
Programming with the open-source VIA and QMK systems 
Bluetooth and 2.4GHz wireless 
That last bullet point is the biggest change here. The Lemokey L3 is Keychron's first keyboard with an option for dedicated USB-based wireless. Combined with the 1,000Hz standard polling rate, this makes it fast enough for the demanding inputs of PC gamers. That, and the tweaked aesthetics and extra programmable buttons, is what gives this board its "gaming" pedigree. 
The rest of the features remain up to Keychron's excellent standard. Notably, the keycaps you get with the L3 are a standard Cherry profile. That means that they're shorter and less dramatically curved than Keychron's usual KSA keycaps on the Q series, which mimic the super-high, bowl-shaped caps of classic pre-2000s keyboard designs. I'm ambivalent on this particular change since I prefer even shorter caps myself, but it should make an adjustment from another gaming keyboard easier for most users.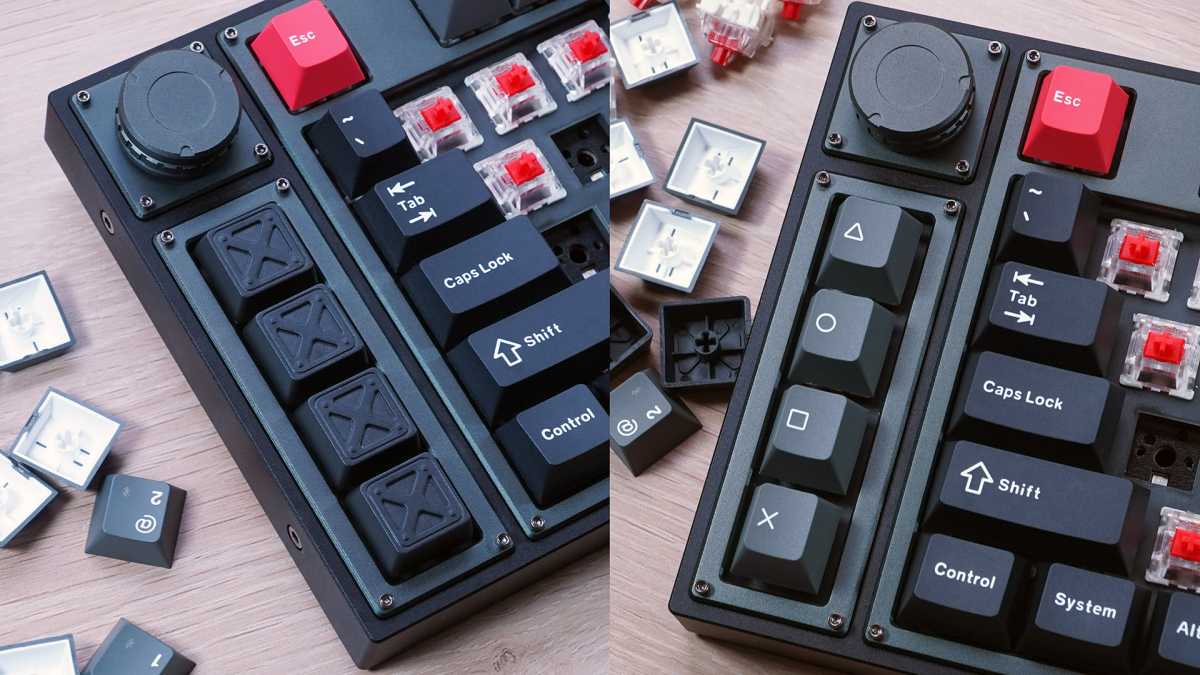 Michael Crider/Foundry
In the box, Keychron includes two Allen wrenches and a tiny screwdriver for disassembly, the standard keycap/switch puller tool, and some alternate keycaps. In addition to the usual PC and Mac alternatives, it includes standard Cherry profile keys for the four macro keys, which have a unique sort of X-shaped hatch mold by default (also seen on the bottom of the case). If this doesn't tickle your fancy, the alternatives have O, X, square, and triangle prints — matching the classic face buttons for the PlayStation controller. It's a nice touch. 
The only other big changes from the standard is the lack of a dedicated Mac/PC profile switch (no big loss, since you still get four profiles in VIA) and dedicated LEDs for battery, wireless, and caps lock status above the arrow keys. I liked the subtly changed look — it's a bit more chunky and "military" without going overboard on the gamer aesthetics. 
How do you open the Lemokey L3?
That is, until I tried to open the keyboard. Keychron's Q series has generally been friendly to the custom keyboard crowd, inviting easy modification with a straightforward disassembly process. The L3 isn't difficult to take apart…it just takes a really, really long time. In addition to two screws on the left and right side of the board, you've got three separate decorative aluminum plates on top of the case, each of which requires four more screws, plus another eight screws on the main plate underneath it. 
Michael Crider/Foundry
That's twenty-four different screws, with two different Allen wrenches (both included, which is nice!), and a solid 15 to 20 minutes to get this thing down to the bones. Woof. I appreciate that 95 percent of users, conservatively, will never actually do this. But if being modification-friendly is part of your brand, then making actual access to the keyboard's hardware an afterthought is a definite ding against the design. 
Here I'll point out that Razer's BlackWidow V4 75%, occupying a similar gamer/custom niche, is accessible with just six Phillips-head screws on the bottom of the keyboard. But in Keychron's defense, they won't void your keyboard's warranty — standard 12 months — just for opening the case. 
How does the Lemokey L3 perform for gaming?
Using the L3 for gaming was pretty much the same experience as using a Q series keyboard in wired mode, which enables the same 1,000Hz polling rate. The polling rate is the number of times the keyboard refreshes its input detection — the faster the rate, the more often it can detect you pressing the keys.
The most expensive gaming keyboards go up to 8,000Hz right now. But if you can press a button 8,000 times a second, you're Commander Data, and you're using those weird pulse oximeter thingies to play anyway. More practically, even the most competitive multiplayer games don't refresh inputs more than 128 times a second, so this is all a bit ridiculous. Long story short: 1,000Hz is fine. 
Michael Crider/Foundry
The Gateron "Jupiter Red" switches that came with the review unit are solid, if not spectacular. They feel a little smoother and more stable than standard linear Red switches (no tactile bump or loud "click"), but lack the satisfying feedback of more exotic choices. Which is okay, since of course you can swap them out if you like. I'll note that the stabilizers, the brackets that keep long keys like the spacebar stable, are well above the average in terms of smoothness and sound. 
Long typing and gaming sessions were excellent, well in line with Keychron's high standards. The molded macro keys are a great choice, as I can feel the difference between them and the left-most regular keys without looking down at the board. I will say that the lack of keyboard feet, a non-feature inherited from the Q series, is starting to bug me. The Lemokey L3 feels considerably more "shallow" than a Q board, and without dedicated feet, I had to slide a couple of bottlecaps underneath the heavy aluminum body in order to get it to my desired height.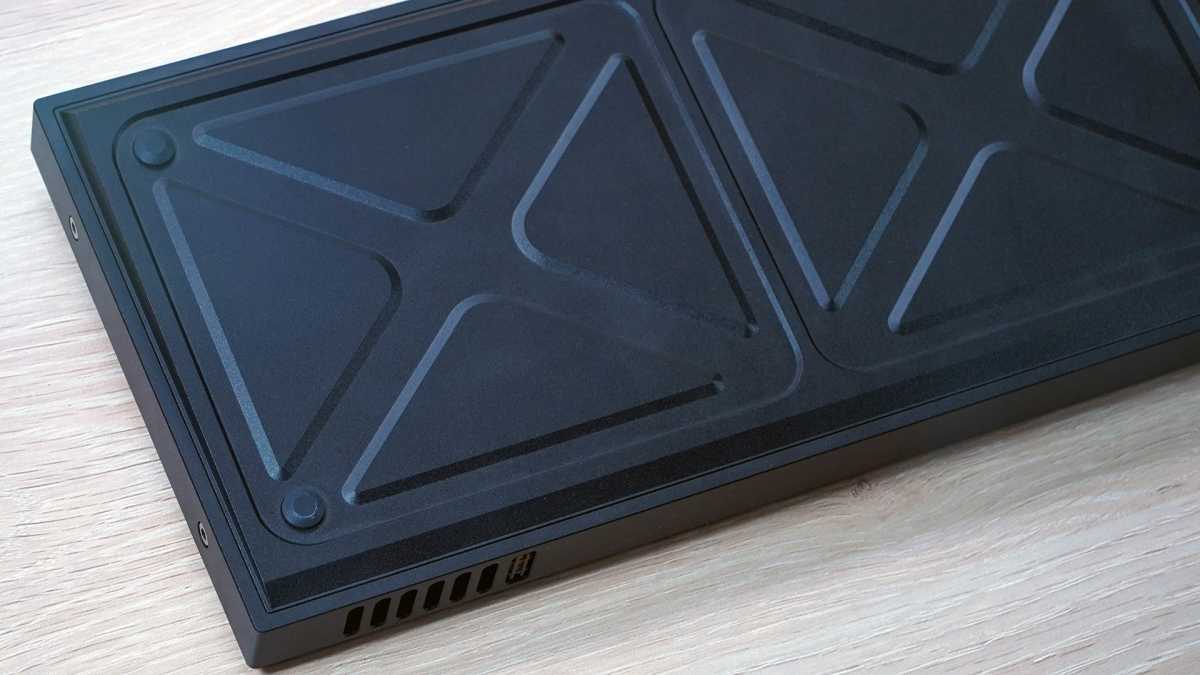 Michael Crider/Foundry
Dear Keychron: Please start including some magnetic or screw-in feet with these big, premium bodies — they really feel incomplete without them. 
Wireless performance with the 2.4GHz dongle, which I used for most of the review period, was faultless. And switching to my iPad via Bluetooth was easy, I just slid the hardware switch (which also functions as a power switch). Oddly, though the 1, 2, and 3 keys can change between Bluetooth devices, and there's a generic wireless logo on 4, you can't switch from Bluetooth to dongle mode with function keys alone. 
Software: VIA just isn't enough for gaming
Software is the big failing of the Lemokey L3. Which is strange, because this is usually where I praise Keychron for going with standardized and open-source QMK and VIA programming options. VIA is great, if a bit fiddly for the uninitiated. You just go to the VIA website, upload the relevant JSON file, and get customizing via the graphical interface. Keychron has a guide here, if you're new. 
And for the most part, VIA works fine for the L3, including its rotary dial and extra macro keys on the left. You can set them to any standard keyboard function or programmed macro, including media keys (which is what I use them for most of the time) or even switching between keyboard layers, as usual. In fact you get two more than a standard Q series, since there's no artificial distinction between Mac and PC layers.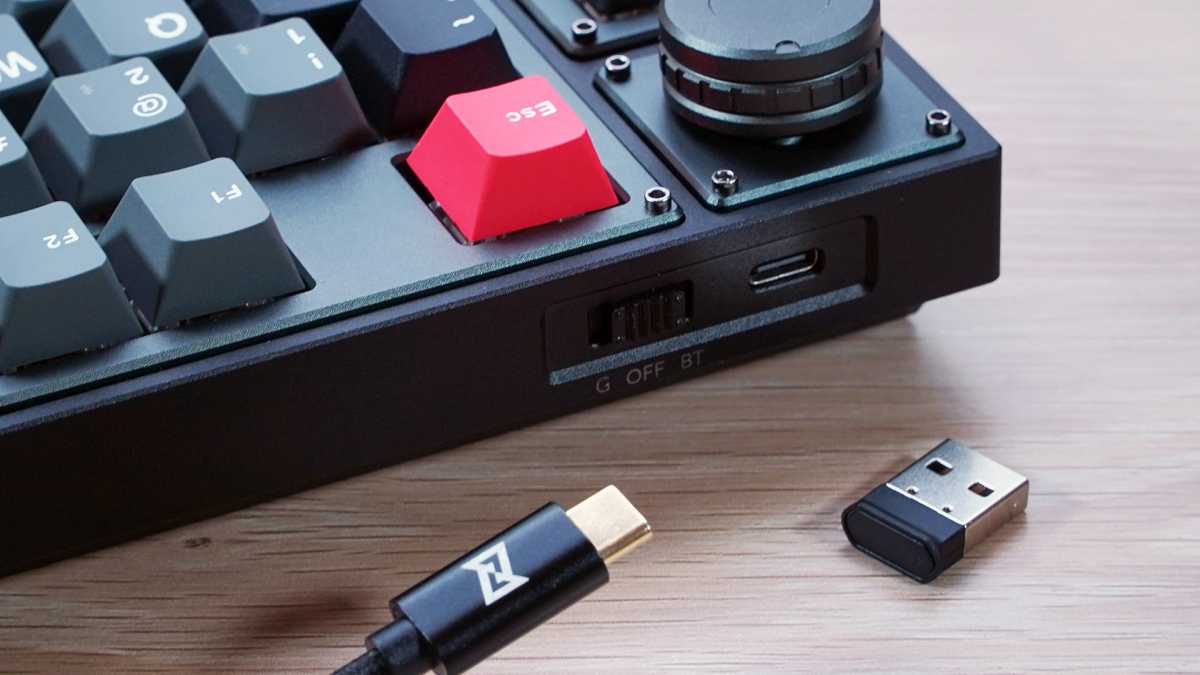 Michael Crider/Foundry
But herein lies the weakness: These are keyboard layers, not keyboard profiles. You could assign the third or fourth layer to custom keyboard layouts for specific games. But that's it, you only get two (assuming you also need a standard function layer, and you do, to control wireless and lighting). So you have a regular typing layer and two custom layouts for games, at maximum. And making full use of that requires some deep work in VIA, a far greater amount of time than setting up per-application profiles in gaming software.
This differs pretty sharply from almost any gaming keyboard on the market. One of the key features of a gaming keyboard is its programmability, not just for standard layout functions, but for assigning specific profiles to specific games. Gaming keyboard software generally runs in the background and activates these profiles automatically when a game launches. It's not available on every single keyboard — our favorite budget board, the G.Skill KM250, is a notable exception. But it's so universal that it's safe to assume anyone spending this much on a gaming keyboard would demand it.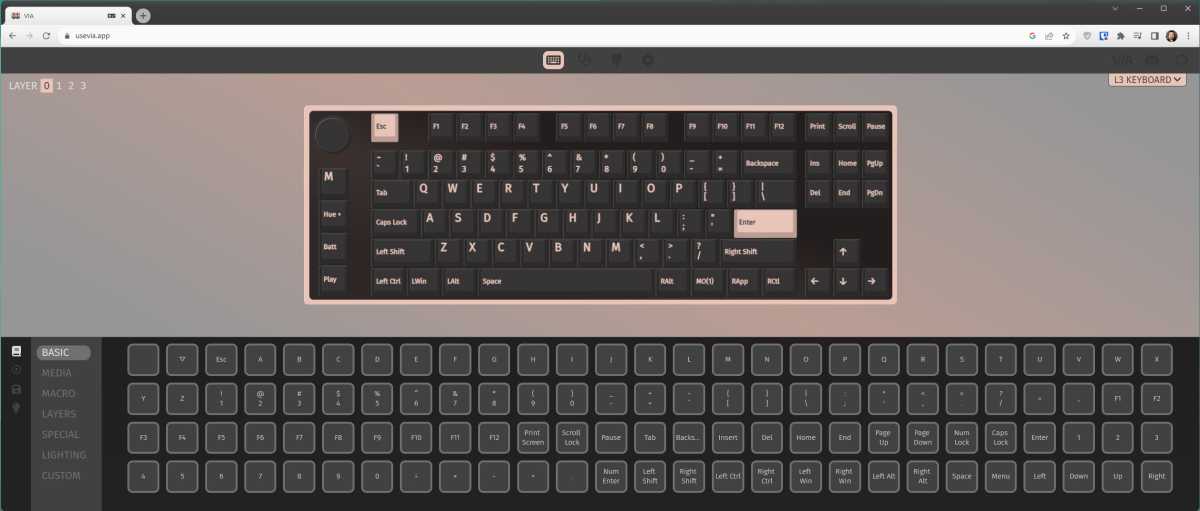 Michael Crider/Foundry
To be sure, gaming keyboard software is often pretty terrible. Razer's Synapse is probably the best of the bunch, but a bad software experience is enough to seriously tarnish an otherwise okay design, as with the Asus ROG Azoth. And there are a lot of users — me included! — who generally don't rely on dedicated software, preferring to customize profiles in-game, for whom VIA will be more than adequate. 
But the most demanding gamers absolutely look for this feature. Profiles and settings are often swapped online among the most dedicated players, and the best gaming software offers a cloud sync option if you want to use them across multiple machines. Keychron marketing the Lemokey L3 as a premium gaming keyboard, and lacking any option to customize profiles and auto-launch them along with a game (or even switch among more than three fairly basic programmed layouts) is a big miss. 
A Keychron representative told me that the company is working on an application that will allow the Lemokey to activate different profiles for specific apps. But I can only review the keyboard as it is now, not as it might be later.
Is the Lemokey L3 a good value?
In hardware terms alone, Keychron retains its excellent value compared to similar designs. At $214 for the full kit and kaboodle ($194 if you supply your own switches and keycaps), it compares favorably to both wireless gaming keyboards and wireless "custom" boards in the same category. 
Razer's BlackWidow V4 75% is straddling the same line of gamer/custom keyboard, albeit approaching from the other side. It's slightly smaller and cheaper, and comes with a wrist rest, but since it's still using a wired connection the comparison isn't quite one-to-one. Ditto for the GMMK Pro, which is also marketed for gaming and has a lot of the same "custom" features. It's wired-only, too…and costs $350, fully assembled. Ouch.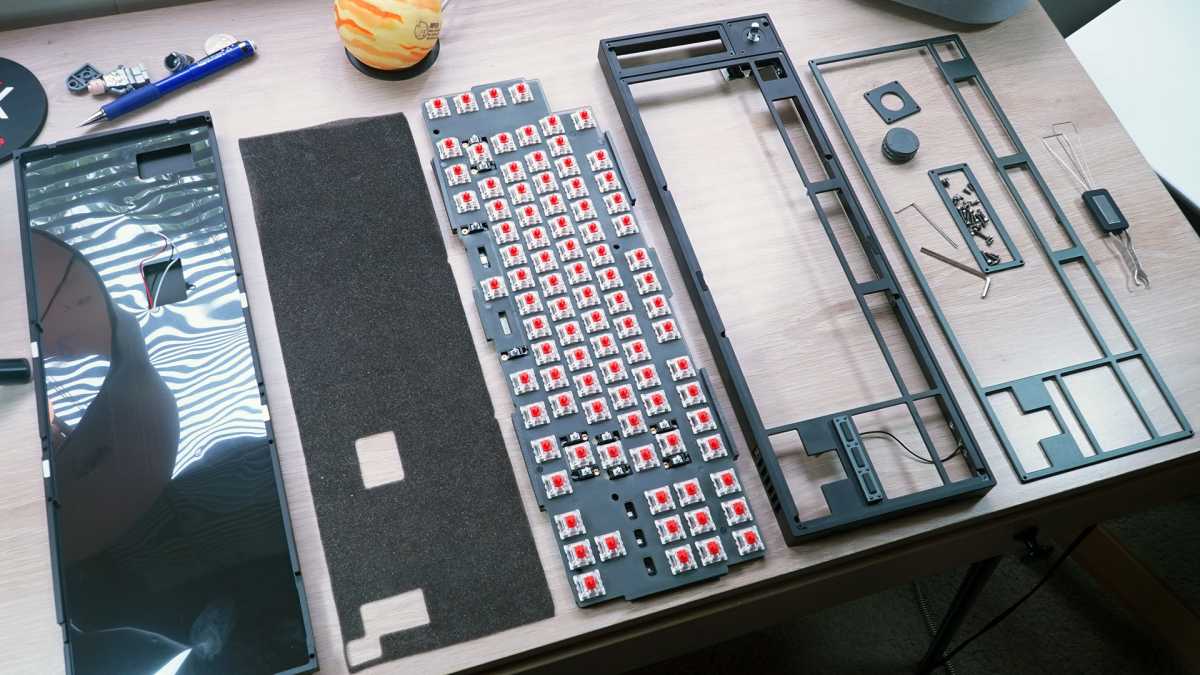 Michael Crider/Foundry
Perhaps the best comparison among gaming brands is the Asus ROG Azoth, which I found lacking in a lot of ways. While it technically has better software for gaming, that software is such a pain to use I can't recommend the product to anyone, and I found the OLED screen more trouble than it was worth. Keychron beats Asus by almost $40, and delivers a better overall product, even with its own software shortcomings. 
There really isn't a gaming-specific keyboard that offers a TKL layout, hot-swap switches, and fast wireless, at least not from a major brand. If you're desperate for a comparison then Epomaker has the far cheaper Ajazz AKC087, which isn't really a match in terms of materials, and I've found that Epomaker's software is even more limited. 
Should you buy the Lemokey L3? 
If all you want is a Keychron Q-series keyboard with faster wireless and a few macro keys, then the Lemokey L3 is what you're looking for. It delivers that little extra sliver of functionality that qualifies it as a wireless gaming board, while preserving the brand's reputation as the best around in terms of "custom" boards at this price range.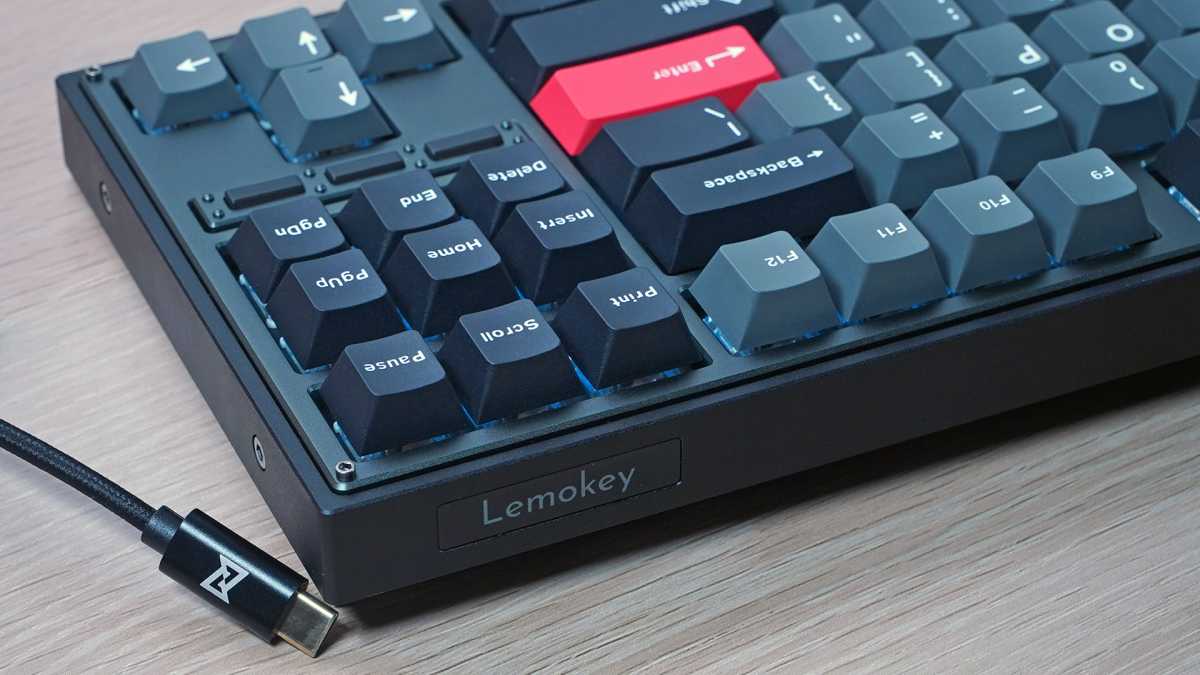 Michael Crider/Foundry
But unfortunately, VIA programming just won't cut it for the most demanding of gamers, which is a pretty serious oversight for anything marketed towards them. And a couple of other choices — like the lower keyboard profile with no feet, and the extra hassle of opening the case — make the L3 a bit less appealing than Keychron's usual stellar designs. 
Best Prices Today: Keychron Lemokey L3 keyboard