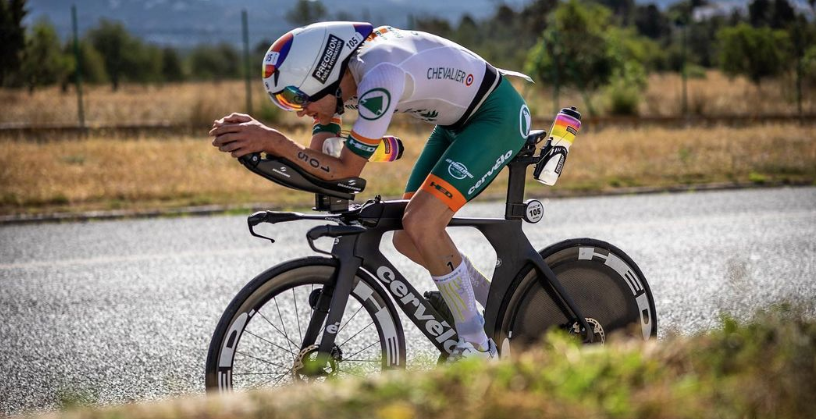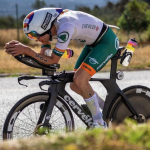 Ironman 70.3 Les Sables was just dominated by French; of the six podium places, five were distributed among French athletes. Victory went to Leon Chevalier and Charlene Clavel.
Chevalier had quite a bit of work to do after the swim, as he came out of the water in fifteenth place and was nearly four minutes behind Nicholas Quenet, Pierre le Corre, Bence Lehmann and Mattia Ceccarelli, among others, who came out of the water first after exactly 24 minutes.
On the bike, Chevalier quickly rode into the top ten, but while the leading group fell apart, the Frenchman failed to close the gap to Ceccarelli. The Italian powerhouse rode fast and came back first in T2. Yet Chevalier rode even faster and together with his compatriot Arnoud Guilloux he returned to the transition area in second place. At that point he was 1:36 minute behind and thus well on his way to taking over the lead in the race.
That happened extremely quickly, because already after the first kilometers of running, Chevalier caught Ceccarelli, while Guilloux could not keep up either. And while a lot happened from behind – Ceccarelli in particular fell back and eventually finished sixth – Chevalier ran to a stunning victory in a time of 3:46:11. Guilloux was second 1:17 minutes behind and Le Corre was third 4:20 minutes behind.
Charlene Clavel also had to make up time on the fastest swimmers, although her gap was less than Chevalier's: 1:01 minute to be exact, and even though she initially made up that time quickly during the bike, she could not keep up with her compatriot Emilie Morier, who rode to the front on her own and saw her lead grow rapidly from that moment on. When Morier hung her bike in the racks, she had a 2:44 minute lead over Clavel, who did move up to a nice second place.
During the run, it initially looked like Morier would claim victory, as her lead grew to over three minutes. Halfway through, however, there was only just over a minute left of that lead and Clavel knew she was the strongest. With about six kilometers to go, she took over the lead in the race and from there her lead grew even larger quickly.
Clavel won the race in 4:23:24. Morier was second in 4:25:42 and Germany's Lisa Gerss was third in 4:26:15.
Related
Comments
Most popular
Triathlon Today – Your News, Our Passion
Newsletter

Subscribe here to receive our weekly newsletter with our most popular news!
Links