Stuck miles out in the Atlantic Ocean off the north African coast it may be, but Gran Canaria, the third-largest island in the Canaries archipelago is very much Spanish in every way from its language and deliciously fresh cuisine to its glorious architecture.
Here the mercury rarely dips below 20°C / 68°F at any time of the year and if you've spent the winter months training in cold, wet weather, then starting your race season with an epic middle distance in the warm April sunshine is surely a no brainer.
Away from the cruise ships and nightlife of the capital Las Palmas, the peaceful fishing town of Mogan on the south west coast, hosts the Canaries only international triathlon and one of the first European races of the season.
With its vertiginous mountain backdrop on the bike, a swim and run courses based in a beach resort and paella on the post-race menu it will feel more like a holiday than a triathlon.
Location – Sporting mecca
Mogán has become a sporting mecca for both amateur athletes and pro teams eager to escape the cold weather back home and train and race in near perfect conditions.
It has everything a triathlete could wish for – guaranteed sun, a calm, sheltered ocean bay, both flat and mountainous roads and trails in addition to apartments and hotels equipped with pools and gyms.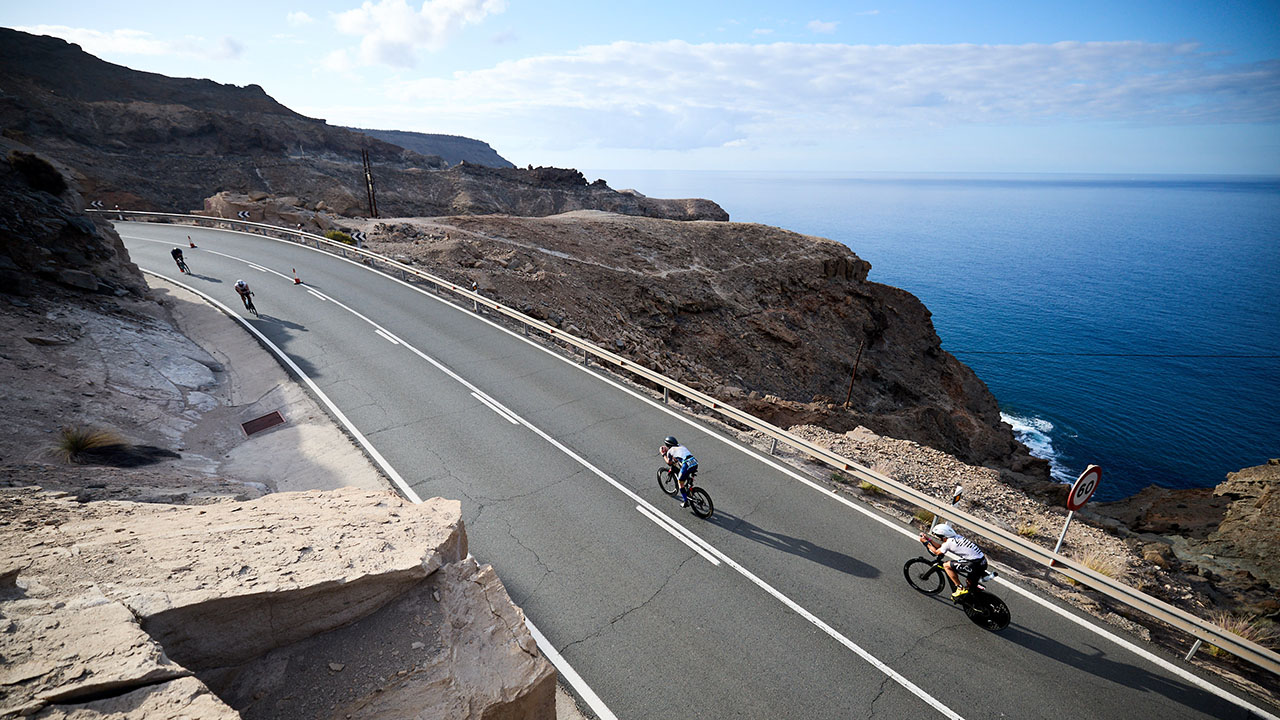 And getting there is pretty easy.
With 4 million tourists visiting annually, unsurprisingly you can easily fly to Gran Canaria from all major European cities.
Once you've landed at Gran Canaria airport, Puerto de Mogan is 55km away – about 40 minutes – so you can hop on the hourly public bus, book a transfer minibus or hire a car.
The Challenge race village is based around the Anfi del Mar beach resort in Playa de Mogan where everything happens from registration, briefings and prize ceremonies as well as the Tri Expo with the start and finish lines within 200 metres.
The popular holiday destination has accommodation to suit all budgets from guesthouses, self-catering apartments to villas and five star hotels all a short distance from the race village.
THE VOICE OF EXPERIENCE
"For me the best triathlon in the Canary Islands, for its great organisation and the great participation of pros. I like the difficulty of the course especially in the bike and the weather is always ideal for triathlon."
Zula Mendoza Reyes
Spain
You'll find one or two bed apartments at discounted rates for competitors at the Anfi del Mar and Anfi Tauro, the official race hotel a few minutes away with free shuttle buses. But throughout the town there are plenty of other full/half board or self catering hotels, which also have pools and spa facilities.
Course – Beautiful but challenging
With a sheltered swim and a flat run course the course is an option for beginners, although more experienced & lighter cyclists may have an advantage on the hilly and technical course.
SWIM – 1.9km
You might think you're in the Caribbean as you race into the turquoise water from the palm tree-lined white sands at Anfi del Mar Beach. The calm bay is sheltered by a manmade rocky breakwater so perfect for weaker swimmers although it can still get a little choppy. Keep an eye on your watch as there is a cut off time of 1hr 10 minutes.
The course is two loops, exiting on to the beach in between laps, before the short run to T1 along the promenade.
As it's the Atlantic, wetsuits are probably a good idea and a pair of tinted goggles as at 8am, the sun will be up. If you opt for clear lenses, there are plenty fish to watch as you swim along.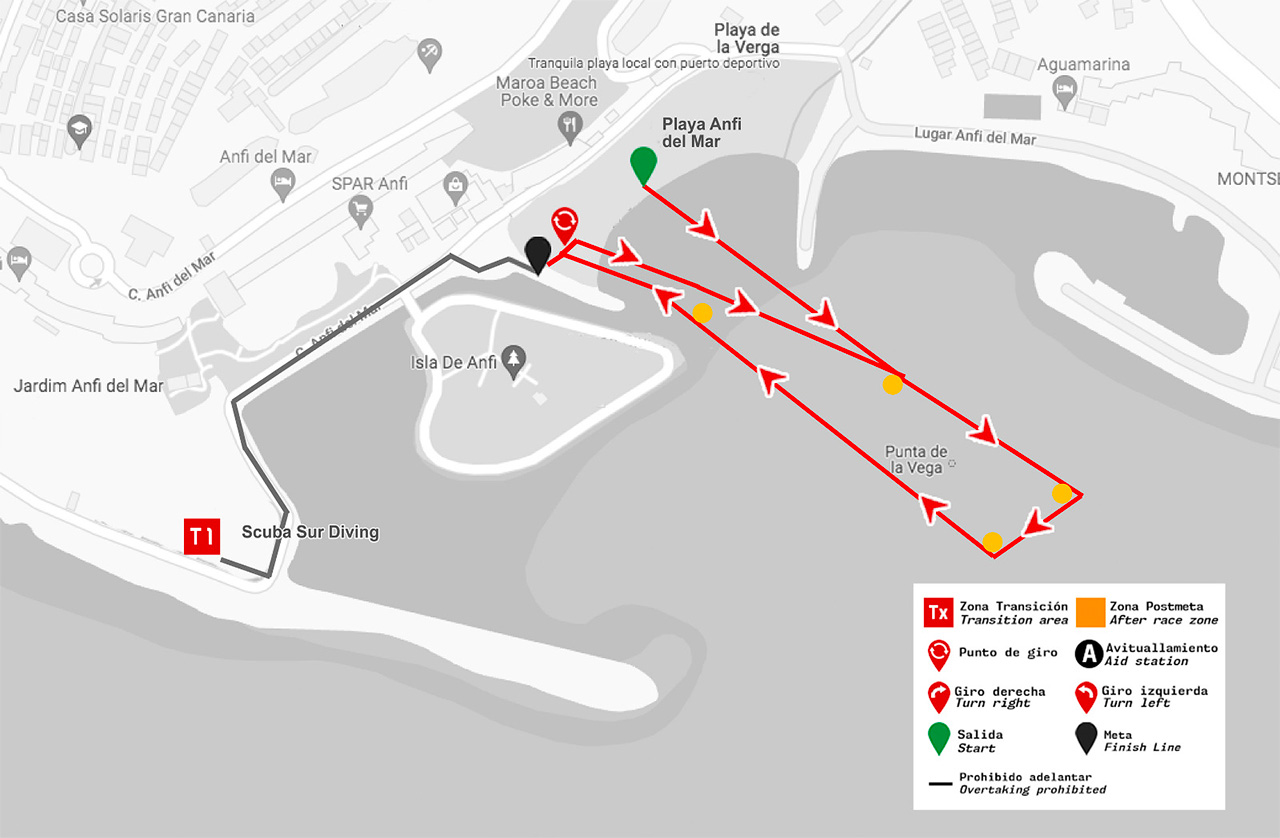 BIKE – 90KM
The bike leg is where the word Challenge truly comes into the race! The route is pretty hilly rising up to 1500m above sea level at T2 down so prepare for some brutal climbs and fast, technical descents but this is the part of the race some competitors love the most. Also be aware that the temperatures can drop to 10°C / 50°F in the mountains so you may need an extra layer.
Burning thighs aside, there is some seriously dramatic scenery as you head along the closed and very smooth coastal roads to Taurino and then back to Anfi del Mar– and you get to do it four times.
With T2 located in a separate area to T1 it's worth being extra careful when packing your race kit.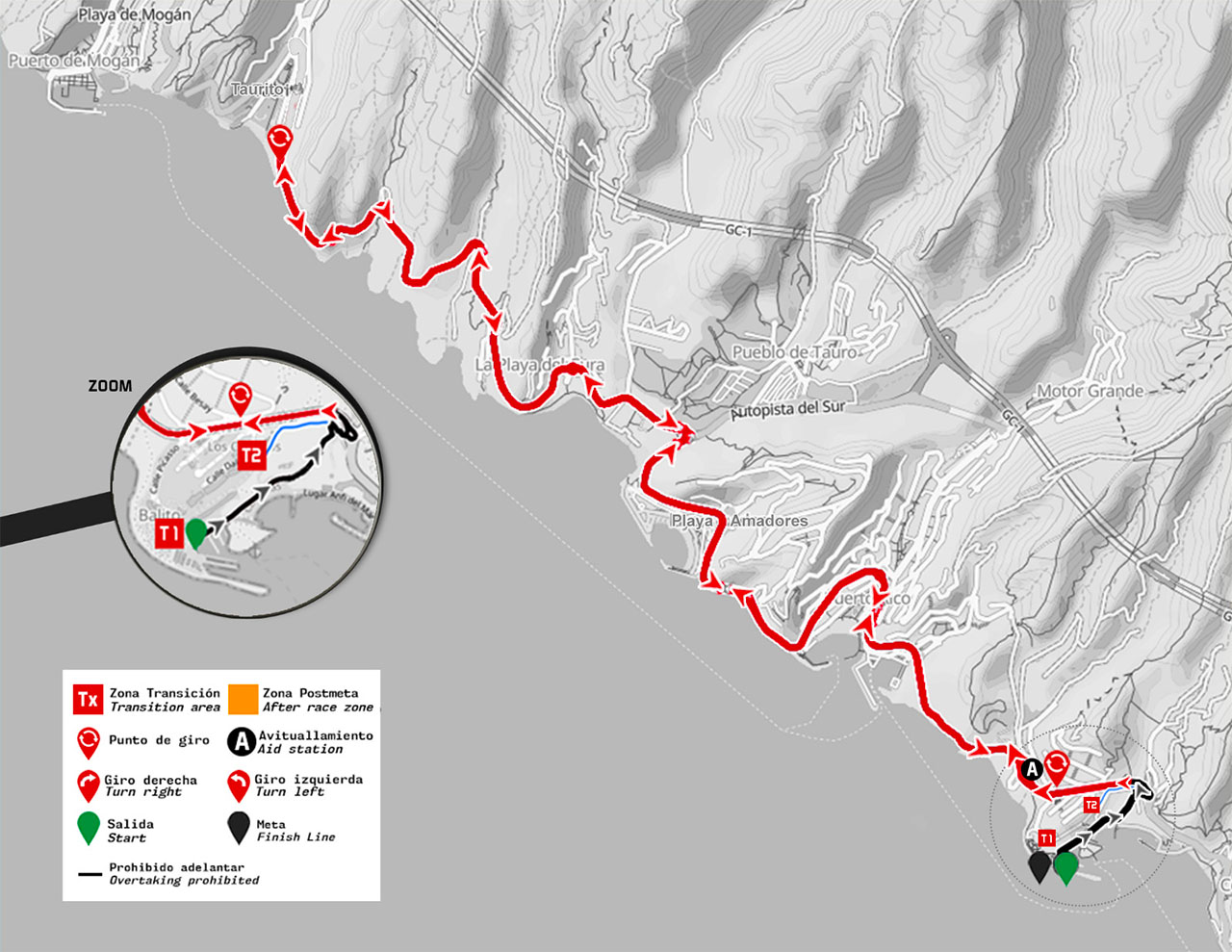 RUN – 21.1km
The run course starts and finishes at Anfi Beach and with 5 loops along the ocean-side promenade don't forget to keep count although you should collect wristbands after each lap.  By now, it will have started to heat up so don't forget to slap on a bit of suncream in T2 and wear a hat.
In total contrast to the bike, the run is almost completely flat and as you pass by the rows of bars and restaurants that line the route, expect plenty of support from diners and drinkers so give them a wave back! Then you won't have far to stagger for a celebratory beer once you've hit the red carpet finish.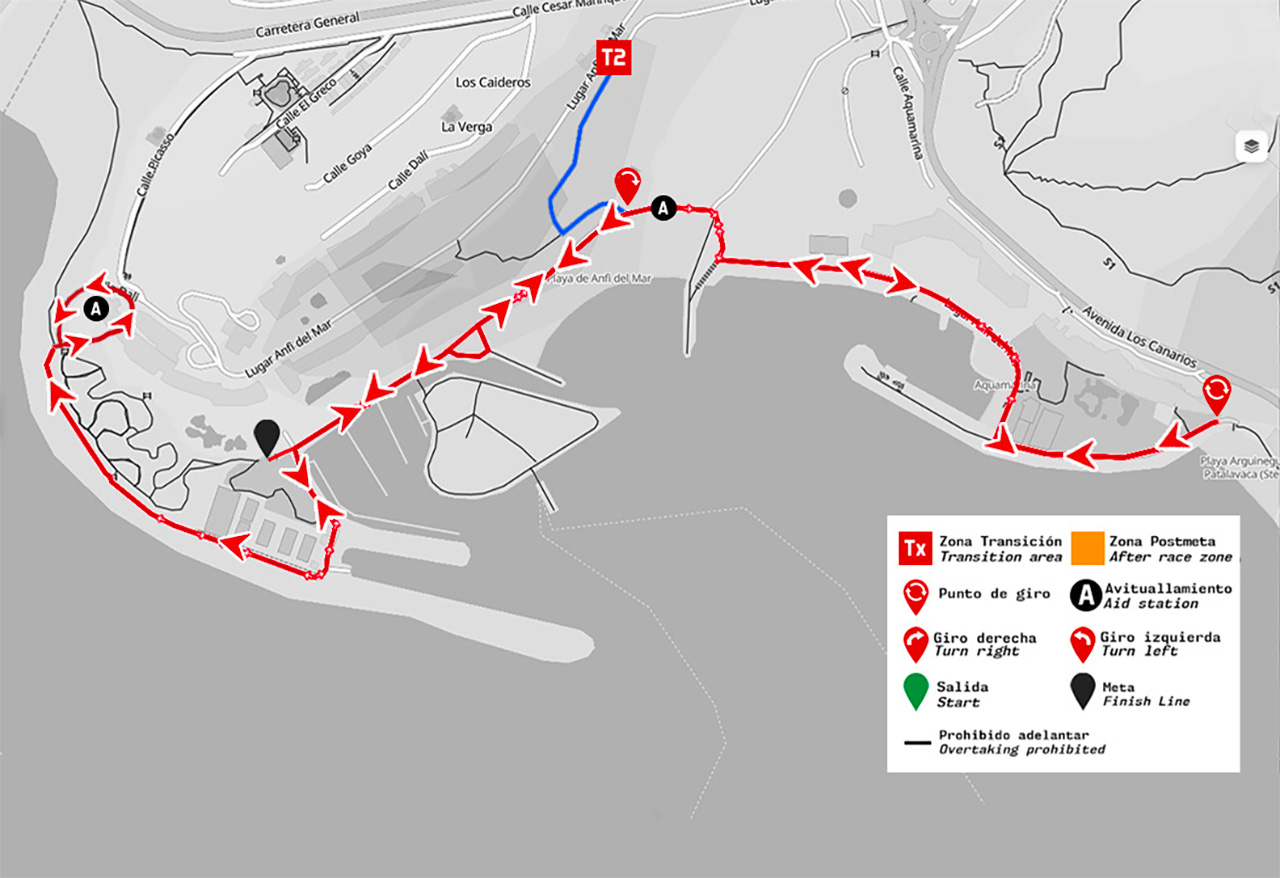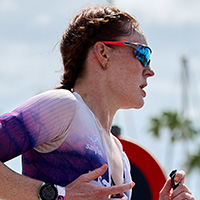 Pro TIP
Don't underestimate the impact of the bike course on your race – get your nutrition right and don't over work it. In 2022, I went too hard on the bike and suffered in the heat on the run.
Lucy Buckingham
3rd FPRO in 2022
Spectators – Fun in the sun for family
With sun, sea and sand galore, there are definitely worst places to a few hours being a triathlete's loyal supporter.
The swim and run all take place around the beach and marina so your friends and family can stand on the beach just metres away from the swim start and offer last-minute words of encouragement before you take the plunge.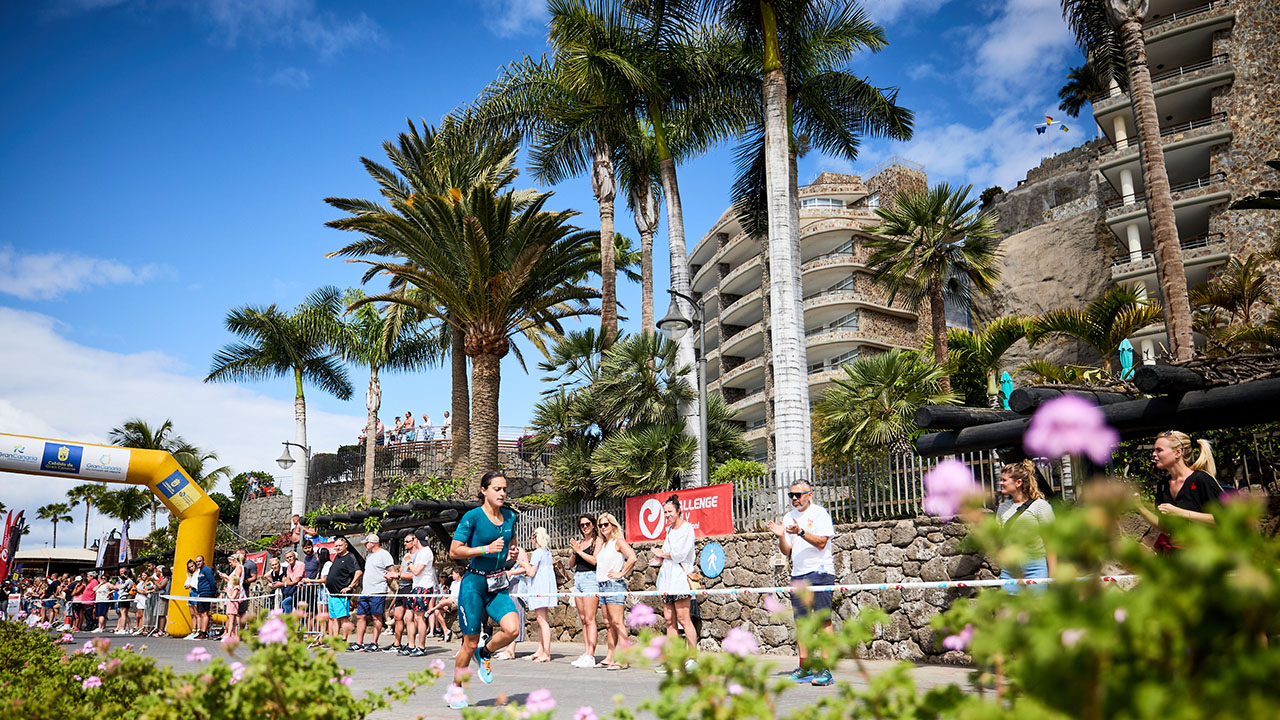 Then they can take things very easy in one of the many bars and restaurants that line the route or find themselves a nice sun lounger to cheer you on from while they soak up the rays.  
Watching the bike leg might be slightly trickier as the coastal road is closed to traffic but there will be a good atmosphere at the aid station a short walk from the race village and they'll get to cheer you eight times on the four loops.
Why race Challenge Mogán – Gran Canaria
Racing in the warm April sun makes for the perfect European opener to your season.
The bike course is fully closed with varied, technical and super-scenic terrain.
A fantastic holiday destination with guaranteed sunshine, stunning beaches & activities for everyone.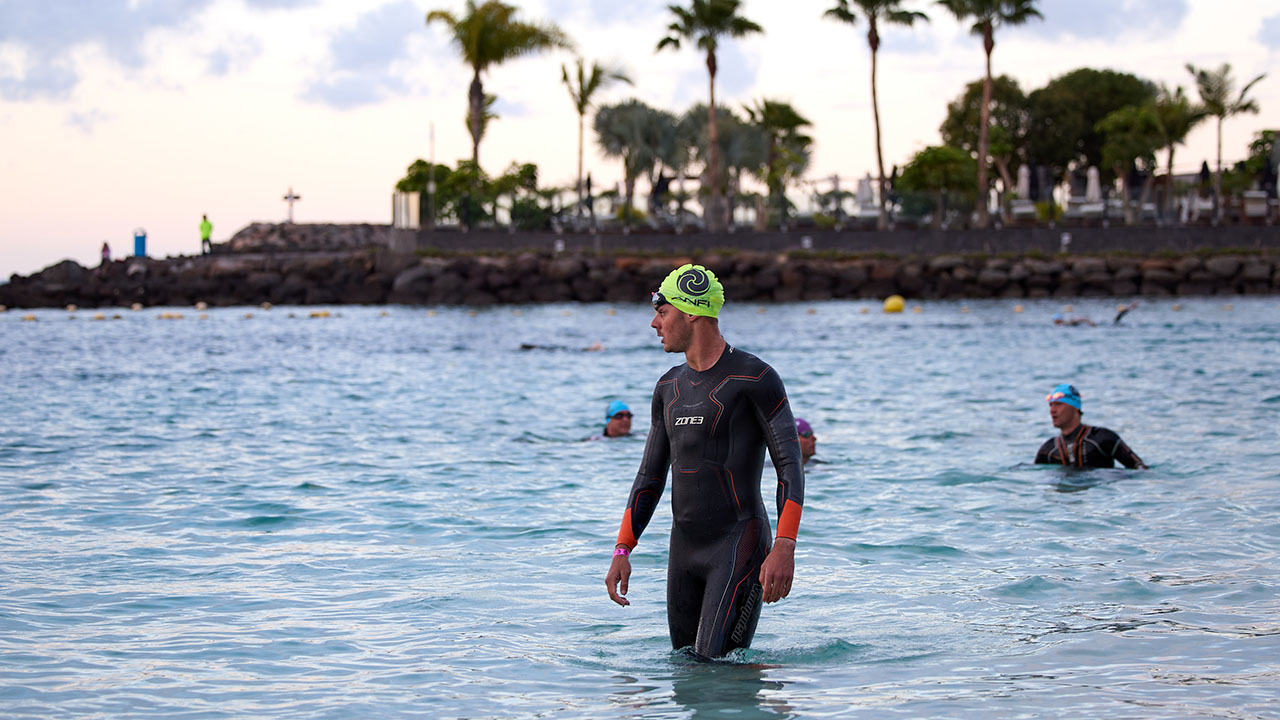 THE VOICE OF EXPERIENCE
"This is a race where the athlete is taken care of: perfect organisation, post race attention, drafting vigilance, closed roads. Being able to compete with world triathlon figures such as the Brownlee brothers, Jan Frodeno or Lucy Charles is a privilege. In short, as long as my body holds out, I will be at the start line of this race."
Manuel J Pérez Pérez
Spain
RACE-cation – Sun, sand & submarines
Quite frankly you'd be loco to not stay on for a post-race holiday – 4 million tourists can't be wrong!
The decent network of buses and ferries make it easy to explore Gran Canaria's diverse landscape from the sandy beaches and dunes to its pretty, white-washed villages, pine forests and soaring mountains. It's even got an active volcano!
Or keep things low-key and hang out in pretty Puerto de Mogán, known as the Little Venice of Gran Canaria with its network of canals crossed by bridges connecting the yacht marina and fishing harbour.
Its sheltered bay with soft white sand – imported from the Caribbean – and watersport facilities make it family friendly. The kids will love the dolphin watching cruises and if you're not claustrophobic, try an underwater tour on a yellow submarine!
Back on dry land enjoy wandering through the old village with its narrow, winding streets, churches and historic houses covered in colourful bougainvillea, visit the weekly market for artisan food and souvenirs or just watch the sunset with a beer or cocktail in one of the marina bars.
When it comes to the local gastronomy, Canarian food is usually sizzling meat on the grill or simply prepared fresh Atlantic fish. You won't get fresher fish than at Restaurante Cofradia de Pescadores on the quayside, run by the local fisherman who land their catch just feet away.

RACE ANFI Challenge Mogán – Gran Canaria
Stunning location, honest course and perfect to enjoy a sunny beach holiday afterwards – Anfi Challenge Mogán-Gran Canaria is definitely one for the bucket list for the whole family!