Image: Dominic Bayley / IDG
At a glance
Expert's Rating
Pros
The 25K Hero sensor is very proficient even at high DPI settings
The buttons are extremely well placed for accessibility
The rubber thumb rest provides plenty of grip
Cons
Not including swappable trigger buttons seems like a missed opportunity
There's no RGB lighting except a small DPI indicator light
The mouse wheel is quite noisy
Our Verdict
The Logitech G502X is blessed with a very quick and accurate sensor and super-fast optical-mechanical hybrid switches. But its secret sauce for gamers is really the accessibility of its buttons for which it has no equal.
Best Prices Today: Logitech G502X
£138.02
The Logitech G502, which wowed gamers back in 2014 has since evolved, culminating in the new and improved G502X. Yes, it has an upgraded 25K Hero Sensor that provides a nice boost to speed and accuracy, but the most impressive thing about the G502X is the way the buttons have been honed to near perfection. Few gaming mice, if any, have such an accessible button layout, one that invariably makes this new model one of the best all-rounder wired gaming mice you can buy in 2023.
Note: See our roundup of the best gaming mice to learn about competing products, what to look for in a gaming mouse, and buying recommendations.
Logitech G 502X: Design
The right-handed G502X looks to be a mirror image of its predecessor the G502 Hero, save for a few missing grooves on its back end. But if you zoom in closer, some very exciting improvements are revealed.
For one, the 502 Hero's plastic thumb rest has been replaced by rubber, which makes it a much grippier mouse and also a lot easier to clean. My wired version of the 502X also has a new rubber cord, which slid more effortlessly over my tabletop than the 502 Hero's braided cord that tended to catch occasionally.
But it's the buttons that really blew my mind. You still get all 13 programmable options, including DPI up/down buttons, a trigger button, a four-button mouse wheel, two buttons behind the mouse wheel and two buttons on the left. But the trigger button is now nearer your thumb which makes it so, so much easier to reach. Insta-sniping anyone? Absolutely!
This button is kind of a big deal to me—there's nothing remotely as well-placed in any rivals for letting off that one must-hit command or macro that's vital to me performing well. Logitech G have ingeniously made it detachable too—which would've been the ideal opportunity to add in some swappable triggers of varying lengths, but sadly you just get the one. Still, there's always the chance we'll see add-ons down the line.
The DPI buttons, G7 and G8, are also longer and easier to find than previously, which I thought might cause some misclicking on my part, but not so. In fact, there's excellent separation along the top left, such that I never found my fingers straying.
Looking at weight, and the 502X clocks at 89 grams, which is a lot heavier than ultra-lightweight mice like the 59-gram HyperX Pulsefire Haste. I usually like to recommend gamers go for something lighter and quicker for the fastest FPS games in particular.
Yet for a mouse with 18 buttons, it's actually pretty decent and still feels quick off the mark. It's exactly the same weight as the 18-button SteelSeries Aerox 9 too, if you want a like-for-like comparison.
The 502X is also very well sized. It measures 5.17 x 1.62 x 3.12 inches, so it's fractionally longer than its predecessor, but consequently a better fit for larger hands. It also works like a dream for all the three major grip types, although palm and claw grippers will feel the most at home thanks to the 502X's rather tall top.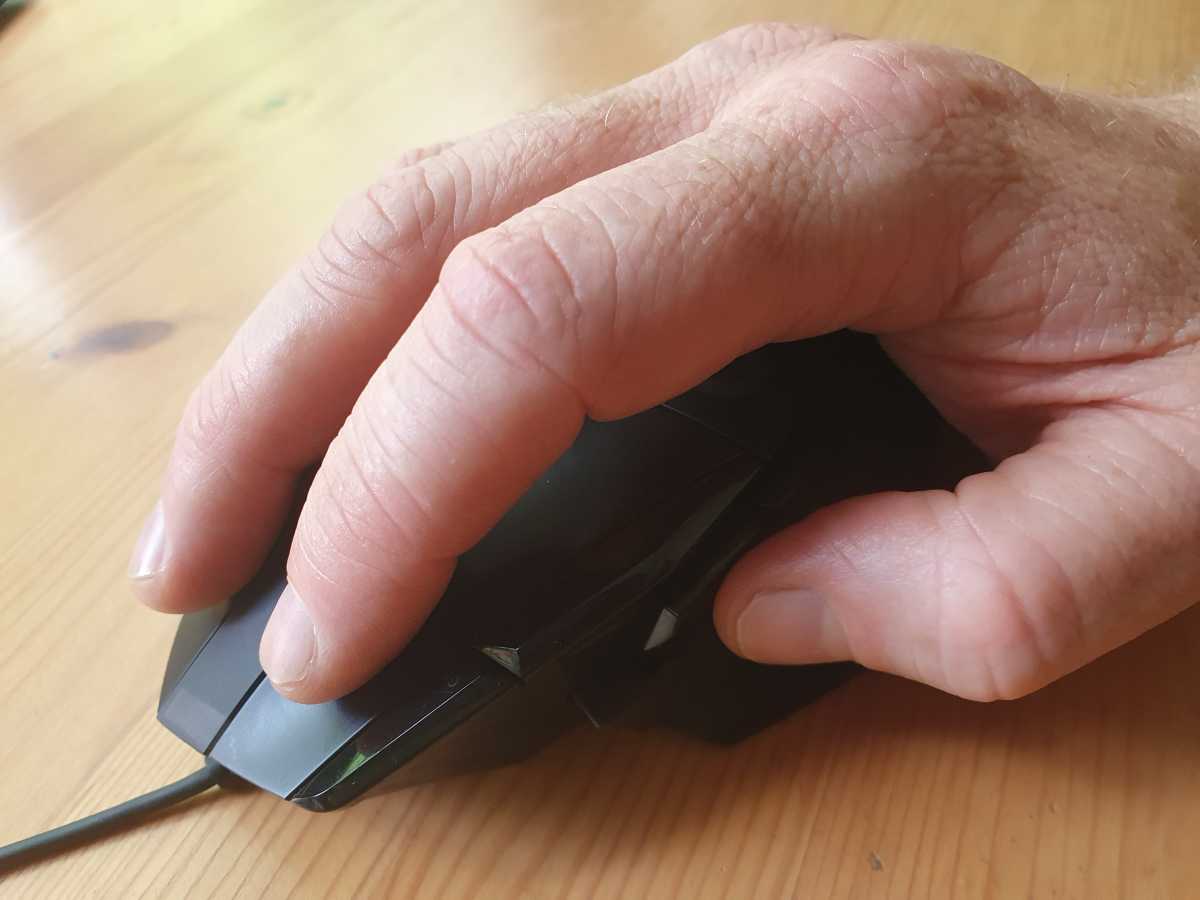 Dominic Bayley / IDG
There are no surprises when it comes to styling—it looks just like the G502 Hero, like some kind of a futuristic spaceship. It also comes in the same attractive, black and white colors options. The one thing missing, in my view, is proper RGB lighting—it has just a tiny DPI RGB indicator at the front. Still, if RGB is a non-negotiable, the 502X's stablemate the 502X Plus should do the job. It costs $159.99—considerably more than our review unit's $70 sticker.
Logitech G502X: Performance
For some time now Logitech's G502 branded mice have been praised as having some of the best performance hardware you get, but competition is stiffer in 2023 and there's now a heap of excellent gaming mice with comparable sensors and performance out there. Some, like the $49 Keychron M3, you can even pick up for peanuts.
It's through this lens that we need to look at the Logitech G502X's Hero 25K sensor, which doesn't redesign the wheel, but is still one of the best in the business. It tracks movement on a sub-micron level and gives you a resolution of between 100 to 25,600 DPI, maximum speed of 400 IPS (inches per second) and acceleration of 40G.
Taking the G502X for a spin in the FPS game Insurgency proved it to be an extremely proficient mouse. It tracked my movement quickly and flawlessly, without a hint of lag or stuttering. Switching up DPIs to a maximum of 25,600 DPI and things get fast—very fast. In fact, I could pan left and right with a mere twitch of my hand, yet I didn't see any smoothing or stuttering in the motion.
The 502X is also very comfortable, it kept my hand tucked cozily into its slender grooves, which also gave me pinpoint control of movement. But it was the buttons that really elevated this mouse among the vanguard of wired gaming mice for me. They feature Lightforce hybrid optical-mechanical switches that actuate instantly but feel satisfyingly tactile.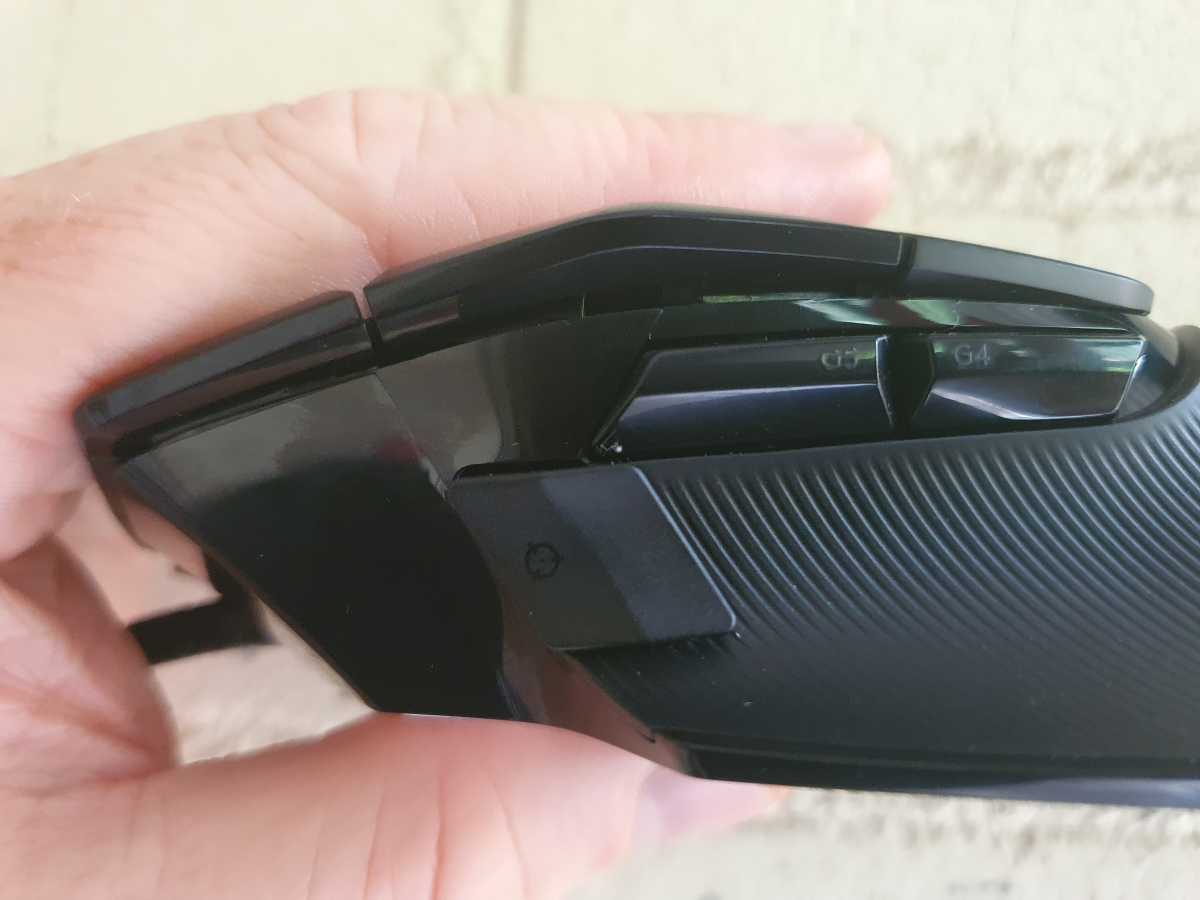 Dominic Bayley / IDG
Additionally, with a whole 18 buttons to program in Logitech's G Hub software app, I had enough commands to satisfy any game in my library. But it was the improvements to both the size and placement of key buttons that really made the biggest difference to my play. My fingers were so well surrounded by buttons that at times it felt like I was at the helm of some kind of advanced fighter jet.
The benefits of this were particularly evident when sniping. The new improved positioning of the trigger button right near my thumb, for example, helped overcome the slight speed delay I sometimes experience between targeting and firing. I found I could let loose shots in double the time, which to be honest, did wonders to boost my enjoyment.
The DPI up / down buttons were also worth their weight in gold, allowing me to switch quickly between my two favorite DPI settings without toggling through every single setting. That one feature alone has to be worth at least a quarter of the Logitech G502X's $70 price.
A very minor point is that if you or your friends or family need absolute quiet, the scroll wheel does tend to be quite loud at times. But this never bothered me much and takes nothing away from the fact this mouse is a class act on just about all fronts.
Should you buy the Logitech G502X?
The Logitech G502X's pro-grade sensor gives you very accurate and precise tracking, but yet that's not so hard to find in gaming mice these days.
Where the G502X truly shines is in its most useful buttons, which Logitech G have tweaked since the G502 Hero to make larger and more accessible. It means the G502X quite possibly has the best all-rounder button setup you can get anywhere. For that reason, the G502X should be somewhere near the top of your list when choosing a pro-grade wired gaming mouse.
Best Prices Today: Logitech G502X
£138.02