Marcus Jordan is one of three children of NBA legend Michael Jordan and his ex-wife Juanita Vanoy. The six-time NBA champion was the first ever athlete to be a billionaire and now has an estimated net worth of over $2 billion. So Marcus has always had a sheltered life. However, the former college basketball player is wealthy in his own right as well. As per various reports, Marcus has a net worth of around $1.5 million despite only earning a five-figure salary.
Even though Marcus did not follow in his father's footsteps playing basketball professionally, he launched a sneaker store inspired by the Chicago Bulls legend. Recently, the 32-year-old has been making headlines due to his relationship with Scottie Pippen's ex-wife Larsa Pippen. However, Marcus' story is quite interesting in its own right.
Trophy Room by Marcus Jordan
ADVERTISEMENT
Article continues below this ad
Michael Jordan has a trophy room in the Jordan family home. Marcus Jordan took this as inspiration and launched the Trophy Room, which houses a collection of the rarest and unique Air Jordans. Marcus not only collaborates with well-known companies like Nike and Upper Deck Card Company, but also has a significant variety of Nike and Jordan goods. According to reports, Marcus has an estimated net worth of $1.5 million with an annual salary of $500,000. That makes his monthly salary around $41,000.
However, he is a millionaire thanks to the massive popularity of his company and the demand for Air Jordans. Marcus's wealth increased further after opening up an office in Orlando. While he has over 124k followers on Instagram, the Trophy Room's official handle has thrice the number of followers with 414k.
DIVE DEEPER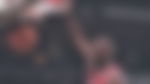 Additionally, Marcus and his older brother co-founded Heir Jordan, an entertainment and tech venture geared around young athletes. According to a report from Variety.com, "The Jordans have launched Heir Inc., a new holding company that plans to build a consumer-facing community platform for athletes to connect with fans — as well as other lines of business, including an entertainment studio and consumer products."
ADVERTISEMENT
Article continues below this ad
Also, the company raised a reported $10.6 million led by Thrive Capital. This is likely to make Marcus wealthier in the coming years as well.
Marcus Jordan did not want to wear Adidas
Marcus Jordan is now making huge profits selling Nike and Air Jordan apparel. Given his father's relationship with Nike, Marcus is a Nike man as well. However, he was once stipulated to wear Adidas apparel. Marcus was a high school basketball star and had then joined the University of Central Florida to play college basketball in 2009. Interestingly, the school had a $3 million worth deal with Nike's rival brand Adidas.
ADVERTISEMENT
Article continues below this ad
WATCH THIS STORY –  Before Dating Michael Jordan's Son Marcus, Larsa Pippen's Dates After Divorce With Scottie Pippen
This was a concern for Marcus before joining. However, the school reportedly reassured Marcus that he won't be forced to wear Adidas sneakers, but he will have to wear their jerseys. So he joined the school. However, when he donned an Air Jordan shoe during a preseason game, Adidas was not happy and terminated their deal. But Nike acted swiftly and signed the school.