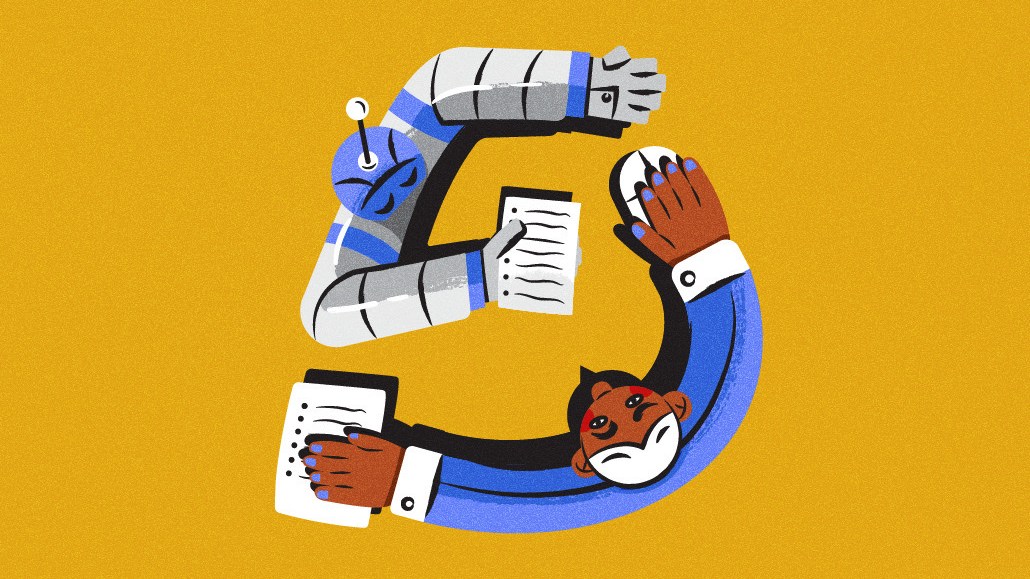 Ivy Liu
Unlike the mistral wind that blew warm Mediterranean gusts over Cannes — upending beach umbrellas and tearing off temporary roofs on event spaces along the Croisette — the hot air around generative artificial intelligence didn't seem to do much damage, despite the topic dominating most conversations at the Cannes Lions festival — along with growing frustration over the programmatic landscape. 
In fact, AI's ubiquity seemed to make itself noticed more in the email inboxes of attendees and the press, who were inundated by dozens of pitches and press releases promising this and that using AI. Most of it was in fact shallow appropriations of generative AI's true potential. 
That didn't stop some serious discussions about how this fast-moving — and fast-learning — technology will impact the agency world. For one, it will be put to use to satisfy the seemingly insatiable need for thousands of iterations of creative ad content promised by truly personalized media planning and ad execution. "Creative, I believe, is an area that's being impacted the most right now," George Popstefanov, founder and CEO of PMG, said in a podcast interview with Digiday. "Basically, we're going to be able to create after one day of a shoot over 50,000 different variations of video using generative AI." 
"As AI technology continues to mature over the next year, or set of years really, brands and agencies see it as an opportunity to reduce day-to-day production work and to reinvest in creativity," said Work & Co co-founder Mohan Ramaswamy. "The big takeaway for me? The industry realizing that AI may actually raise the bar around creativity and differentiation."
So much of the non-generative AI has already been in use for years at media agencies, mostly in the form of machine-learning tools that help to hasten data crunching and analysis and other functions that, well, machines do better and faster than humans. But S4 Capital's Sir Martin Sorrell told Digiday in his podcast interview that he envisions even more with generative layered on. 
"What AI will enable us to do is to get … closer to the model, by giving us the ability to disseminate knowledge horizontally across the organization. So [with] our mantra of faster, better, cheaper — now with AI and more — we will be more able and more agile, and more responsive and have a better understanding of the digital ecosystem, and be more efficient than we were before," said Sorrell. 
(He describes something akin to Publicis' Marcel, an AI function it had been reluctant to talk about since it's 2018 debut — until suddenly AI became hot again.)
Back to merely digital realities, one could detect a renewed undercurrent of frustration with the ad-tech world's excesses (and its agency enablers) that end up costing the industry (in this case, marketers) billions of wasted ad and investment dollars — although some of the big marketers who complain about this problem don't seem to be wielding their wallets to punish this behavior with any regularity.
The ANA's recent programmatic report certainly revealed the degree of BS inventory floating through the digisphere. Veteran industry advisor and consultant Lou Paskalis proposed that marketers start demanding to see log-level data from their vendors — and if those vendors come up with reasons they can't do so, walk away. A little transparency could go a long way to pulling back from the 44,000 sites the average programmatic buy lands on. 
Rivals to the established holding companies — either large independents or new-age holdcos — say they'll execute their clients' media demands in a more efficient and effective way. Whether they're able to, given how deeply the problems run, remains to be seen. Meanwhile, whisper campaigns up and down the Croisette asserted that the holdcos are in on the play. The reason given is that it's partly how they make their money for now, while they work to ramp up consultative and data services that will generate new revenue.
Finally, on the positive side, there's a sense that the agency world is finally getting serious about understanding and acting on carbon emissions — although it's lost on no one that thousands of people flew airplanes to get to Cannes to talk about reducing emissions — in order to reduce the industry's impact on the planet. Again, the programmatic world comes out looking like the bad guy, until one considers that generative AI requires computing and processing power (as in, energy) on a wholly more massive scale. 
"The fact that, you know, anything digital is not fluffy, and has a physical impact should be at least setting little alarm bells off in the minds of people that are starting to think about generative AI," said Scope3 COO and co-founder Anne Coghlan, in her podcast interview with Digiday.
Here's hoping the industry finds a solution before it becomes a problem — not unlike the Martinez Hotel beachside restaurant's solution to keeping pigeons and seagulls away: two falconers with trained hawks that swoop over lunch tables in hopes of catching their own lunch. 
Color by numbers
Generation X, now roughly between ages 44-58, has transitioned into homeownership, parenting and caretaking — but where are they spending? The generation of 61 million Americans is also the second-largest in the workforce (behind millennials), reaching peak household income and expenditure levels. Consumer researcher The Collage Group released a study reviewing the top culturally relevant brands for Gen X consumers, and it turns out their love of pets, nostalgia and environmental consciousness are driving product preferences. — Antoinette Siu
Some highlights:
Among the top 10 culturally fluent brands in 2022 were Crayola, Lysol, Dove, Band-Aid and YouTube. Clorox and Lego seemed to uniquely resonate with Gen X.
Clorox has focused on expanding its product line to include clean and natural ingredients for kids and pets — and 69% of Gen X consumers are pet owners, while 70% said they prefer to use pet-safe, non-toxic cleaning products.
Lego has remained relevant throughout Gen X's lifespan by tapping into nostalgic memories and reframing products as a de-stresser: 54% of Gen X wished mental health was more talked about in society.
Additionally, Lego has expanded into media, games and podcasts that align with parents — 81% of Gen X parents with children ages 6-12 watch TV and movies with their kids.
Takeoff & landing
Bob's Discount Furniture named Horizon Media's Horizon Next agency to handle all its paid media, which includes TV, paid social, paid search, digital audio, programmatic, CTV/online video and OOH.
WPP bought a minority stake (30%) in Majority, a minority owned agency that counts Shaquille O'Neal as a minority investor.
Commerce acceleration platform Pacvue beta-released Pacvue XL Copilot, which it describes as an AI-driven solution that helps brands and agencies query data using natural language prompts to generate pre-formatted charts and analysis. 
Kepler Group promoted Mallory Simmonds to be president of the EMEA region, given that the agency recently won digital media duties for EasyJet. She had been overseeing client delivery for the region. 
Direct quote
"Apple's presence at this year's Cannes has been notably quiet. … The Apple logo is nowhere to be seen. It hasn't been the source of conversation during my meetings like it was last year. Some of that is going to be by design."
— An unidentified executive on the tech giant's presence, or lack of, at Cannes Lions. Click here for Seb Joseph's and Ronan Shields' story.
Speed reading
https://digiday.com/?p=508805