The best part about bodybuilding is that it has no age limit. From children to oldies, bodybuilding has stirred the motivation to work out in many across the world. Last year, a video showed an 80-year-old man achieving his much-awaited bodybuilding goal. Nevertheless, what he achieved will put many bodybuilders to shame.
On September 2022, an Instagram bodybuilding page named Sats Norge posted a mind-boggling video of a man lifting an unbelievable 330 lbs. barbell like a pro. However, his motivation to lift at 80 comes with a special reason related to his wife.
Meet the man who lifted 330 lbs. At 80
ADVERTISEMENT
Article continues below this ad
Magne resides in Norway. He is a member of Sats Norge, which is a training group/program. He was consistently working on his strength for a longtime. Moreover, Magne had planned to lift 330 lb. on his 80th birthday.
In the video, Magne is seen performing a raw deadlift. He was wearing lifting straps and belts to help him lift the barbell correctly. The 80-year-old had a conventional stance while performing the deadlift. Once he lifted the 330 lbs barbell, he walked a few steps ahead, holding the bar in the upright position. He gently placed the barbell back on the rack and took a few steps back. Later on, he received great applause from the trainers who were cheering him while he was fulfilling his dream.
Moreover, his motivation to keep working on his strength comes from his physically disabled wife. Magne has been training dedicatedly to support his handicapped wife. He wishes to be strong enough so that her wife can live with her.
It seems like after achieving his goal, Magne will aim for more challenging weights.
DIVE DEEPER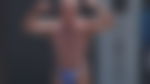 Bodybuilder granny proves it's never too late
ADVERTISEMENT
Article continues below this ad
Bodybuilding is not an impossible dream for aged people. If they have the will, they can lift weights no matter how old they are. 67-year-old female bodybuilder Marlene Flowers began bodybuilding at 55 due to health complications. Ever since she commenced her journey, she had been unstoppable. Sadly, she does receive a lot of trolling on the internet for training at an old age.
ADVERTISEMENT
Article continues below this ad
Watch This Story:  Bodybuilding Legend Arnold Schwarzenegger's Golden Tips For Weightloss
However, Granny Guns always fights back at negative comments. Nevertheless, she inspires many people by saying that they are never too late to start anything.