Image: Ian Evenden / Foundry
At a glance
Expert's Rating
Pros
Reasonably priced
Decent 1080p gaming
Well made
Attractive red keyboard backlighting
Cons
Disappointing screen
Not the most powerful

Poor battery life
Our Verdict
Despite surprisingly good 1080p gaming performance, the MSI GF63 Slim for 2023 is a bundle of compromises. Decide you can live with them, and you'll get a decent all-round laptop that will last a good few years, though its gaming potential will drop off sharply over time.
Price When Reviewed
£799.99
Best Prices Today: MSI Thin GF63 (2023)
Price is as big a differentiator of laptops as specs are, and probably the first thing you look at when choosing a new machine. With many gaming laptops reaching into the thousands of dollars, this update of the GF63 Thin remains cheap, though not as cheap as it once was.
While you get a spec bump to an Intel 12th-gen processor and one of Nvidia's 40-series graphics chips, the laptop hasn't been improved in other areas, and still rocks a 1080p screen and only 8GB of RAM. Still, it's a solid gaming laptop for under $1,000.
Design & Build
Plastic chassis
Still looks and feels good
Decent port selection
MSI knows how to put together a gaming laptop, and while the GF63 has been built with its budget price in mind, it manages not to show it too much.
It's not the slimmest laptop out there, despite the name, but neither is it the chunkiest. The red keyboard backlighting is striking against the plain black chassis, though the screen bezels are thicker than the current fashion for incredibly thin edges, meaning the display has a large black frame.
The rest of the laptop's casing, despite being plastic, is very nicely made. There's a good scattering of ports, with one USB-C, three USB-A, one HDMI and an ethernet connection. But it can't charge via USB-C, so uses a dedicated power port that's awkwardly placed halfway down one side of the device.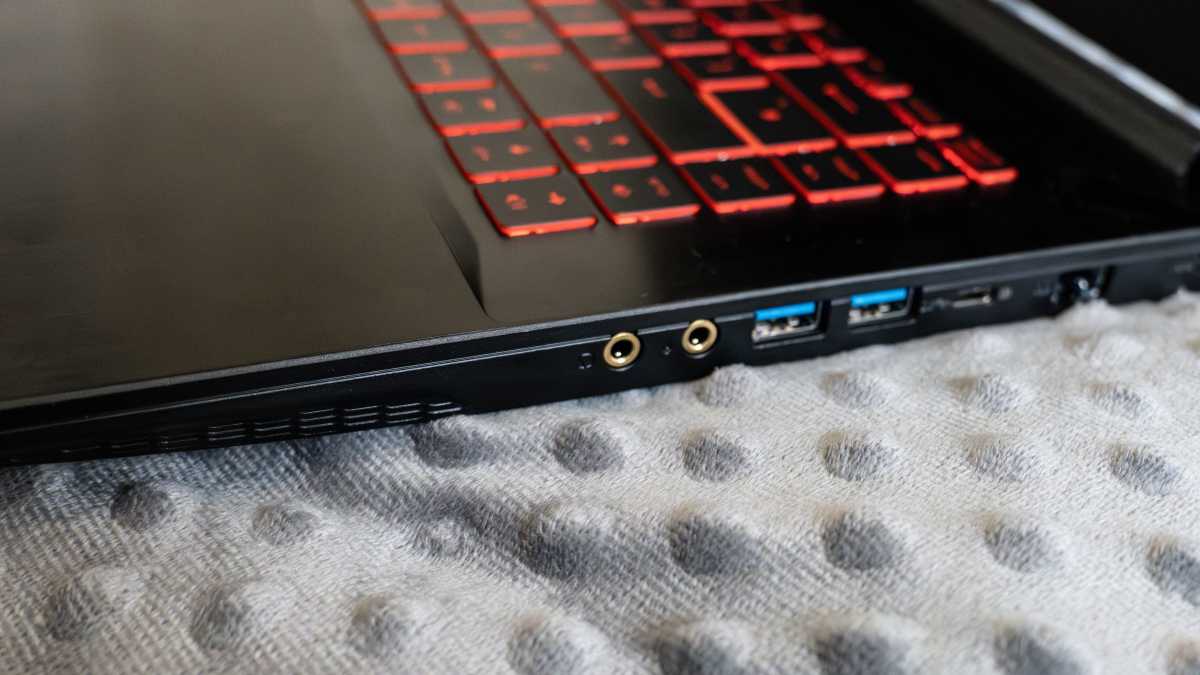 Ian Evenden / Foundry
Weight distribution is skewed towards the back of the laptop, meaning it can go over backwards if it's on your knees and you're not paying attention, but it's solidly built. And at 1.86kg, it's still relatively lightweight.
Keyboard & Trackpad
Solid full-size keyboard
No separate number pad
Impressive trackpad
MSI has resisted the temptation to squeeze a number pad next to the keyboard, something seen on many 15-inch laptops.
While having these extra keys can be nice, they're often so small you can't use them accurately. Their presence also often means the other keys feel cramped, which isn't a good idea on a gaming laptop, so MSI has made the right decision here. As it is, you get a cut-down Return key with a massive and largely superfluous # key above it, but the rest of the keys are full-sized.
Ian Evenden / Foundry
The keys themselves are topped with MSI's own font, which seems unnecessarily wide but has the benefit of letting more of the red backlight through. They feel good to press, and each key is responsive, yet provides enough travel for some decent feedback.
The trackpad is a good example of what can be done on a 15-inch laptop. It's small size can be a problem when gaming – attaching one of the best gaming mice would quickly sort this – but it has a good smooth surface and a responsive click.
Screen & Speakers
15.6-inch, 1080p, 144Hz LCD display
Underwhelming viewing experience
Disappointing speakers
Appearing larger than it is thanks to the thick bezels, the 15.6-inch 1080p screen uses IPS technology for a wide viewing angle and sharp, responsive, performance. You also get a 144Hz refresh rate.
But about all we can say on the positive side of things. Gaming laptops under $1000 are all about the compromises made to hit that price point, and the screen is a poor performer when it comes to color and brightness.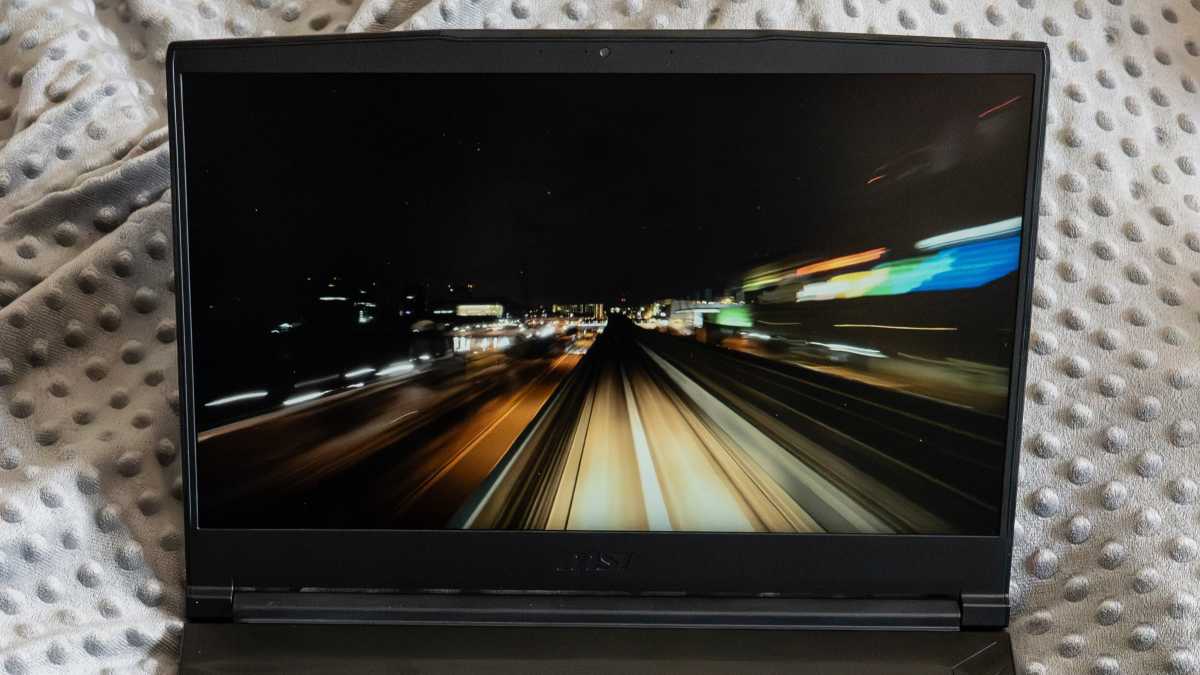 Ian Evenden / Foundry
In testing, it manages slightly less than 300 nits of brightness (for comparison, the M2 MacBook Air's IPS display puts out 500 nits) and only displays 65% of the sRGB colour gamut, and 49% of AdobeRGB and P3. The screen's poor color accuracy is bad news for gamers, with some titles lacking vibrancy and looking washed out at times.
Connecting to an external display will fix this problem – there's a full size HDMI port to do just that – but it rather defeats the point of getting such a portable machine.
The speakers are exactly the kind of weak performers you'd expect in a cheap laptop. There are no grilles in the top of the chassis, so they're downward firing, tinny and lacking in bass or high notes.
There's Bluetooth 5.2 on board and a 3.5mm jack on the edge of the case, so I wouldn't recommend using them for anything beyond Windows alert sounds. Grab one of the best gaming headsets to pair with this affordable rig.
Specs & Performance
Intel Core i5-12450H CPU and Nvidia GeForce RTX 4050 GPU
Sufficient for 1080p gaming, but nothing more
Can run hot
For this kind of money, you're going to compromise on the specs, so it's no surprise to see the GF63 hitting a low-to-mid-range level in terms of performance.
The GeForce RTX 4050 is the bottom card in Nvidia's current-gen hierarchy, but provides a decent price/performance ratio, suits the 1080p screen on the GF63, and is a lot better than the Intel UHD graphics chip integrated in the CPU would be.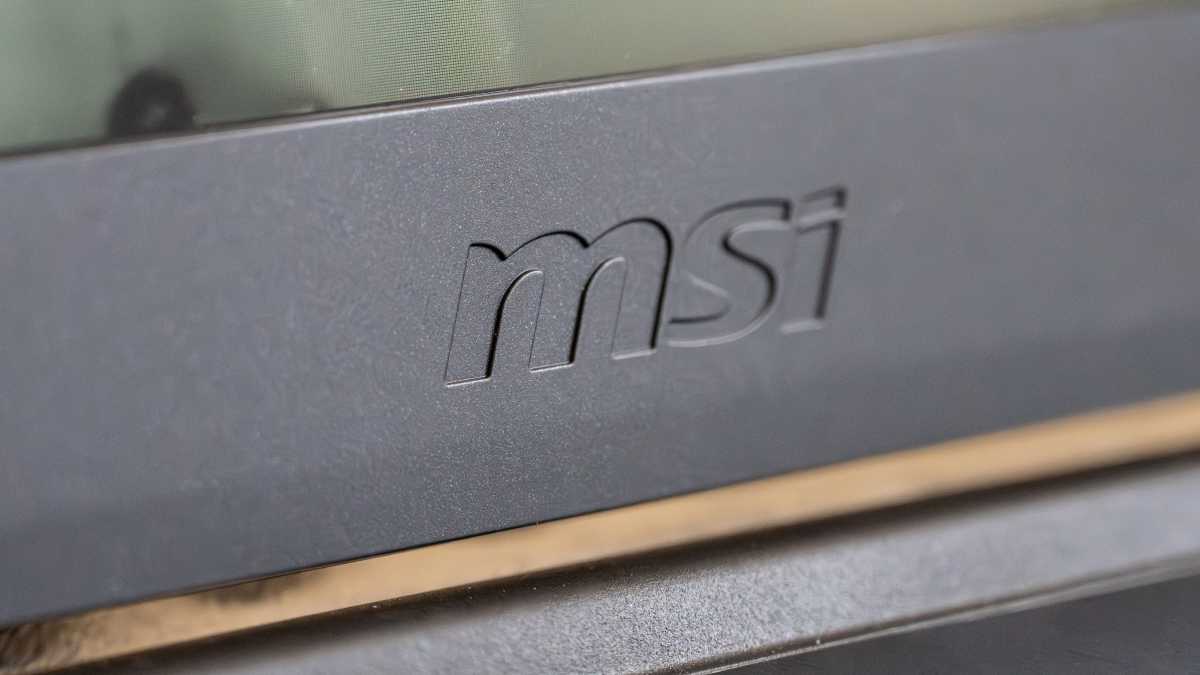 Ian Evenden / Foundry
It'll drive a 1440p external screen too, if you hook it up to the laptop's HDMI port, though you'll see a drop in framerates thanks to the increased pixel count. If you want to play recent games at 1080p, this chip will manage it, but you may find yourself turning down the detail levels, and you can forget about ray-tracing in practice even though the GPU supports it.
Starting with the 12th-gen chips, Intel began mixing 'performance' and 'efficiency' cores in its CPUs, and you get four of each here. Performance cores can hyper-thread, but efficiency cores cannot, so the i5-12450H in the GF63 can process 12 software threads simultaneously, at a max turbo speed of 4.4GHz on the P cores.
This makes it a fast processor, but it's held back by decisions made elsewhere. The GF63 only has 8GB of RAM, and it's DDR4 rather than the faster DDR5. Most gaming laptops offer more in this regard.
At least the SSD uses PCIe 4.0, but it's not a speed demon: testing shows a bandwidth figure of 360MB/s, which isn't particularly impressive. And at 512GB, it's not going to take long before you fill it with games.
When playing at 1080p, Far Cry New Dawn surpasses the 60fps mark, while in Cyberpunk 2077 the framerate averages 57fps. These are good results for the price, and the machine holds its own against other good-value gaming laptops such as the Asus TUF Gaming A15, which is slightly more expensive but a step up in almost every way.
The cooling fan starts up soon after you gaming, producing a strong hiss and emitting a lot of heat from the back-left of the laptop's base. You'll certainly notice it, especially if you're trying to use the laptop on your laptop.
To compensate, you may need to turn up the speakers or use a pair of headphones.
Price & Availability
At $999/£799.99, the GF63 is cheap for a gaming laptop, and there are often deals available. You can buy one from Amazon in the US and Amazon or Scan in the UK.
Our roundup of the best gaming laptops under $1,000 contains the best alternatives at this price point.
Verdict
The MSI GF63 Slim for 2023 isa good value low-end gaming laptop that'll still be playing games in a few years' time, though they won't necessarily be the latest ones at ultra settings.
It will work well as a general-purpose laptop if that's what you need, though the screen is disappointing and the speakers flat and lacking at both the top and bottom ends.
On the bright side, it's a good-looking machine that's powerful enough for everyday use as well as gaming, and it's also good value for money.
Specs
OS: Windows 11
CPU: Intel Core i5-12450H
RAM: 8GB DDR4
GPU: Nvidia GeForce RTX 4050 (6GB)
Screen: 15.6in 1080x1920px, 144Hz, IPS
Storage: 512GB PCIe 4.0 SSD
Connectivity: Wi-Fi 6 Bluetooth 5.2, 1x USB Type-C (USB3.2 Gen1 / DP), 3x USB Type-A (USB3.2 Gen1), 1x HDMI, 1x RJ45 Ethernet
Dimensions: 359 x 254 x 21.7 mm
Weight: 1.86kg
This review originally appeared on techadvisor.com.
Best Prices Today: MSI Thin GF63 (2023)
Ian Evenden is a freelance tech journalist with over 20 years of experience playing with phones, laptops, cameras, and just about anything expensive and electronic. In his spare time he grows vegetables, but struggles to work out where to charge them from.