Image: Nextbase
At a glance
Expert's Rating
Pros
Excellent captures
Fantastic monitoring and safety features
Sleek design
GPS
Cons
Extremely expensive
Some monitoring features require additional LTE subscription
Our Verdict
If you have the financial wherewithal, you won't find a better three-channel dash cam. Nor one with better monitoring and safety features.
Best Prices Today: Nextbase iQ 4K dash cam
$699.99
Nextbase is taking dash cams to the nth level, packing the company's new iQ series with all the modern monitoring and safety features you can think of. It's a fantastic product, but starting at $500 for 1080p plus an additional $200 for a rear view camera, it requires a fair amount of coin to acquire.
Not to mention another $10 or $20 a month to take advantage of all the LTE-related features such as incident storage to the cloud.
Further reading: See our roundup of the best dash cams to learn about competing products.
What are the Nextbase iQ hardware features?
I tested the iQ 4K, which sports a 180 degree field-of-view (FOV) 2160p front cam, and a 140 degree FOV 1440p interior cam. Nextbase didn't include the 1440p rear camera, which ups coverage to nearly 360 degrees. The sensors are courtesy of Omnivision, though Nextbase didn't specify which models.
There are also an iQ 2K 1440p/1440p and iQ 1K 1080p/1080p version available. All the Nextbase dash cams I've tested take good captures, so I'm guessing that will be the case for the lower-resolution units as well.
Nextbase surprised me with a very clever power solution–a cable with modular tips, which include two sizes of piggy-back fuse box connectors plus an OBDII connector. The extensions attach to the main cable via a single-pin connector.
No stripping or tapping of wires required in any car. Sweet.
My only complaint here might be that the OBDII isn't a pass-through connector, so I have to remove it when I want to use OBDII diagnostics. Not a big deal, but something you should be aware of. Perhaps opt for the fuse types.
The cable (shown above) uses an angle connector to marry flush with the camera base. The connector appears at first glance to be a Type-C USB, but its squared off corners prohibit plugging it into a standard Type-C port. The rear camera (Nextbase didn't include one) uses the same connector.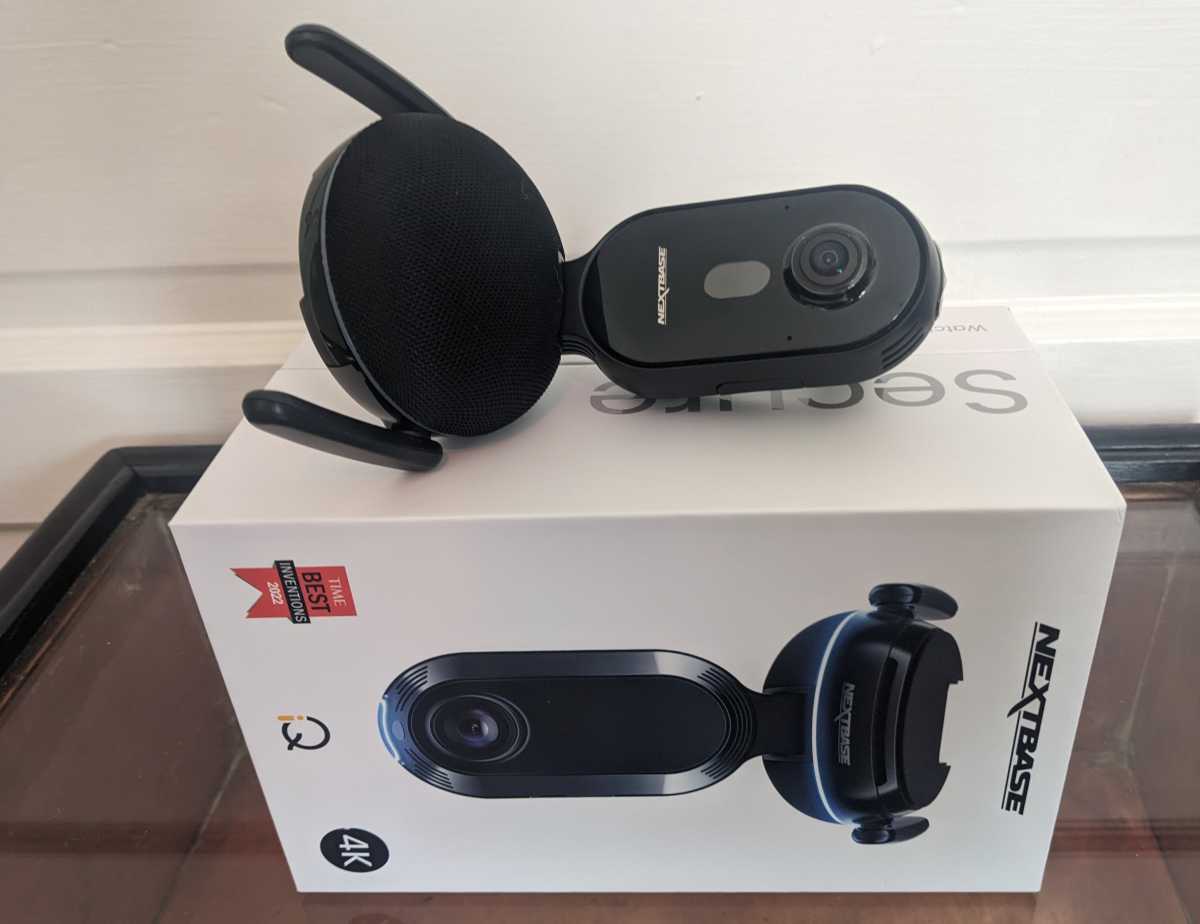 Jon L. Jacobi / Foundry
The camera body itself is minimalist, with the front and cabin camera lenses on either side, a save capture button on the bottom, plus a covered (captive plug) SD card slot on the right side. That's it, other than the tiny pinhole for the microphone in the front.
Then of course, as you'll see below, there's a rather large, circular base with twin antennas–one to a side — that measures 3.8-inches across total. The camera portion is around 2-inches wide and 4-inches tall. In between the grill and the plastic on the bottom of the base is a circular LED that lights up to match generally what you see on the camera portion's tiny 0.7×0.4-inch (approximate) display.
I was more than pleased that Nextbase uses three rather than one super capacitor. This means it can power the camera for a full five seconds rather than the one second a single-capacitor unit (all others I'm aware of) will run. Nice touch.
Nextbase includes a 64GB SD card and the unit can cope with anything up to 256GB. Given that you're capturing in 4K, the more space the better. Of course, if you utilize the LTE some videos will be stored in the cloud.
How is the Nextbase iQ setup?
The iQ uses a thin, semi-permanent adhesive mount with the power connector on the camera itself. It's easy to install, however be careful with the orientation. The camera only swings forward and back and can't be adjusted horizontally.
Once on your windshield, you attach the power cable to the OBDII port or fuse box, and have at it. Having at it begins with downloading the Nextbase IQ app to your phone, then running the setup. You'll then be able to purchase an LTE subscription for either $10 (no history for live view, automated cloud uploads, or emergency SOS), or $20.
Connecting the phone to the camera is as simple as scanning a QR code that's displayed on the dash cam's small display. It's a nicely smooth and luxurious out-of-box experience. Or it will be anyway– my prerelease model required some upgrading.
Beyond that, the camera just starts working.
What are the Nextbase iQ's monitoring and safety features?
There's a cornucopia of car protection and driver "safety" features on the iQ. You can see some listed in the captures of the app below. The live view is the first screen on the left.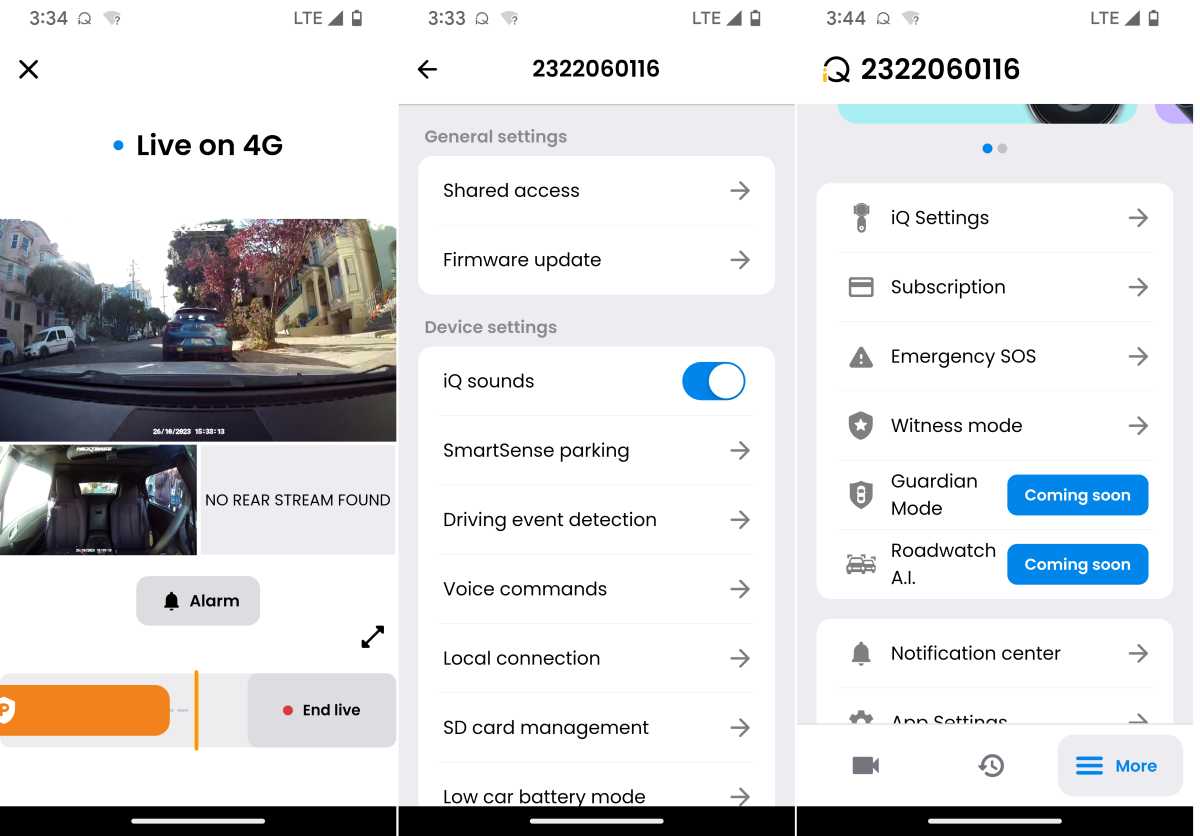 "Safety," aka ADAS (Advanced Driver Assistance System) is in quotes as there's some debate as to how lane-departure et al alerts affect different drivers. If you're a boob, they'll save lives. If you're a good driver, you might find they distract you.
Included are the usual lane-departure, collision-imminent, etc., as as well as driver monitoring and alerts to help keep you from nodding off.
Everyone is bandying about the term AI these days, even if the pattern recognition they're talking about is only one facet of intelligence. But the iQ series will eventually note the speed and location of vehicles and other objects around you. Combined with the integrated GPS (it automatically sets the time for you!), which embeds info into the video, you'll be able to study your travels in great detail.
Nextbase has created Guardian mode (implemented soon), which basically means you can track junior (or low-IQ thieves that aren't smart enough to remove the iQ) when they're driving around.
There's of course a parking mode, which Nextbase prefixes with Smart Sense, as it will note the action of those around your vehicle to assess threats and turn on the full capture and save automatically.
Another Nextbase feature is SOS mode, which will contact help should you be incapacitated during and accident.
The camera understands a host of voice commands, including what it calls "Witness mode," which immediately saves the recent capture and uploads it to the cloud (LTE required).
How much does the Nextbase IQ dash cam cost?
While there's a boatload of attractive tech on board, the iQ's price will daunt the average buyer: The 4K model reviewed here is $700. An iQ 1K and 2K are also available, for $500 and $600, respectively. Add the $200 rear dash cam and you're talking $700 to $900. Plus $120 to $240 a year for the optional LTE features. Gulp….This is not your average Amazon throwaway dash cam.
As dash cams are constantly exposed to the sun, longevity is always a concern–especially with pricier models. I give away most of the dash cams I review, and sadly, the answer to my inquiries about how they're working out is often that "it died." Especially those used in more desert-like environs.
Why am I discussing endurance in the price section? While Nextbase assured me that its environmental testing is rigorous, at these prices, a 12-month warranty doesn't seem particularly reassuring given the expense. It's better than the 90 days you get with some Amazon specials, but still.
How are the Nextbase IQ dash cam's captures?
Captures are quite good, thank you. Detail is outstanding, and color is very close to natural. If I have any gripe at all, it's that bright white areas in the first capture below are a bit overexposed. Most cameras suffer the same issue, so that's not a huge knock.
There's nothing to complain about with the daytime interior captures other than the shoddy state of my car's interior. They show good detail and color. My face is blurred deliberately–precisely because detail is so good!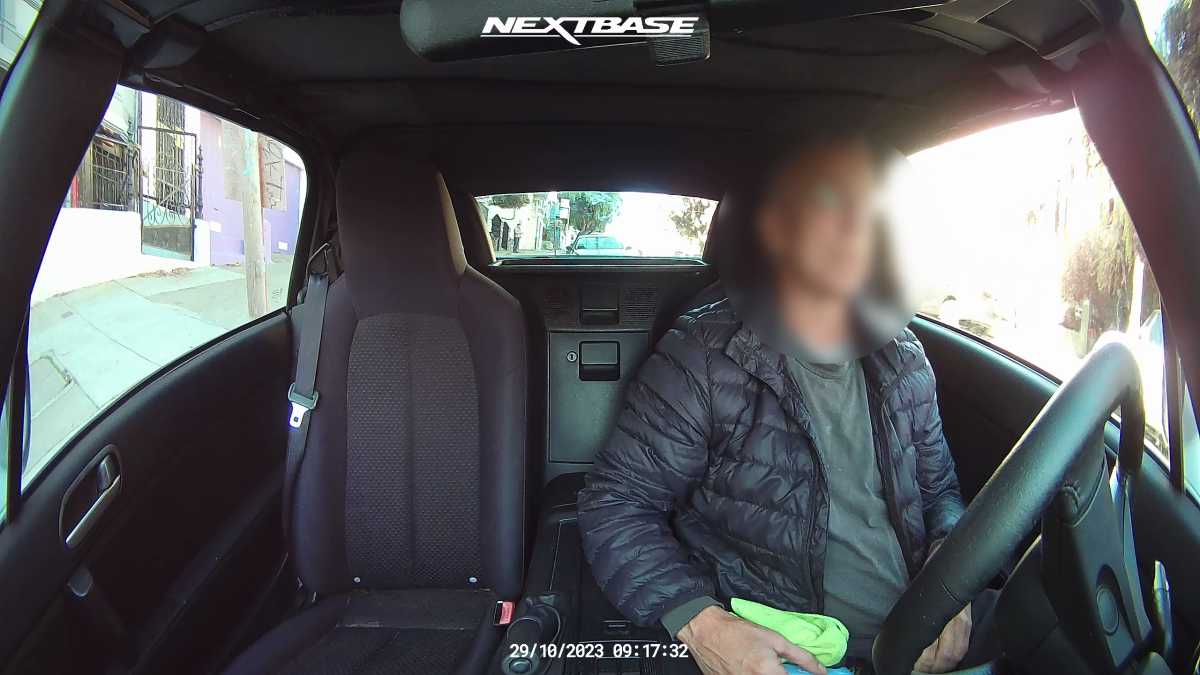 The only thing wrong with the front night captures is my windshield. I cleaned it, but apparently I missed some spots because of the darkness. (Official excuse.) Any blooming or streaks you see are because of that. You can't read the license plate directly in front, but my headlights were off. With them on, it's easily readable.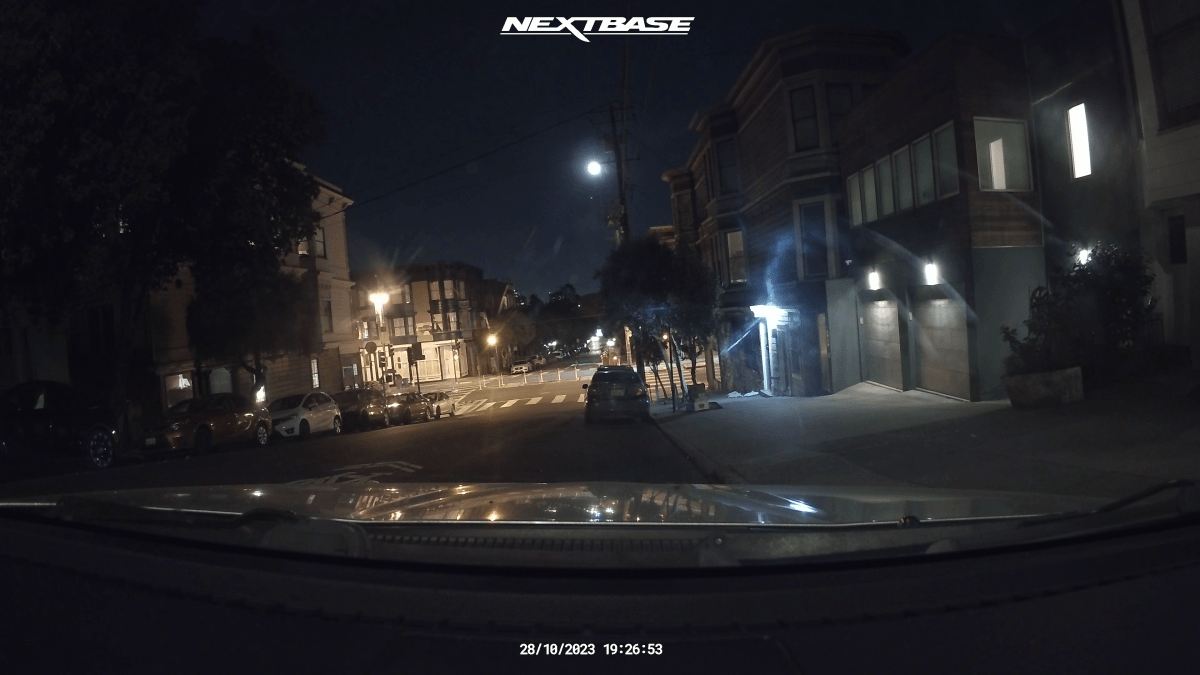 Cabin captures at night aren't quite as detailed as those taken during the day, but they're good given infrared light. My face is blurred deliberately, and yes there are two dogs in the passenger seat–I combined their walk with the testing. There's a beagle in front of them on the floor.
The iQ 4K takes two videos for every capture: a 10MB per minute 480 for phone and other low-res viewing, as well as a 300MB per minute main 2160p capture. At those rates you'll get around 3.5 hours of storage from the 64GB card before the oldest videos are overwritten. If you're going on a long trip, buy a 256GB card, which will get you through around 15 hours of driving. Note that saved videos reside permanently and subtract from the total available.
The Nextbase iQ 4K's captures are up there with the best I've seen. You needn't worry about buyer's remorse in that department.
Should you buy the Nextbase IQ 4K dash cam?
The Nextbase iQ is an excellent dash cam with some unique features that have it vying for best of breed. However, you have to cope with lifestyles-of-the-rich-and-famous pricing and the ongoing monthly expense to take full advantage of its features.
Financial timidity aside, for those with monetary means–it's the most capable dash cam out there.
Best Prices Today: Nextbase iQ 4K dash cam
$699.99
Jon Jacobi is a musician, former x86/6800 programmer, and long-time computer enthusiast. He writes reviews on TVs, SSDs, dash cams, remote access software, Bluetooth speakers, and sundry other consumer-tech hardware and software.