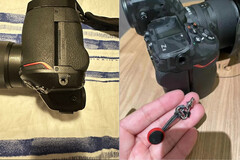 Several Nikon Z8 users have reported failing or loose camera strap lugs. This is the second issue the Z8 has had since its inception — one of which was also an issue with the Z9 previously and resulted in a recall in both cases. Nikon has yet to issue a recall regarding the loose strap lugs on the Z8, but repeated build quality issues may tarnish Nikon's reputation as a hardware manufacturer.
Despite being very well-received by both reviewers and photographers alike, the Nikon Z8 seems to be having a bit of a rough time since its release. First, Nikon had to recall a specific batch of Z8s thanks to a lens mount issue that prevented lenses from being mounted to the camera. More recently, according to Nikon Rumors, Nikon Z8 users seem to be having some trouble with the camera's strap eyelet lugs falling out or becoming loose.
A few users have posted to social media about their camera straps breaking during use, with one particular user's breakage causing them to drop and fatally damage their camera. Judging from the images uploaded to the Nikon Z8 Facebook group, it isn't an issue with the plastic moulding or the metal casting, since there is no visible damage to either. Rather, the issue seems to lie with the assembly itself coming apart or not being properly assembled from the get-go.
As of the time of writing, Nikon has not yet addressed the issue, but affected users should receive warranty support, as it does appear to be a manufacturing defect. If it is widespread enough, it's likely that the Nikon Z8 will be the subject of yet another recall. While there has been no official statement, a local Nikon distributor in Rotterdam allegedly told one Z8 user that this was a known issue, and that he would receive a replacement unit under warranty.
It's disappointing to see such a well-reviewed, capable camera suffer blows like this, and, while these types of manufacturing defects are almost certainly very rare, seeing two build-quality issues pop up back-to-back does call Nikon's quality control into question somewhat. It is unclear, though, just how widespread the issue is, and until Nikon addresses it with a statement or recall, there's no reason to assume it is a rampant issue.
Buy a Fujfilm X-S20 Mirrorless Digital Camera with XF18-55mm Lens Kit on Amazon.
Related Articles
Julian van der Merwe – Magazine Writer – 263 articles published on Notebookcheck since 2022
My interest in tech started in high school, rooting and flashing my Motorola Defy, but I really fell down the rabbit hole when I realised I could overclock the i7 930 in my Gigabyte pre-built PC. This tinkering addiction eventually lead me to study product design in university. I think tech should improve the lives of the people using it, no matter the field. I like to read and write about laptops, smartphones, software and trends in technology.
Julian van der Merwe, 2023-07-18 (Update: 2023-07-18)