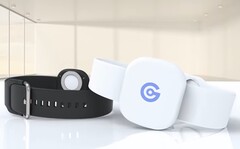 The needle-free Glucowear continuous glucose monitor (CGM) has recently been exhibited at the American Diabetes Association's 83rd Scientific Sessions and has also had an impressive design overhaul. The non-invasive Glucowear blood sugar tracker could seriously disrupt the current diabetes device market if Afon manages to start selling it in 2024.
Afon Technology Ltd appears to be one of the more promising startups working on a painless and non-invasive CGM, with its device now being known as "Glucowear" as opposed to the former somewhat prosaic "Afon Blood Glucose Sensor". The company was one of the exhibitors at the recent ADA's 83rd Scientific Sessions where, it seems a prototype of the Glucowear monitor was on show along with cases, packaging, and a portable charging stand for the device.
According to a new promotional video from Afon (see below), the Glucowear CGM, which now looks more like a wearable out of the design studios of Apple or Google, offers continuous glucose monitoring in real time thanks to wireless connectivity with a smart device. The sensor has been designed to sit under a user's smartwatch, thus allowing that particular device to become an integral part of the monitoring system. Afon claims that the Glucowear is comfortable to wear and the pain-free CGM can last for up to 14 days on a full charge.
While no suggestion of price has been posted by Afon yet, it would be fair to expect the Glucowear to be an affordable unit for those having to manage type 1, type 2, or type 3c diabetes. The company is apparently sticking to 2024 as a launch date timeframe, although it is unclear in which half that may be. The non-invasive Glucowear blood glucose monitor, which is durable and water resistant, could end up being the sort of disruptive diabetes device that millions of people will want, and it is even useful for those who have not been diagnosed with diabetes and simply want to monitor their health.
Related Articles
Daniel R Deakin – Managing Editor News & Magazine – 3022 articles published on Notebookcheck since 2012
My interest in technology began after I was presented with an Atari 800XL home computer in the mid-1980s. I especially enjoy writing about technological advances, compelling rumors, and intriguing tech-related leaks. I have a degree in International Relations and Strategic Studies and count my family, reading, writing, and travel as the main passions of my life. I have been with Notebookcheck since 2012.
Daniel R Deakin, 2023-07-23 (Update: 2023-07-23)