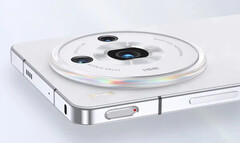 The Nubia Z50S Pro is a flagship-refresh Android smartphone is down to its last 24 or so hours ahead of its launch. Nevertheless, the OEM has decided that now is the perfect time to spring a full rear panel design reveal on its Weibo audience. The new post describes how the resulting, eye-catchingly bright and shiny SKU in question came to be.
Nubia's CEO strongly hinted that the Z40S Pro's successor had undergone a design overhaul in order to appeal to fans of professional cameras as much as possible. This, according to Ni Fei, would be done using a new camera hump the size of a dollar coin – and as the OEM's latest teaser seems to show, the executive was not joking about that in the slightest.
The Z50S Pro's camera hump upgrade is extremely apparent in the color option as shown. It does indeed rival the Xiaomi 13 Ultra or OPPO Find X6 Pro in terms of looks, at least, with a large central lens ostensibly housing the smartphone's new 35mm lens, ringed by 2 back-up cameras and laser-etched "Ultra Sensor" and "1.59-2.4/13-80" spec labels.
It dominates the upper half of a pale silver-white rear panel finished in a "nano-scale coating" to evince a "frost rock" effect. The Neovision Photography-branded cameras of this SKU – reportedly dubbed "Pick Up the Light" – are encircled with a solid "rainbow holographic"-effect ring, which might make some Nubia fans wonder what happened to the one with the multiple milled fullers in red on a black background from earlier teasers.
Well, according to the leaker Digital Chat Station, it will be available too, along with a two-toned alternative that patently follows the "old-school camera style" trend. Otherwise, the Z50S Pro exhibits up-to-date flat edges and minimal screen bezels in this new leak.
On that note, it has been suggested that the device would be a RedMagic 8S Pro re-brand with a (clearly) wildly different camera hump – however, Digital Chat Station also now asserts this is not the case, as the Nubia refresh will have its own 1.5K display that will, however regretfully, have a visible punch-hole selfie camera.
Buy a RedMagic 8 Pro on Amazon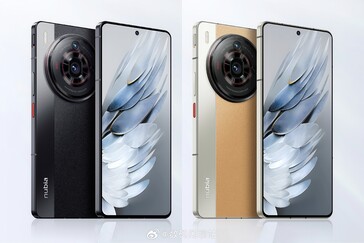 Related Articles
Deirdre O Donnell – Senior Tech Writer – 6515 articles published on Notebookcheck since 2018
I became a professional writer and editor shortly after graduation. My degrees are in biomedical sciences; however, they led to some experience in the biotech area, which convinced me of its potential to revolutionize our health, environment and lives in general. This developed into an all-consuming interest in more aspects of tech over time: I can never write enough on the latest electronics, gadgets and innovations. My other interests include imaging, astronomy, and streaming all the things. Oh, and coffee.
Deirdre O'Donnell, 2023-07-19 (Update: 2023-07-19)