Black Friday. President's Day. Labor Day. All of these arbitrary holiday designations for retail sales weren't enough for Amazon, so they had to invent an entirely new holiday: Prime Day. Well, two: Now, in addition to Amazon's summer deals event, there's Prime Big Deal Days, scheduled for October.
Prime Day is Amazon's special designated sales event for everyone, and this year it took place on July 11 and 12. Prime Big Deal Days are like Prime Day, but you absolutely must have an Amazon Prime membership to participate.
Amazon is keeping details of its Prime Big Deal Days close to the vest, but if it's anything like Prime Day, you can expect discounts across numerous product categories.
When is Amazon Prime Big Deal Days?
Prime Big Deal Days starts on October 10 and continues through October 11.
We know that Prime Big Day Deals will extend to 20 countries, however:
Australia
Austria
Belgium
Brazil
Canada
China
France
Germany
Italy
Japan
Luxembourg
Netherlands
Poland
Portugal
Singapore
Spain
Sweden
United States
United Kingdom
What time does Amazon Prime Big Deal Days start?
Deals will begin appearing at 3 AM Eastern Daylight Time in the U.S. It should begin at similar times in other counties, sometime in the wee hours of the morning.
Do I need to be a Prime member to get Amazon Prime Big Deal Days deals?
Yes, you do need an Amazon Prime subscription to take advantage of designated Amazon Prime Big Deal Days deals. Of course, you can still purchase the items without that subscription, but you won't get the special deal pricing.
To a certain extent, Amazon Prime Big Deal Days itself is a vehicle for Amazon to sell more subscriptions, which cost $14.99 per month or $139 per year. Among other benefits, in addition to deal pricing the plan gives you fast, free shipping; access to Prime Video streaming content; and special deals when you shop at Whole Foods. It's a pricey subscription, but you can sign up for a free Amazon Prime trial to get the deals.
Best Amazon Prime Big Deal Days deals
As usual, Amazon will likely have discounts on literally tens of thousands of items all across its vast retail emporium, from carpet cleaners to CPUs.
While deals will be available site-wide as third-party sellers look to get in on the action, the deepest discounts will be reserved for Amazon Prime subscribers. (Naturally. I mean, it's in the name.)
Amazon Prime Big Deal Days deals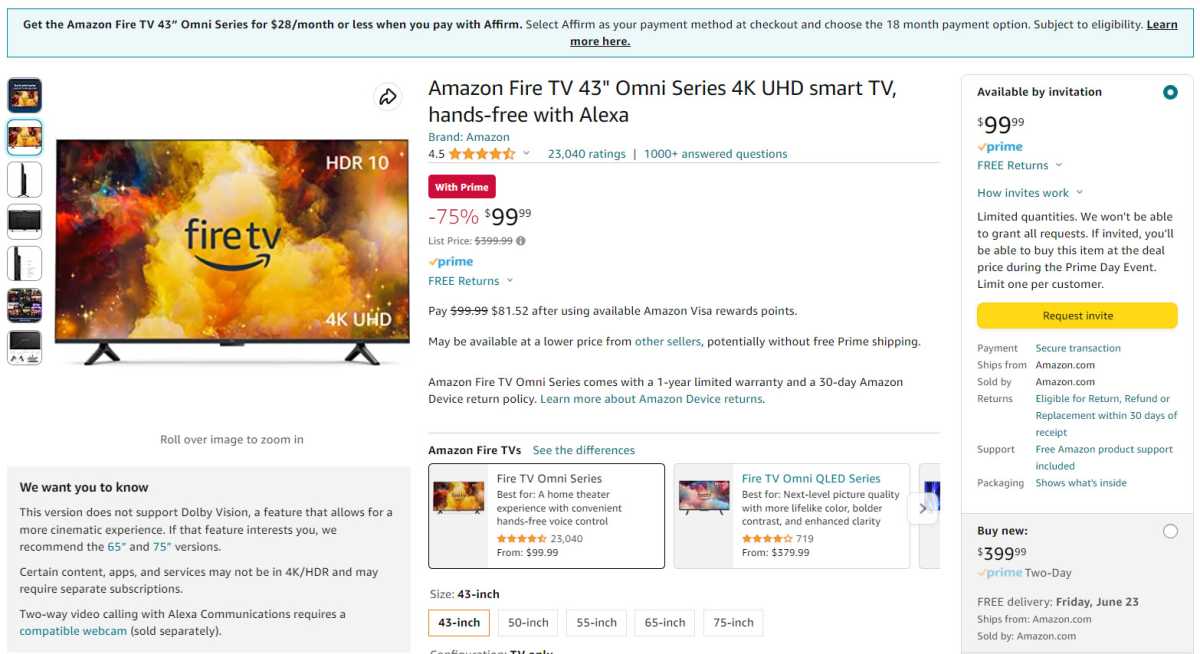 Amazon
Amazon.com/primeday is the portal for Amazon's big sales events, and it's been updated with new info for Prime Big Deal Days.
When does Amazon Prime Big Deal Days end?
Prime Big Deals Days will end on October 11. Typically Prime sales go for precisely 48 hours, so expect the deals to expire at 3 AM the following morning (technically October 12, at least for most of the United States).
Additional reporting by Mark Hachman.