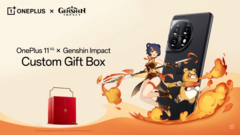 OnePlus' brand partnership with Genshin Impact has come to international markets in 2023, with a new buying option for the OEM's current flagship Android smartphone. It consists of the 11 in a new Custom Gift Box, which comes with collectibles and a version of OxygenOS 13 themed after one of the worldwide mobile gaming sensation's characters.
OnePlus has just released its latest limited edition, which is, once again, officially Genshin Impact-licensed. However, unlike the arguably more thoughtful re-working of the Ace Pro for the Chinese market in 2022, this one consists of the 11 in one of its normal SKUs, just shipped with a "Custom Gift Box" on top of its standard retail packaging.
It comes in the shape of a fancy take-away box, as this collaboration is also inspired by a playable character, at least: aspiring culinary influencer Xiangling. In addition, those wishing to order this special delivery will have to select the top-end 16GB RAM/256GB version of the 11 in Titan Black only to go with it.
Nevertheless, the new Custom Gift Box might be one for fans of custom SIM card slot ejector pins; there is one based on Xiangling's cute, if pyromaniac, companion Guoba, along with stickers and cards for the character.
The Box is coming to the US, Canada or Europe from July 21, 2023, at prices of US$799, CA$1,149 and €899 respectively. Meanwhile, the regular 16GB 11 in Eternal Green or black comes with either US$50 or up to €100 off its current regular price at present.
Disclaimer: Notebookcheck is not responsible for price changes carried out by retailers. The discounted price or deal mentioned in this item was available at the time of writing and may be subject to time restrictions and/or limited unit availability.
Related Articles
Deirdre O Donnell – Senior Tech Writer – 6510 articles published on Notebookcheck since 2018
I became a professional writer and editor shortly after graduation. My degrees are in biomedical sciences; however, they led to some experience in the biotech area, which convinced me of its potential to revolutionize our health, environment and lives in general. This developed into an all-consuming interest in more aspects of tech over time: I can never write enough on the latest electronics, gadgets and innovations. My other interests include imaging, astronomy, and streaming all the things. Oh, and coffee.
Deirdre O'Donnell, 2023-07-17 (Update: 2023-07-17)