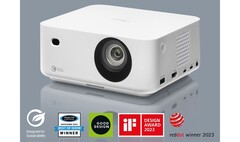 Optoma has now released the ML1080 and its ST (short throw) variant to the United States market. The series' design award-winning "ultra-portable" form-factor is touted as ideal for on-the-go laser projection in 1080p, and packs a time-of-flight (ToF) sensor for automatic focus and keystone-finding. The ML1080 line also has USB type-C for display and charging as well as remote control support.
Optoma has picked up awards from bodies such as Red Dot and the iF foundation for making ML1080 and ML1080ST projectors that weigh only about 2lb (~907 grams (g)) apiece, yet are rated for "sharp color, incredible brightness, and flexible set-up features for various immersive installations and on-the-go professional environments".
To that end, they are equipped with an "RGB triple laser" system for "accurate, cinema-grade colors". The US-market ML1080 SKUs are rated to do with a 1,200-lumen brightness rating for "an unrivalled image performance compared with similarly sized projectors".
The projectors have a throw ratio of 1.2:1 (ML1080) to 0.78:1 (ML1080ST), enabling them to cast a 100-inch image on a wall that might be only 5 feet away. The new Optoma ML-series projectors boast HDMI 2.1 as an output as well as USB type-C (with a second such port for charging) as well as a mini-USB port for the R232 remote control adapter found in the box.
The Optoma ML1080 and ML1080ST can be ordered from now at 'asking street prices' of US$999 to US$1,149 respectively, albeit through pro-grade presentation outlets such as Adtech Systems for now. However, they may join their ML750 sibling on sites such as Amazon soon.
Related Articles
Deirdre O Donnell – Senior Tech Writer – 6405 articles published on Notebookcheck since 2018
I became a professional writer and editor shortly after graduation. My degrees are in biomedical sciences; however, they led to some experience in the biotech area, which convinced me of its potential to revolutionize our health, environment and lives in general. This developed into an all-consuming interest in more aspects of tech over time: I can never write enough on the latest electronics, gadgets and innovations. My other interests include imaging, astronomy, and streaming all the things. Oh, and coffee.
Deirdre O'Donnell, 2023-06-14 (Update: 2023-06-14)