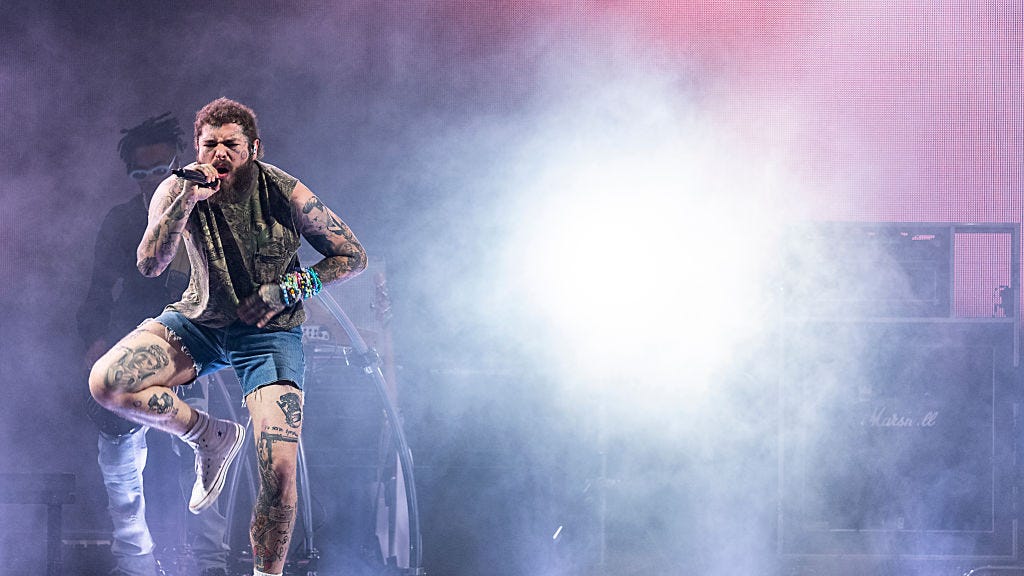 Post Malone has been on a weight loss journey this year, making a handful of small changes to his diet and lifestyle that have helped him lose 55 pounds. The rapper, who is now weighing in at 185 pounds, just told radio host Howard Stern how he switched up his diet while touring, and the zero-calorie food that he can't get enough of.
"So I remember on tour, I stopped eating a lot of fried stuff, a lot of pizza, all that stuff, because usually at the end of the day after a show, you're done, you finish up around two o'clock, you don't really know what city you're in, you don't really know where you are," he said. "You're just in the bus, so it's like, what's really open? And it's always like, you know, greasy stuff."
"The first step, I remember I went on tour, and I was like, you know what? I'm gonna eat grilled chicken, I'm gonna eat carrots, and I'm gonna have a little bit of white rice every night," he continued, before revealing the game-changing ingredient that has helped him stick to his new meal plan.
"Hot sauce has no calories in it," he said. "I was blown away! I was like wait, what the fuck is actually going on? Hot sauce has no calories in it, this shit is sick! I get it!"
"I lost 20 pounds doing that," he added. "And I was like, let's keep going, let's keep building, and we just kept fucking rocking and rolling."
During a conversation earlier this year with Joe Rogan, the musician also revealed that cutting soda out of his diet has helped him to drastically reduce his sugar intake.
"Soda is so bad," he said. "It's so good, but so bad. (If) I had a great show, and you know what, I'm feeling a little bit naughty? I'm gonna have myself a Coke on ice."
Philip Ellis is News Editor at Men's Health, covering fitness, pop culture, sex and relationships, and LGBTQ+ issues. His work has appeared in GQ, Teen Vogue, Man Repeller and MTV, and he is the author of Love & Other Scams.