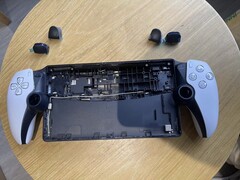 Project Q, Sony's first handheld after the PS Vita, is confirmed to use a non-detachable controller. It also runs a heavily-modded version of Android. Sony is expected to launch it later in 2023.
Those on the prowl for newer PlayStation consoles have the PlayStation 5 Pro, PlayStation 5 Slim and a variant with a detachable disc drive to look forward to. Meanwhile, on the handheld side of the aisle, one has to make do with Project Q, a glorified streaming machine which Sony has remained silent about since its reveal earlier this year. Now, some real-world images of Project Q have emerged on Reddit.
Project Q is essentially an 8-inch screen sandwiched between two halves of what looks like a DualSense controller. Unlike other cloud-based gaming devices, such as the Razer Edge, the controller is not detachable and is a part of the unit. This could be problematic as one will have to go through a cumbersome repair process should any of the sticks drift.
The Project Q prototype appears to be running a modified version of Android (as confirmed by the navigation buttons), and it'll be interesting to see what the final software ends up being. There is no word about Project Q's innards, but it will likely run an off-the-shelf Arm-based SoC with enough power to handle game streaming. 
Unfortunately, there is no footage of Project Q running any games. Sony's teaser hinted it could play games at 1080p 60 FPS. However, its battery life stands at just four hours, a bit low for a device that doesn't render games natively. Then again, it is a glorified Remote Play machine rumoured to cost less than a Nintendo Switch OLED and not a full-time console replacement.
Related Articles
Anil Ganti – Senior Tech Writer – 1427 articles published on Notebookcheck since 2019
I've been an avid PC gamer since the age of 8. My passion for gaming eventually pushed me towards general tech, and I got my first writing gig at the age of 19. I have a degree in mechanical engineering and have worked in the manufacturing industry and a few other publications like Wccftech before joining Notebookcheck in November 2019. I cover a variety of topics including smartphones, gaming, and computer hardware.
Anil Ganti, 2023-07-22 (Update: 2023-07-22)