It took a little longer than normal for the numbers to be crunched after the Asian Open but the final PTO Tour race of the season has had a dramatic impact on the PTO World Rankings.
Wins for Ashleigh Gentle and Kristian Blummenfelt against stacked fields in Singapore gave them near-perfect returns of 99.23 and 99.38 points respectively and cemented their positions at the top of the standings.
And there were plenty of other changes too…
Sodaro back on track
Reigning IRONMAN World Champion Chelsea Sodaro roared back to form with third place in Singapore and that vaulted her up from #18 to #6.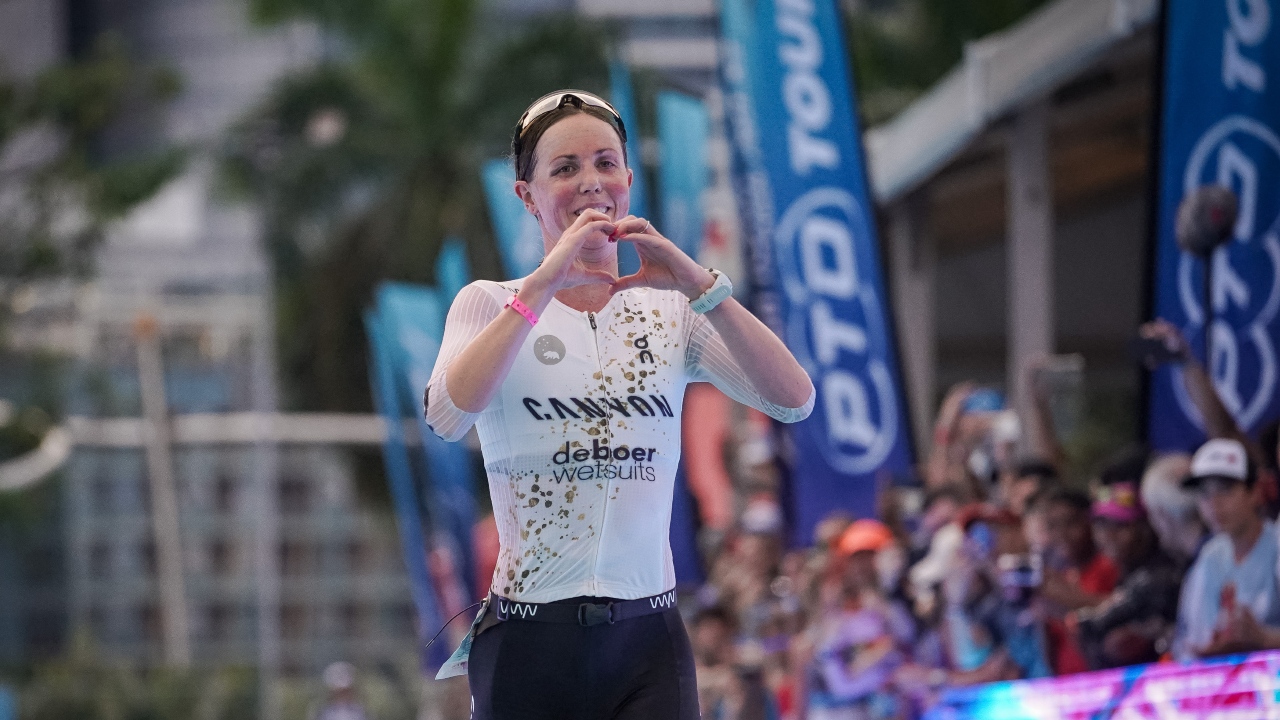 Imogen Simmonds was just a place behind in fourth and she's jumped nine places to #13 in the rankings as a result.
On the men's side Jason West's upward trajectory reflects his rapid run speed as he moves from #7 to #3 following his third place in the Asian Open.
He and Blummenfelt were split by Pieter Heemeryck and the Belgian's reward is a spot in the top 10 as he goes from #13 to #7.
And a little lower down the standings, France's Arthur Horseau was handed more good news after his IMWC wildcard for Nice as he leapt a massive 184 places to #53 following his victory at Embrunman.
Current PTO Rankings – Women
The leading women – as of August 24, 2023 – are as follows:
1. Ashleigh Gentle (AUS) 97.89
2. Taylor Knibb (USA) 96.69
3. Anne Haug (GER) 96.40
4. Lucy Charles-Barclay (GBR) 94.02
5. Paula Findlay (CAN) 92.02
6. Chelsea Sodaro (USA) – 91.76
7. Laura Philipp (GER) 90.65
8. Emma Pallant-Browne (GBR) 88.93
9. Daniela Ryf (SUI) 88.16
10. Holly Lawrence (GBR) 87.93
11. Kat Matthews (GBR) 87.54
12. Tamara Jewett (CAN) 87.12
13. Imogen Simmonds (SUI) 86.93
14. Lisa Norden (SWE) – 86.25
15. Fenella Langridge (GBR) 85.97
16. Skye Moench (USA) 85.05
17. Sarah True (USA) 84.72
18. India Lee (GBR) 84.57
19. Marjolaine Pierre (FRA) 84.52
20. Sara Perez Sala (ESP) 83.73
Current PTO Rankings – Men
The leading men – as of August 24, 2023 – are as follows:
1. Kristian Blummenfelt (NOR) 96.95
2. Magnus Ditlev (DEN) 95.01
3. Jason West (USA) 94.42
4. Jan Frodeno (GER) 92.14
5. Max Neumann (AUS) 91.81
6. Sam Long (USA) 91.66
7. Pieter Heemeryck (BEL) 91.19
8. Ben Kanute (USA) 90.80
9. Sam Laidlow (FRA) 90.27
10. Daniel Bækkegård (DEN) 89.08
11. Patrick Lange (GER) 88.98
12. Mathis Margirier (FRA) 88.18
13. Joe Skipper (GBR) 88.13
14. Denis Chevrot (FRA) 87.75
15. Bradley Weiss (RSA) 87.40
16. Leon Chevalier (FRA) 87.21
17. Clement Mignon (FRA) 87.13
18. Aaron Royle (AUS) 86.55
18. Florian Angert (GER) 86.42
19. Frederic Funk (GER) 85.39
20. David McNamee (GBR) 85.07
How do the PTO Rankings work?
This is not just about kudos – the top 50 athletes are fighting it out for a bonus pool worth a cool $2million in the 'Race For The Rankings'. This will be dished out based on rankings at the end of 2023.
Each athlete has a points total which is an average of their three best races during the ranking period and all aspects of the process are covered here.
Final PTO Rankings for 2020
2020 was the first year that PTO implemented their Year End Annual Bonus Programme, to be based upon the PTO Rankings, eligible for the top-100 ranked athletes. Initially set at $2million, the impact of the COVID pandemic saw that paid out early – and with the total topped up to $2.5million.
That first year saw Jan Frodeno and Daniela Ryf top the pandemic-impacted rankings – Men | Women.
Final PTO Rankings for 2021
The final rankings for 2021 saw Lucy Charles-Barclay and Gustav Iden top their respective lists, both claiming a bumper $100k bonus in the process.
You can check out the final 2021 PTO Rankings by clicking here.
Final PTO Rankings for 2022
While Gustav Iden (second) and Lucy Charles-Barclays (fifth) still featured strongly in the 2022 points roundup – winning $90k and 60k, respectively – it was Kristian Blummenfelt and Anne Haug that took the tops spots and $100k bonuses.
You can check out the final 2022 PTO Rankings by clicking here.