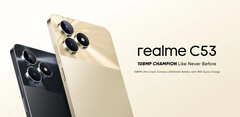 Realme has now confirmed that the C53 confers the ability to "Shoot like a Champion" with a 108MP main camera for cheaper than ever before. The smartphone also offers an additional, potentially winning, perk in the form of the OEM's take on the Apple Dynamic Island: its "Mini Capsule for Android". However, this premium veneer of hype comes with frankly puzzling choices in other ways.
The C53 has been formally unveiled alongside the Pad 2 today (July 19, 2023), revealing that the new smartphone comes in Champion Black as well as its hyped-up Champion Golden shade. On first look, it seems like a (profoundly) affordable-class smartphone with a marquee, usually more premium, selling point. As some Realme fans in India might be well aware by now, it is a 108MP main rear camera in this case. However, the situation – or the cost-benefit analysis, rather – is a little more complicated than they may have expected.
The C53 has just 2 configurations, one of which has 128GB of internal storage. Oddly, it is also the only one with 4GB of RAM, whereas the 6GB alternative has just 64GB. As the C53's build of Realme UI supports Dynamic RAM, that might get disappointing. Then again, there is a microSD card slot, at least.
The new device has a 6.74-inch, 90Hz and 560-nit peak brightness display – which, as Realme conceded earlier, has a U-shaped bezel bulge for the selfie camera rather than a punch-hole. However, it is also the first such notch that extends into a Mini Capsule – although this take on the Dynamic Island is, again, just a software tweak.
On that note, Realme neglects to mention which version of Android the C53 runs out of the box, or which "octa-core" SoC it has. Hopefully, neither discovery the buyer will have to make for themselves will be a disappointment, even if the device's atypical 4GB base model does cost just INR 9,999 (~US$122) on the OEM's website, while the 6/64GB alternative is INR 1,000 (~US$12) more.
Buy the Realme C55 on Amazon.in
Related Articles
Deirdre O Donnell – Senior Tech Writer – 6515 articles published on Notebookcheck since 2018
I became a professional writer and editor shortly after graduation. My degrees are in biomedical sciences; however, they led to some experience in the biotech area, which convinced me of its potential to revolutionize our health, environment and lives in general. This developed into an all-consuming interest in more aspects of tech over time: I can never write enough on the latest electronics, gadgets and innovations. My other interests include imaging, astronomy, and streaming all the things. Oh, and coffee.
Deirdre O'Donnell, 2023-07-19 (Update: 2023-07-19)