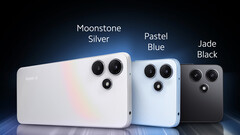 Xiaomi has launched two new smartphones in India, the Redmi 12 and Redmi 12 5G. Both have identical specs except for the SoC and camera sensors. They will be available via Xiaomi's official website and popular e-commerce platforms on August 4.
Xiaomi has launched two new smartphones for the Indian market called the Redmi 12 and Redmi 12 5G. The former is effectively the same Redmi 12 teased earlier, while the latter is an India-only version of the Redmi Note 12R launched in China earlier this year. Both phones are mostly identical to each other, with a minimal difference in specs.
For starters, the Redmi 12 and Redmi 12 5G use the same 6.7-inch FHD+ (1,080 x 2,460) IPS LCD panel clocked at 90 Hz and a 5,000 mAh battery that supports 18 Watt fast charging. Both may same dated in 2023, but one can excuse the oversight, given their affordable prices. Similarly, the Redmi 12 and Redmi 12 5G come with at least 128 GB of storage and 4 GB of RAM, which can be upgraded to 256 GB and 8 GB, respectively. Further storage expansion is possible via a micro SD card, but it comes at the expense of using a second SIM card.
The main difference between the Redmi 12 and Redmi 12 5G lies in its chipset. The former uses an aged MediaTek Helio G88, while the latter uses the recently-announced Qualcomm Snapdragon 4 Gen 2, allowing for 5G connectivity. The Redmi 12 also adds an 8 MP ultra-wide angle lens to the 50 MP wide-angle and 2 MP depth sensor on the rear cameras. For selfies, both smartphones employ an 8 MP sensor. Interestingly, FM Radio is not supported on the Redmi 12 5G, a feature highly sought after by budget smartphone enthusiasts. Other Redmi 12 and Redmi 12 5G features 802.11 b/g/n/ac Wi-Fi, Bluetooth 5.3, a side-mounted fingerprint sensor, a 3.5 mm audio jack and a plastic chassis.
The Redmi 12 will be purchasable in India on August 4 via Flipkart and Xiaomi's official website, starting at INR 8,999 (US$102). The Redmi 12 5G will retail at INR 10,999 (US133) via Amazon India and Xiaomi's retail channels on the same day. Both are "effective" prices after promotional (bank-specific) discounts, and Xiaomi India has refused to divulge their actual prices once they expire. Given its history of raising prices after launch, it will undoubtedly go up, only to fall during promotional events.
Related Articles
Anil Ganti – Senior Tech Writer – 1433 articles published on Notebookcheck since 2019
I've been an avid PC gamer since the age of 8. My passion for gaming eventually pushed me towards general tech, and I got my first writing gig at the age of 19. I have a degree in mechanical engineering and have worked in the manufacturing industry and a few other publications like Wccftech before joining Notebookcheck in November 2019. I cover a variety of topics including smartphones, gaming, and computer hardware.
Anil Ganti, 2023-08- 1 (Update: 2023-08- 1)