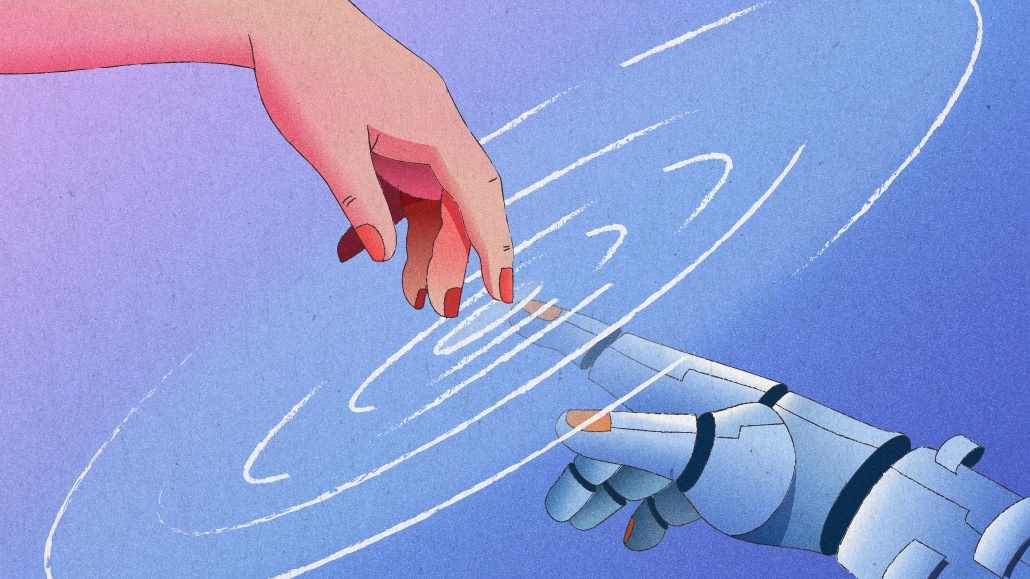 Ivy Liu
This research is based on unique data collected from our proprietary audience of publisher, agency, brand and tech insiders. It's available to Digiday+ members. More from the series →
Interested in sharing your perspectives on the media and marketing industries? Join the Digiday research panel.
In this week's Digiday+ Research Briefing, we examine how agencies, fresh off of Advertising Week, see a future shaped by AI, how publishers' use of X is falling off and how education is becoming key to retail media's growth, as seen in recent data from Digiday+ Research.
76% percent of agencies expect AI to impact their businesses
The AI boom has been one of the topics dominating conversations among the more than 12,000 industry professionals attending this year's Advertising Week in New York. Generative AI, in particular, has been in the spotlight, as attendees discussed tools from ChatGPT, Bard and AI-powered Bing to more proprietary solutions. In fact, generative AI is the main form of AI tech agencies use, according to 72% of survey respondents in Digiday+ Research's second annual report on the state and future of the media agency. 
Generative AI can be used in the creative process for everything from research and writing copy iterations to creating images and music. While it poses new safety risks and ethical concerns, based on industry buzz around the topic, it seems inevitable that agencies will continue experimenting with the tech going forward.
The stats:
Seventy-six percent of agency respondents said they expect AI to have the biggest impact on their business over the next few years.
Agencies mostly use generative AI for non-consumer-facing purposes, with 45% of respondents saying they use it for back-end or internal applications. However, an almost equal amount of respondents (42%) use it for a combination of back-end and consumer-facing applications.
Read more about agencies' use of AI
Digiday+ Research digest
Publishers are stepping back from X, and it's no surprise why. Over the past rollercoaster ride of a year, the platform formerly known as Twitter has changed its name, changed its verification practices and removed headlines from posts containing links — in what one publishing executive called "a bozo move." Not surprisingly, Digiday+ Research found a big drop-off in publishers' use of X this year, likely a result of many of these changes.
The stats:
Less than three-quarters of publisher pros (73%) said this year that their titles posted content to X in the past month, down from 89% who said the same in 2022.
Publishers consider X to be a lot less brand-appropriate this year. Slightly more than three-quarters of publisher pros (79%) said in 2023 that X is at least somewhat appropriate for their brands, a significant drop from the 92% who said so in 2022.
Not many publishers are advertising on X. Just 21% of publisher pros told Digiday this year that their titles purchased advertising on X in the past month, compared with 26% last year.
Read more about publishers' use of X
Agencies and retailers are starting retail media education programs to teach staffers and clients about the latest innovations in the retail media. The ad channel is marketers' third most used media channel according to Digiday+ Research's CMO Strategies series and its popularity is only expected to continue growing. 
How they're doing it:
IPG's UM opened a space in its New York headquarters where IPG employees and clients can play with the latest commerce and retail media tech. The installation showcases several retail and commerce-related tech innovations from vendors.
Walmart is offering a certification program for agency and brand professionals about its retail media network Walmart Connect. The Walmart Connect Academy Ad Certification program will hand out one-year LinkedIn-enabled digital credential badges upon completion of coursework and a feedback survey and with a passing score of 80%.
The stats:
Amazon is the clear leader in the retail media category, with 76% of respondents saying their company uses Amazon for selling products. Walmart Connect is second, with 24% of respondents saying their company uses the platform.
The majority of marketers measure retail media success through commerce or sales. Ninety-five percent of respondents said their primary measurement of success is commerce or sales, versus 12% and 5% for impressions and engagement respectively.
Read more about marketers' use of retail media
See research from all Digiday Media Brands:
https://digiday.com/?p=522405