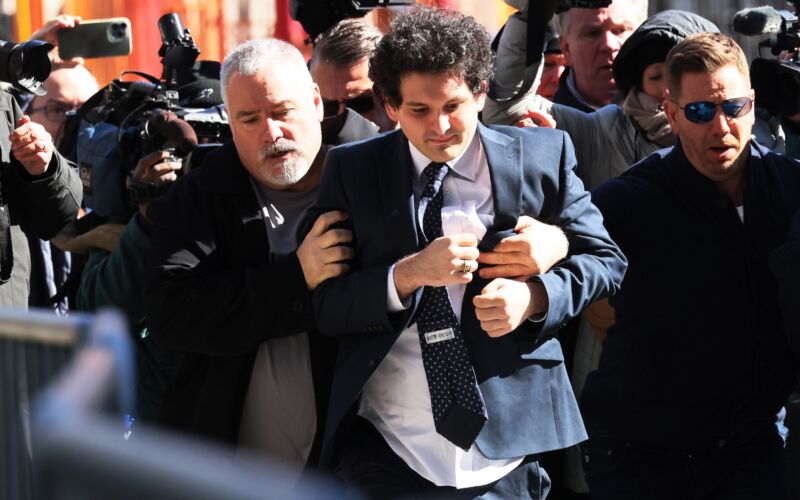 Sam Bankman-Fried took the stand in his criminal trial today in an attempt to avoid decades in prison for alleged fraud at cryptocurrency exchange FTX and its affiliate Alameda Research.
Providing testimony has been called a risky move for Bankman-Fried by many legal observers. After answering questions posted by his own lawyers, Bankman-Fried will have to face cross-examination from federal prosecutors. But after three weeks in which US government attorneys laid out their case, including testimony from former FTX and Alameda executives, Bankman-Fried's legal team announced yesterday that he would take the stand.
Today's testimony was unusual because US District Judge Lewis Kaplan sent the jury home for the day to conduct a hearing on whether certain parts of his testimony are admissible. "That means Bankman-Fried will give some of his testimony to the judge without the jury present. The judge will then decide whether Bankman-Fried is allowed to say the same testimony in front of a jury," The Wall Street Journal wrote in its live coverage. The trial is not being streamed via audio or video.
In today's jury-less proceeding, Bankman-Fried answered questions from both his own lawyer and a government prosecutor. The current Bankman-Fried trial involves seven criminal charges with maximum sentences adding up to 110 years. He faces another five criminal charges in a related trial expected to begin in March 2024.
Bankman-Fried reportedly struggled in his initial testimony today. Kaplan instructed the defendant to stop being evasive during questioning by Assistant US Attorney Danielle Sassoon, telling him to "listen to the question and answer the question directly."
SBF "skimmed over" FTX terms of service
Some of the alleged fraud relates to how Alameda borrowed money from FTX. In testimony today, "Bankman-Fried said he believed that under FTX's terms of service, sister firm Alameda was allowed in many circumstances to borrow funds from the exchange," the WSJ wrote. Bankman-Fried reportedly said the terms of service were written by FTX lawyers and that he only "skimmed" certain parts.
"I read parts in depth. Parts I skimmed over," Bankman-Fried reportedly said after Kaplan asked if he read the entire terms of service document.
Sassoon asked Bankman-Fried if he had "any conversations with lawyers about Alameda spending customer money that was deposited into FTX bank accounts," according to Bloomberg's live coverage. "I don't recall any conversations that were contemporaneous and phrased that way," Bankman-Fried answered.
"I had so many conversations with lawyers later when we were trying to reconcile things in November 2022," Bankman-Fried also said. "There were conversations around Alameda being used as a payment processor, a payment agent for FTX. I frankly don't recall conversations with lawyers or otherwise about the usage of the funds or the North Dimension accounts." North Dimension was an Alameda subsidiary. The Securities and Exchange Commission has alleged that "Bankman-Fried directed FTX to have customers send funds to North Dimension in an effort to hide the fact that the funds were being sent to an account controlled by Alameda."
One decision for Kaplan is whether Bankman-Fried will be allowed to blame FTX lawyers when the jury is back in the courtroom. As we previously wrote, this is called an "advice-of-counsel defense" in which SBF could argue that he sought advice from company lawyers, received advice that his conduct was legal, and "relied on that advice in good faith."
Before the trial began, Kaplan issued an order that prohibited Bankman-Fried from using the advice-of-counsel defense in opening statements. But Kaplan left the door open for SBF to use the advice-of-counsel defense "on a case-by-case basis" as the trial continues.