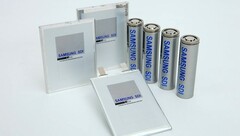 BMW has ordered its EV battery supplier Samsung SDI mass production of cylindrical 4680-style batteries like the ones Tesla is ramping up for the Cybertruck, but longer and with higher energy capacity. The 46120 batteries will be produced together with 4695 and 4680 ones.
Samsung is preparing to start mass production of its rumored 4680-style batteries with higher energy capacity than the ones Tesla and Panasonic are making for the Cybertruck, reports local media. As requested by its EV battery customer BMW, it will start producing larger 46120 cells via a US$400 million expansion of its factory in Hungary as soon as this year. BMW is breaking ground on an EV assembly plant in Hungary, too, and will need as many of the new 46120 battery cell design for its ambitious vehicle portfolio electrification strategy as possible.
The 46120 cells will deliver exactly what it says on the tin, a battery with 46mm diameter, like the one Tesla has been waxing poetic about since its Battery Day in 2020, and which it just recently started placing in the Texas-made Model Y.
At 120mm height, however, Samsung's cells will be 50% taller than the 4680 ones Tesla uses now and which it is expected to start equipping the Cybertruck with via planned Gigafactory expansions in Nevada, Texas, and Fremont. In fact, the 4680 battery manufacturing capacity will be a chief bottleneck when it comes to ramping up the Cybertruck's production to the desired quantities.
Samsung will be adding two new production lines and extra 10 GWh of annual capacity for its cylindrical battery push in Europe. At first, it plans to produce 4695 cells there, whose energy capacity will sit below that of the 120mm ones for BMW, as well as the good ol' 4680 cells of the type that Tesla uses. Samsung has been rumored to be another supplier of 4680 batteries for Tesla, so it remains to be heard if some batches will go to the Berlin Gigafactory which assembles the local Model Y versions.
Samsung has big plans for its 4680, 4695, and 46120 batteries, it seems, as it already runs their pilot production line in Cheonan, while it will be adding capacity to its Malaysian factory to make them for the Asian market, too. As for the exact energy capacity of the intriguing 46120 battery cell of Samsung, it will likely be much higher than what Tesla's 4680 batteries harbor now, though not exactly 50% more as the difference in cell heights would suggest.
Besides cylindrical 46120 cells for BMW and perhaps 4680 batteries for Tesla, Samsung is working on cheaper LFP phosphate batteries for mass market electric vehicles. Samsung also recently demonstrated its solid-state battery which banks on years of experience in manufacturing multi-layer ceramic capacitors to make stable oxide electrolyte for "a longer battery life achieved by the company's proprietary solid electrolyte and anode-less technologies."
Related Articles
Daniel Zlatev – Tech Writer – 808 articles published on Notebookcheck since 2021
Wooed by tech since the industrial espionage of Apple computers and the times of pixelized Nintendos, Daniel went and opened a gaming club when personal computers and consoles were still an expensive rarity. Nowadays, fascination is not with specs and speed but rather the lifestyle that computers in our pocket, house, and car have shoehorned us in, from the infinite scroll and the privacy hazards to authenticating every bit and move of our existence.
Daniel Zlatev, 2023-07-19 (Update: 2023-07-19)