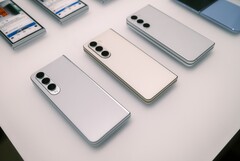 Samsung may not have moved the needle much with the Galaxy Z Flip5 and Galaxy Z Fold5. However, it has now demonstrated various prototypes of both models, offering a glimpse into the various avenues that Samsung could have taken the Galaxy Z series.
Samsung is now in the pre-order stage of its Galaxy Z Fold5 and Galaxy Z Flip5 release schedule, having presented the pair last week alongside the Galaxy Watch6 and Galaxy Tab S9 series. While this year's Galaxy Z models focus on internal improvements, Samsung has showcased recent experiments on its well-established Galaxy Z Fold and Galaxy Z Flip design languages.
Specifically, Samsung presented mockups of the Galaxy Z Fold5 in four prototypes with 22.5:9, 22:9, 21.5:9 and 21:9 aspect ratios, plus the retail unit aspect ratio of 23.1:9. As some of the images below show, these alternative aspect ratios give the Galaxy Z Fold5 a slightly different appearance, particularly the squatter 21:9 prototype. Additionally, Samsung revealed what this year's Galaxy Z Fold could have looked like with differing foldable display sizes, which expand to 7.82-inches.
Moreover, Samsung included a dummy Galaxy Z Fold5 unit with a built-in S Pen, a rumour that surfaced at the start of the year. Similarly, Ray Wong has provided photos of various Galaxy Z Flip designs, colours and finishes that Samsung was toying with before settling on the Galaxy Z Flip5. Unfortunately, Samsung has decided to maintain a design language across generations to maintain brand recognition. Thus, it may still be a few generations before Samsung gradually tweaks the design of its Galaxy Z series, as has also proven the case with recent Galaxy S smartphones. 
Related Articles
Alex Alderson – Senior Tech Writer – 8286 articles published on Notebookcheck since 2018
Prior to writing and translating for Notebookcheck, I worked for various companies including Apple and Neowin. I have a BA in International History and Politics from the University of Leeds, which I have since converted to a Law Degree. Happy to chat on Twitter or Notebookchat.
Alex Alderson, 2023-08- 1 (Update: 2023-08- 1)