Image: Mark Hachman / IDG
At a glance
Expert's Rating
Pros
Solid design
Favors legacy USB-A ports, but with USB-C options
Cons
Premium price
Only one display port: Thunderbolt
You'll likely need to buy additional cables
Occasional connection issues
Smartphone charging port is mediocre
Our Verdict
Satechi's Thunderbolt 4 Dock was likely designed with the Mac market in mind, but this compact premium Thunderbolt dock offers quite a lot. Rivals may deliver more value, however.
Best Prices Today: Satechi Thunderbolt 4 Dock
£405.79
A few Thunderbolt docks trace their lineage to the Mac world, where direct Thunderbolt display connections are more common than the HDMI or DisplayPort ports of the Windows world. Satechi's Thunderbolt 4 Dock falls into this category, with three upstream Thunderbolt 4 connections in addition to a handful of USB connections.
This isn't a problem for a Windows laptop, though it's doubtful you already own a display with the correct Thunderbolt 4 connection. Instead, you'll need to match the ports on your monitor with an intermediary cable. That means purchasing an additional USB-C (Thunderbolt) to HDMI cable or two, which will cost an extra $20 or so per cable. Alternatively, you could also buy a Thunderbolt-equipped display, though those are still relatively uncommon and expensive!
Either way, you'll likely be tacking a few extra dollars on top of the cost of Satechi's Thunderbolt 4 Dock, a choice which other docks don't force upon you.
Further reading: See our roundup of the best Thunderbolt docks to learn about competing products.
Satechi's Thunderbolt 4 Dock measures 7.5 inches long by 3.5 inches deep, with no vertical stand or mounting option. A 135W power brick delivers power to the dock, which then passes 96W of power to your laptop via a 31-inch Thunderbolt 4 cord that ships inside the box.
We've never run into a situation where a dock has overheated. Satechi's dock didn't break that trend, and the dock's aluminum and plastic chassis dissipated heat just fine. There's a small LED indicating when the device is powered on (white for power, yellow for powered and connected), but no power button.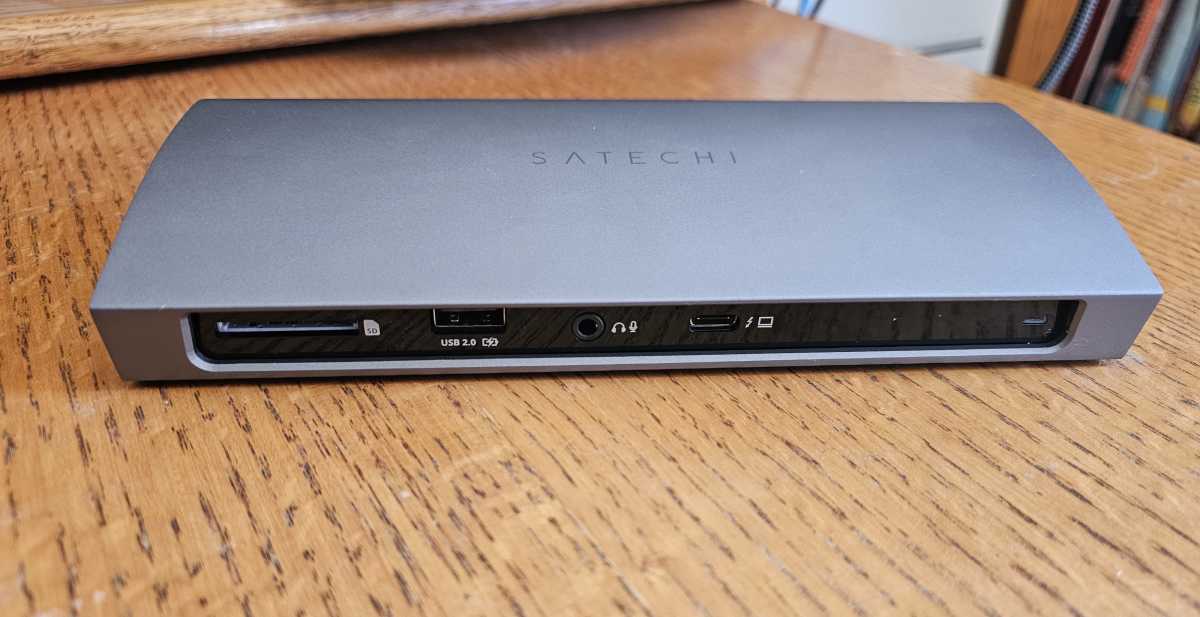 Mark Hachman / IDG
Satechi's Thunderbolt 4 Dock mounts a UHS-II SD card reader on the front of the dock, without a microSD option. Next to it is a single USB 2.0 5Gbps port, with BC 1.2 charging, which can deliver up to 7.5W of power. Unfortunately, the dock passed only 3.8W, which will charge a smartphone slowly. (On the other hand, you can always plug your phone into a free Thunderbolt 4 port on the rear of the dock, which transferred a hefty 12.2W, enough to fast-charge a smartphone.) The front of the Satechi Dock also includes a headphone jack, plus the USB-C port for the cable connection to your laptop.
Two Kensington security-lock ports are mounted on the side of the dock. On the rear, Satechi includes three 10Gbps USB-A ports, none of which deliver any power at all. There's also a gigabit Ethernet port, the three upstream Thunderbolt 4 ports, and the power connector.
We chose to test the Satechi Thunderbolt 4 Dock using a direct Thunderbolt connection to one 4K display, and an intermediary cable to another 4K display. Both took a few seconds to establish a connection, but did so. (We tried connecting to a third 1440p display using the third port, just to check, but the dock wouldn't establish a connection, which is fine.) We consider establishing the two 4K connections, however, to be the standard.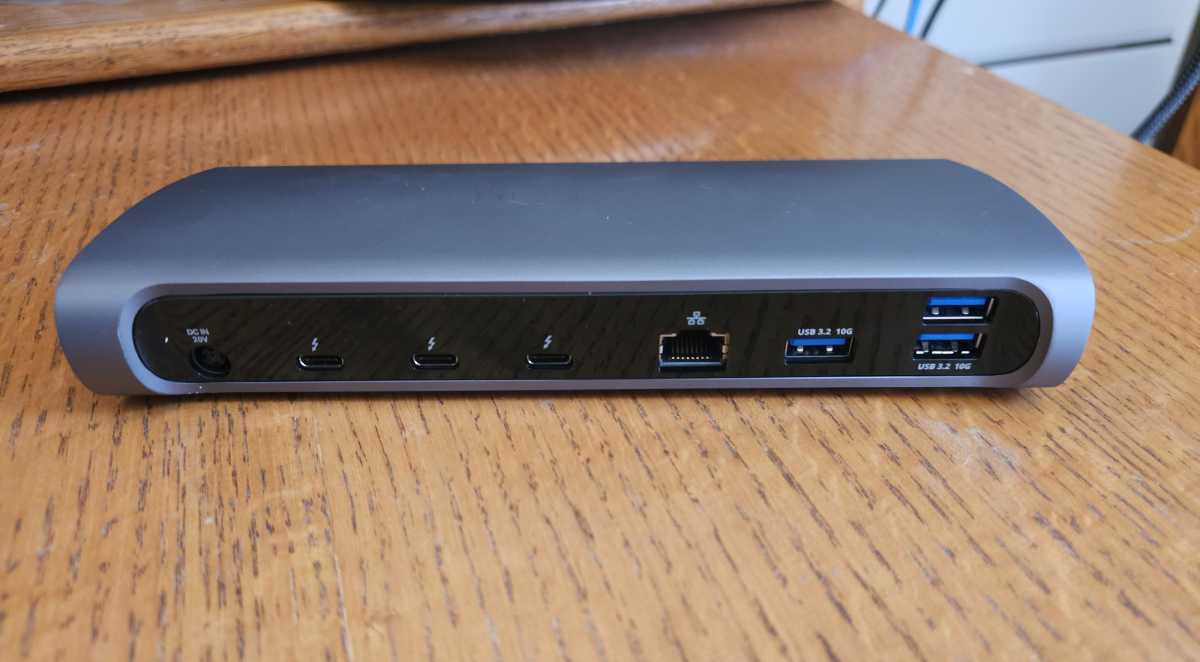 Mark Hachman / IDG
In our tests, we streamed 4K60 video from both online and offline sources, with very few dropped frames, including video played back from an external hard drive. We saw a few hiccups when playing back video from Netflix, and video streamed from Amazon Prime played back in a lower resolution than expected. After further tests, including a speed test that measured the performance of the dock's Ethernet port, we concluded that it was the ISP, not the dock, at fault.
We did find, however, that this Satechi dock will occasionally disconnect, randomly, perhaps twice a day. We also experienced the same thing with a second, different Satechi dock, so perhaps it's something with the internal design. It's an irritating annoyance, though not catastrophic: The attached displays simply disconnected for a second or so, then reconnected. Nothing else seemed to change.
What we've come to find in our tests of both the best Thunderbolt docks and best USB-C hubs and dongles is that manufacturers aren't afraid to mix and match ports and features. At press time, Plugable's 5-in-1 Thunderbolt Hub was our pick for the best Thunderbolt hub—but it offers a lot less (for a lot less money) than the Satechi Thunderbolt 4 Dock does.
If you don't mind spending a bit more for additional features (and cables), Satechi's Thunderbolt 4 Dock is a decent pick. Otherwise, you'll find slightly more affordable options in our dock roundup, with dedicated display ports that should match your existing monitor.
Best Prices Today: Satechi Thunderbolt 4 Dock
£405.79