Image: Mark Hachman / IDG
At a glance
Expert's Rating
Pros
Support for four external 4K displays is rare
Ports all over the place
Early stability concerns appear unjustified
96W-rated laptop power
Cons
Quite expensive
Charging port won't fast-charge a smartphone
Our Verdict
Satechi offers an ultrapremium Thunderbolt 4 dock with support for up to four external displays, but it's extremely expensive at the MSRP price.
Best Prices Today: Satechi Thunderbolt 4 Multimedia Pro Dock
Satechi's Thunderbolt 4 Multimedia Pro Dock does something not every Thunderbolt dock does: It offers you the option of using four external displays. This is a premium feature, though, and this premium dock has a premium price tag attached to it as well.
Satechi's Thunderbolt 4 Multimedia Pro Dock should remind you of Plugable docks like the TBT3-UDZ, whose distinguishing feature is the option to use either a DisplayPort or HDMI cable to connect to a pair of external 4K displays, since the dock supports both options. (Many don't.) In this case, the Satechi dock goes further: Of course, you can use two of the four display ports. But you can also use all four. Yes, you can connect four displays with this dock, if your hardware supports it.
In either scenario, the Satechi Thunderbolt 4 Multimedia Pro Dock offers a choice of either two DisplayPort 1.4 ports or a pair of HDMI 2.1 ports. You can mix and match, of course. The port flexibility adds some cost, but you can be pretty much assured that if you own a display with an existing cable attached, it will fit into the Thunderbolt 4 Multimedia Pro Dock without any need to buy additional hardware.
Further reading: See our roundup of the best Thunderbolt docks to learn about competing products.
Basically, there are a ton of ports, period. On the front, the dock includes a UHS-II microSD and SD card slot, one 10Gbps USB-A port, a 5Gbps USB-A port with charging, a 3.5mm headphone jack, and an upstream Thunderbolt 4 port to the host, capable of 98W of charging power. The Thunderbolt cable is about 2.6-feet long. There's also a pushbutton power button, which surprisingly doesn't light up.
Mark Hachman / IDG
On the back, there is even more: For starters, two 5Gbps USB-A ports and two more 10Gbps USB-A ports. Each is properly, helpfully labeled. There's also a 10Gbps USB-C port, also with power delivery, a 2.5GBps Ethernet port, the four display ports, and the power-input port, which connects to a 135W power brick. Even under load, there were no thermal issues at all.
Most Thunderbolt docks promise that you'll be able to connect up to two 4K60 displays, regardless of how many display ports the dock offers. In this case, Satechi says you should be able to connect to all four display ports, period, at up to 4K resolution. That's really up to your hardware: Satechi warns that your laptop may only be able to connect to two external displays (some Macs and older Windows machines) and three 4K60 displays even with recent Intel-based hardware. The latter scenario assumes you wish to use your laptop's display as well; otherwise, you can close your laptop and use four external displays instead.
But to answer the obvious question: Yes, it all works, and smoothly too. It does take a few seconds for the dock to reconfigure itself, which might feel long to some. And four displays plus your laptop's built-in display is unfortunately out of the question with both Intel Core and even an AMD Ryzen-based USB4 notebook. If you have the desk space, it's worth it!
The Satechi Thunderbolt 4 Multimedia Pro Dock is also one of the few docks that ships with a vertical stand, allowing it to stand on its edge to save space. Otherwise, it measures 7.67 x 4.1 x 1.85 inches and weighs about 1.5 pounds.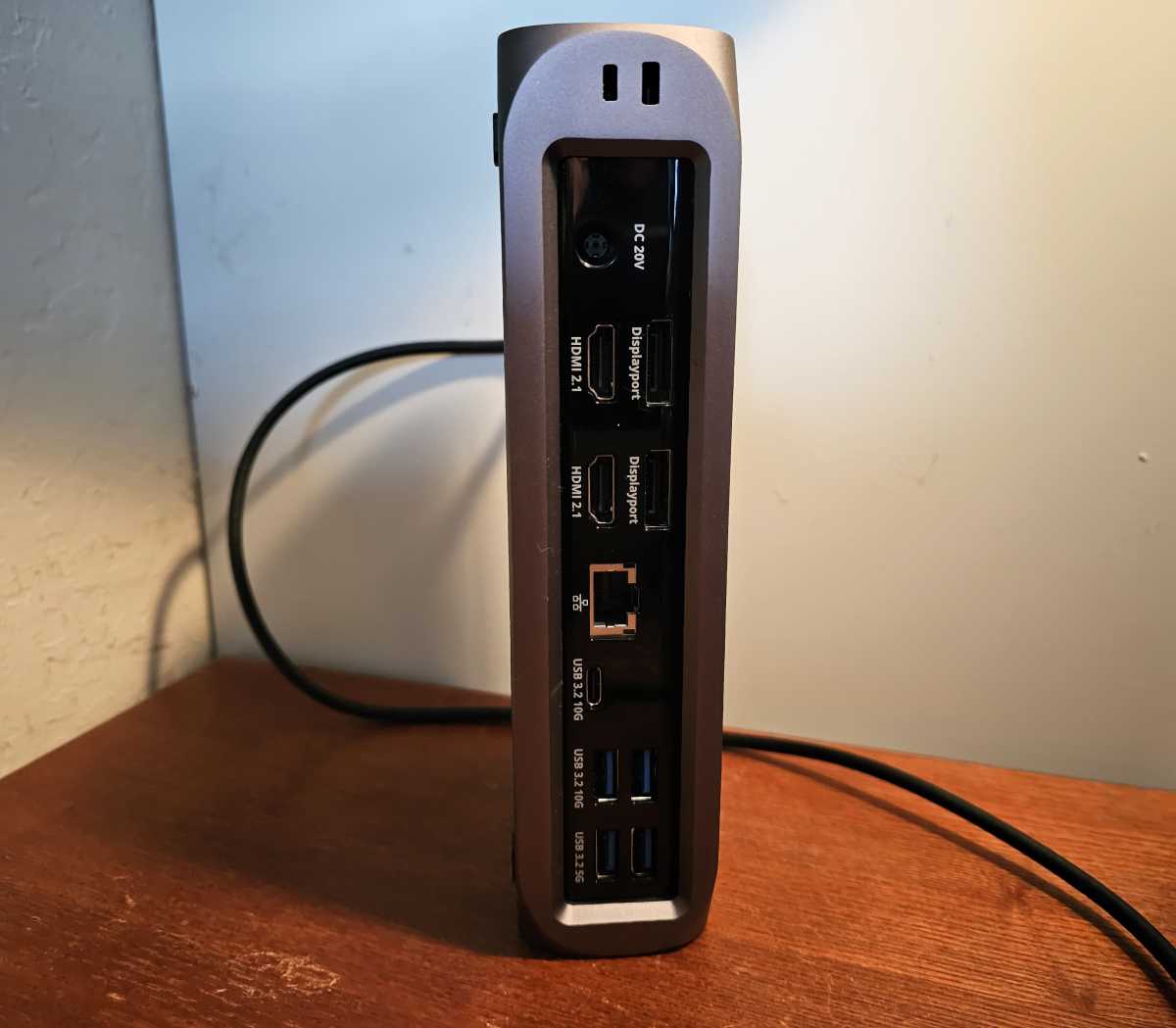 Mark Hachman / IDG
Using our multimeter, I found that the USB-C port on the rear put out 6.24W — okay, but not great, and not quite enough to trigger fast charging on my smartphone. I tested all of the USB-A ports, however, and they consistently yielded about 2.4W — front and back. I really don't expect to see more than one "charging" port on a dock, anyway. I was able to coax 92W out of the Thunderbolt cable, which is pretty close to the 96W rating.
An important review note: I received an early sample of Satechi's dock before the release date, way back in April — then it unfortunately was set aside. In that early review period, I encountered some glitches with our test laptops: I noticed three occasions when the dock briefly lost connection to one display, causing the test laptop to reconfigure the remaining displays both before and after the connection was restored. I couldn't detect a common cause.
However, I also gave it another, separate day and a half to test its stability as I finished up the review, and didn't notice a single fault, stability-wise. Given the possibility that updated laptop drivers may have quietly been pushed to PCs, improving performance, I'm still noting my early results. But I'm judging the dock based on my most recent experiences.
Otherwise, the dock handled playing back 4K movies essentially perfectly, including both streamed and pre-recorded video. The dock dropped four out of 10,000 frames in our 4K60 test video, which is nearly perfect and won't cause you any issues.
Storage performance on a Thunderbolt dock is usually a little slower than a DisplayLink dock, but the Satechi dock performed pretty well: about 131MBps on our PCMark storage test, for a score of 854. That dropped slightly when streaming — no surprise there. A score of 126MBps is also acceptable. The time to copy a test folder from an SSD to the desktop took 1 minute, 1 second (1 minutem 3 seconds while streaming), which is quite good.
Of course, the major drawback to this premium dock is the price: well over $300, and apparently refusing to move any lower. But the ability to connect to up to four displays is admirable, the performance is solid, and the option to mount this dock vertically is a plus. If you're willing to pay a top-notch price, you'll receive an (almost) top-notch Thunderbolt 4 dock in return.
Best Prices Today: Satechi Thunderbolt 4 Multimedia Pro Dock