Image: Mark Hachman / IDG
At a glance
Expert's Rating
Pros
Top-notch performance
Support for three 4K60 displays
Solid value
20W of charging power for smartphones, 100W for laptop
Exemplary documentation
Cons
Direct display connection disconnected once
Poor, glitchy intermittent audio
Our Verdict
Sonnet's Echo 13 is a powerful, full-featured DisplayLink dock with enough display support and then some. Just don't plug your headphones directly into it.
Best Prices Today: Sonnet Echo 13 Triple 4K Display Dock
£332.49
Sonnet's Echo 13 Triple 4K Display Dock follows the intriguing path other DisplayLink docks have blazed: The dock's built-in compression means you can connect to three 4K displays, without penalty. And yes, it works as advertised, though with one issue that holds it back.
Sonnet's Echo 13 falls under the category of a DisplayLink dock, which uses hardware video compression to approximate the performance of a Thunderbolt dock — we include these in our list of the best Thunderbolt docks. Both serve as laptop docking stations, expanding your laptop's I/O capabilities. In this case, this dock's selling point is its ability to connect to three 4K displays, which is does admirably.
Sonnet does an absolutely superb job with its documentation. Setting up a Thunderbolt dock is no big deal; plug everything in and it all just works. DisplayLink docks require a software driver to enable the compression software to do its work, however, and not all dock manufacturers really explain this. Sonnet bends over backwards to not only explain this to you in its documentation, but also provides a dedicated URL to download the driver and physically blocks the DisplayLink ports with a sticker that explains how you'll need to download the drivers for those ports to function, with a QR code that links to more information. Well done!
As for the ports — well, there's a ton of them, and everything is mostly well-labeled. On the front, two LEDs clearly indicate that the dock is powered on and connected, with separate mic and headphone jacks, a UHS-II (320Mbps) SDXC card slot, and a 10Gbit USB-C port that's labeled for 20W watts of charging power. Note that there's only the one USB-C port, and you'll need an adapter if you want to use the SD slot with a microSD card.
A Kensington Lock slot has been added to the side, next to small grilles for passive cooling. I've noticed some DisplayLink docks heat up, especially while playing games, but Sonnet's dock stayed remarkably cool.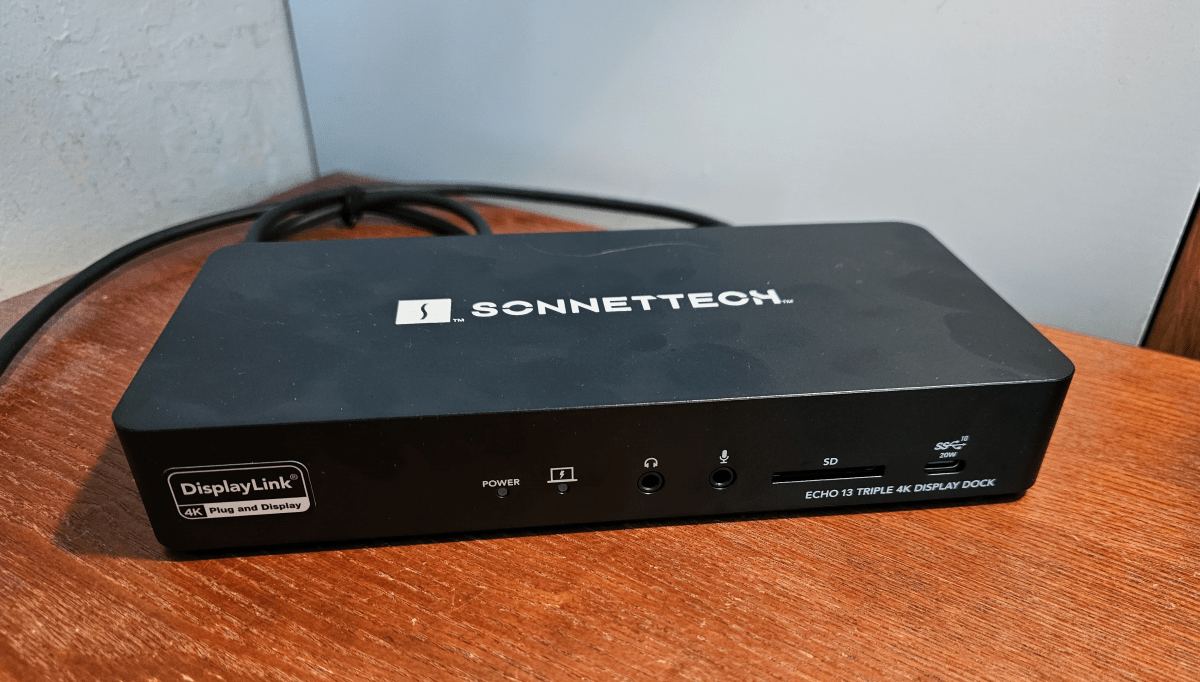 Mark Hachman / IDG
On the rear, the power connection sits alongside the upstream USB-C port, also clearly labeled to provide 100W of charging power. Then there are the three pairs of display ports: first the "direct" HDMI and DisplayPort connections, then the two pairs of DisplayLink ports — again, both HDMI and DisplayPort. There's a gigabit Ethernet port as well. Finally, there are four USB-A (5Gbps) ports — but they're rated at 7.5W, too, which is unusually high. Essentially, this dock skimps a bit on USB-C connections, but the USB-A ports deliver higher-bandwidth and more power than some docks do.
Under testing, though, I found that the front USB-C port puts out just under 15W, and that the USB-A ports generate about 2.5W. The USB-C power output is excellent, and it's enough to fast-charge a phone. The USB-A port output is a little disappointing. I also confirmed that the dock puts out about 91W under load, which is close to the rated 100W output.
From my experience, DisplayLink docks are reliably stable, while some Thunderbolt docks will occasionally glitch and disconnect, then reconnect, any attached displays. I was disappointed to find that Sonnet's dock was the first DisplayLink dock that dropped a connection, and relatively soon after I booted up my PC to start my workday.
I suspect that's not due to DisplayLink. As noted above, one of the three display connections is a "direct" HDMI/DisplayPort link, and the others use the DisplayPort compression. Because Windows 11 reconfigures the display output after a display is added or removed, I can't be sure that this is the case. But when I swapped the display cable from the "direct" port to one of the DisplayLink connections, I noticed no other problems.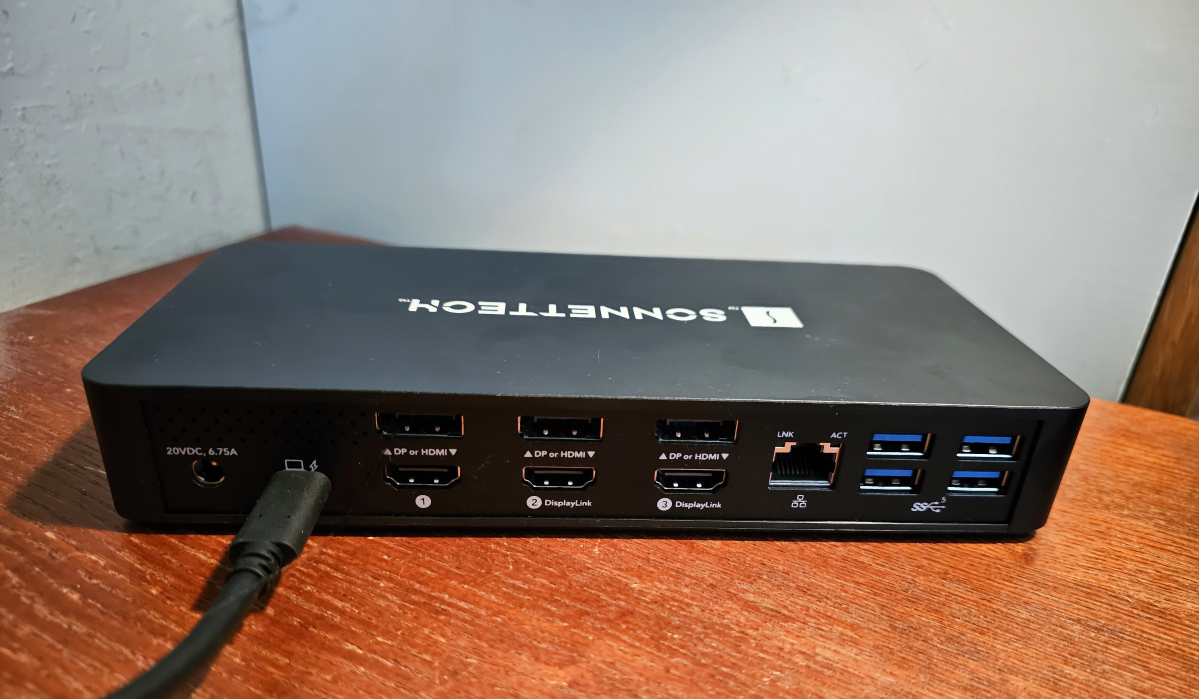 Mark Hachman / IDG
I also ran the Echo 13 with three 4K display attached, and that worked just fine. (That meant that I did have one display connected to the direct connection, and I didn't notice any issues. The third display did try to configure itself as a 4K, 30Hz display without my manual adjustment, however.)
How does the Sonnet Echo 13 Triple 4K Display Dock perform?
The Sonnet Echo 13 Triple 4K Display Dock's performance was generally excellent. Using PCMark's storage benchmark on an external SSD, the dock transferred 144.5MB/s, the fastest I've seen, for a score of 936. A 4K, 60Hz YouTube video played back at an upscaled 1440p, which is pretty standard, without dropping any frames. When I performed the PCMark test while streaming in the background, the feed dropped 23 frames out of 37,431 — almost negligible. I also copied a test folder of video and other files from the desktop over the Echo 13's bus to the SSD, with and without streaming. Performance dropped from 1 minute to 1 minute 13 seconds while doing so, which I doubt you'd notice.
The one black mark: audio. Routing the audio from the YouTube video over the dock's headphone jack was spotty at best and somewhat nonexistent most of the time. Routing the audio back over the laptop's internal speakers was fine. The dock does come with a two-year warranty.
Sonnet's price might be a tad high for a DisplayLink dock, but otherwise the array of features it offers is excellent. While I doubt that too many people directly connect their headphones to the dock rather than a laptop, which should(?) be in front of them, it still mars an otherwise solid productivity experience. I think that the other benefits outweigh that black mark, but I'd like that fixed before I can award this dock an Editor's Choice.
Best Prices Today: Sonnet Echo 13 Triple 4K Display Dock
£332.49