Image: Mark Hachman / IDG
What can I say? I'm a bandwidth cheapskate. Always have been, always will be. So, when I have the opportunity to download something locally and not from the Internet, I do. And Valve's Steam service has finally delivered on a promise Microsoft has failed to keep for years.
Steam now allows you to "download" a game hosted on the Steam service from another PC. This is an increasingly valuable feature as users cycle out old PCs, buy Steam Decks, or simply live in households where more than one PC owns a given game.
Are you a fan of the Steam Deck? If so, you should check out the ROG Ally, a competitor with more power and options.
For years, Comcast has driven me insane with increasing prices as well as an arbitrary data cap that only more competition can do away with. As a West Coast customer, our household of four has a 1.2TB data cap per month while several Northeast states, where Comcast competes with uncapped Verizon's FiOS, get a free pass. To me, this is simple price gouging and don't try to change my mind.
Games can sometimes consume well over 100GB worth of data, meaning that "buying" a game on Steam can also be accompanied with a potential overage tax. If I exceed the Comcast data cap, I pay $10 for each additional 50GB of data consumed. (Other ISPs have different pricing plans and overage policies). Managing my data cap is one end-of-month task I despise.
Steam, though, now helps out in a big way.
Steam makes this all exceedingly simple. Navigate to the settings menu (accessible from the small "gear" icon on the main page or on the Downloads page) and go to the Downloads entry if you're not already there. At the bottom of the many menu options is "Game File Transfer over Local Network"—this is the option you're looking for. (This is a bit different than simply creating another Steam folder and library, which can be done using this guide).
Ideally, the option to "allow transfers to/from my own devices" should be enabled and it should work. It requires both PCs to be logged into Steam and to be on the same network. On my machine, though, this option didn't work and the more permissible "Allow transfers to/from any user" was the only option that did anything.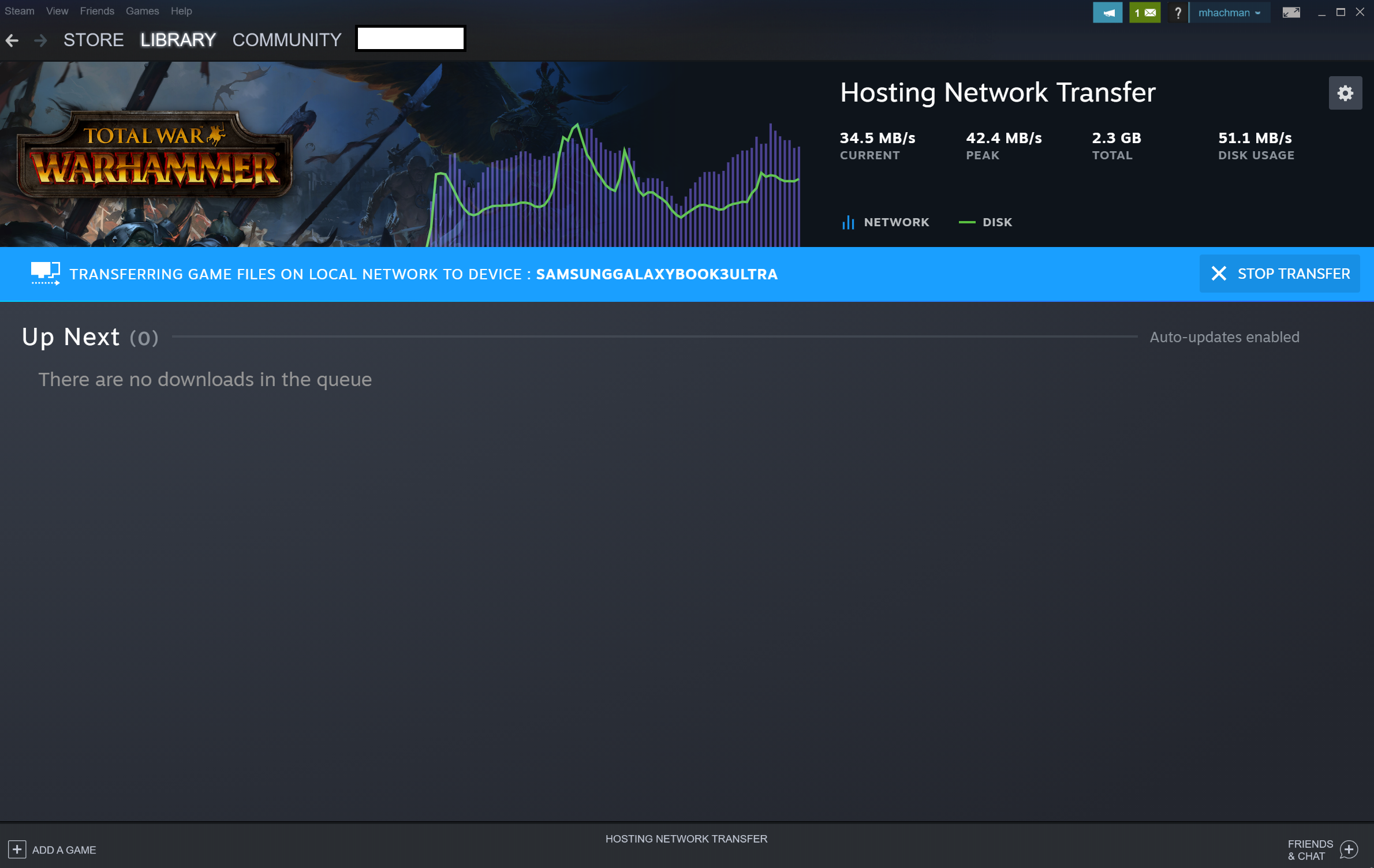 That option is a bit risky since any devices with access to your wireless or wired network could download Steam games, but chances are it won't be a big deal. You can also limit it to Steam friends. If you're concerned, you can always tweak the option once the transfer completes or simply turn off transfers entirely.
Once you begin downloading a file from another PC, you should see a banner on both machines, indicating that the file is being downloaded from another PC rather than the Steam servers. How fast the file transfers depends on a number of factors such as the speed of both PCs, the drive, the network, and so on. Steam originally pegged 100MB/s (800Mbits/s) as about the fastest maximum speed. Personally, I saw about half that with a test run in my home office.
For me, that's just fine. I love this feature because of what it saves me in dollars, not what it saves me in time.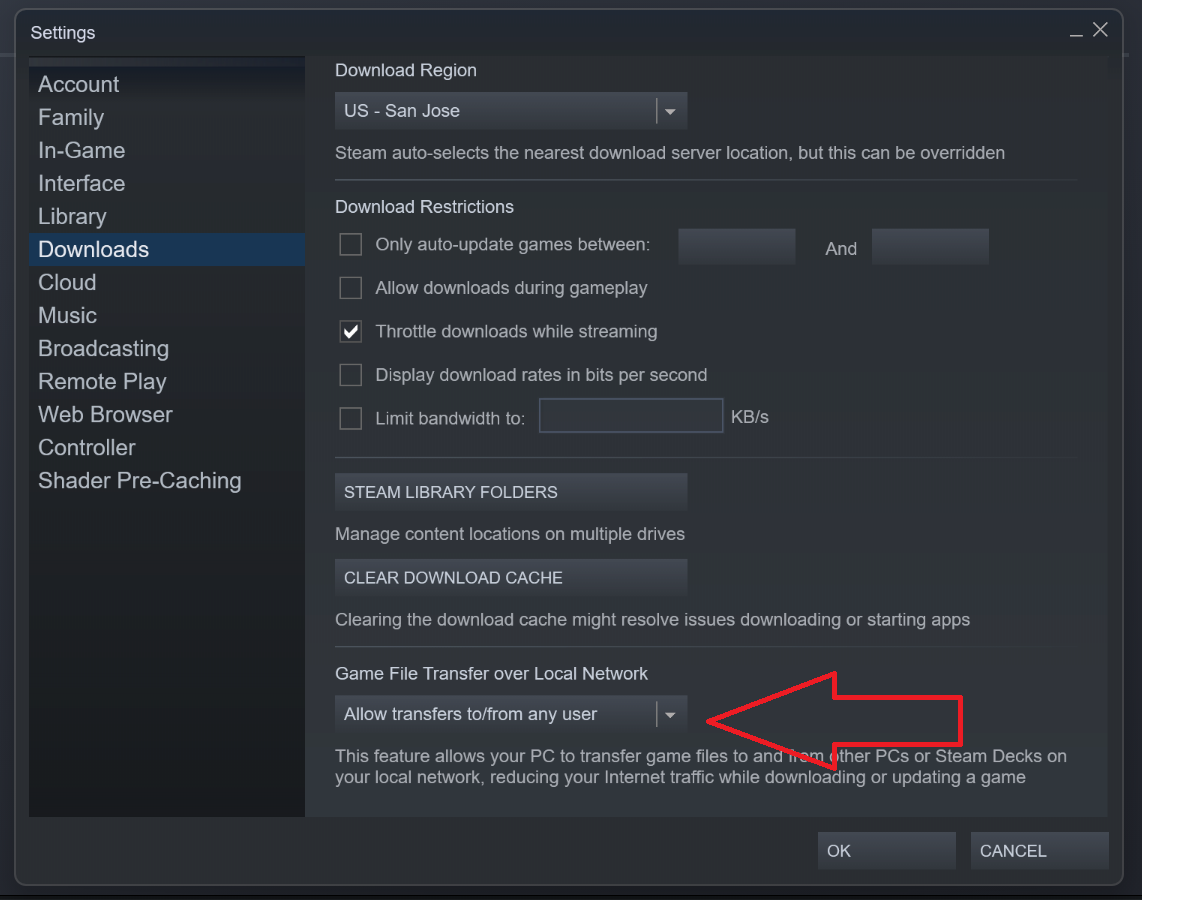 Mark Hachman / IDG
The only catch is that while Steam will transfer the game files, it won't transfer saved games. You'll have to download those from the Steam Cloud as well as any assets or props from the Steam Workshop. Finally, you can transfer games from PC to PC as you wish, but you can only transfer games to a Steam Deck and not back.
Why can't Windows do this?!
For years, I've been hoping that Microsoft would do this. And, for years, Windows has promised that it will—except that it never has. Inside the Windows 10 and 11 Settings menu, there is a control called Delivery Optimization (Windows Update > Advanced options > Delivery optimization) that supposedly does the exact same thing. If you own more than one PC, Delivery Optimization should look first at other Windows PCs that you're logged into for any updates. It should then pull them from those PCs before downloading them from Microsoft's servers.
With all of the PCs that have come through my office, I have never seen this happen once. Not a single time, ever.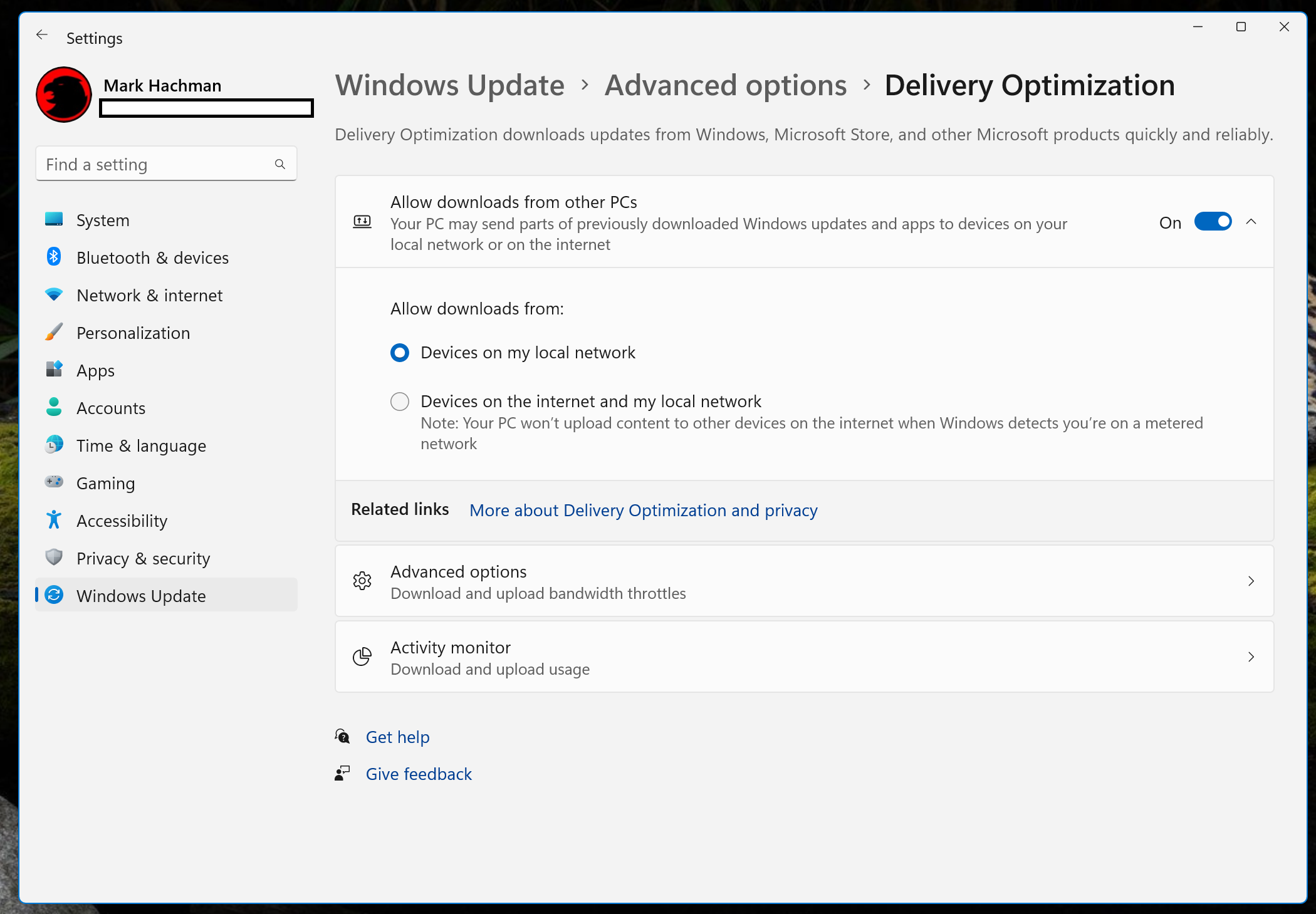 It's possible that there's some hidden control that I haven't enabled. It's also possible that Delivery Optimization's time has passed—perhaps the code Microsoft is offering one PC differs slightly than another, so that it can't be reproduced. I'm doubtful, though. Occam's Razor suggests its developers got sidetracked and hoped we'd all just forget about it.
I don't want to forget about it, though. Delivery Optimization is a great feature and I want it to work on Windows. Steam just beat it to the punch.