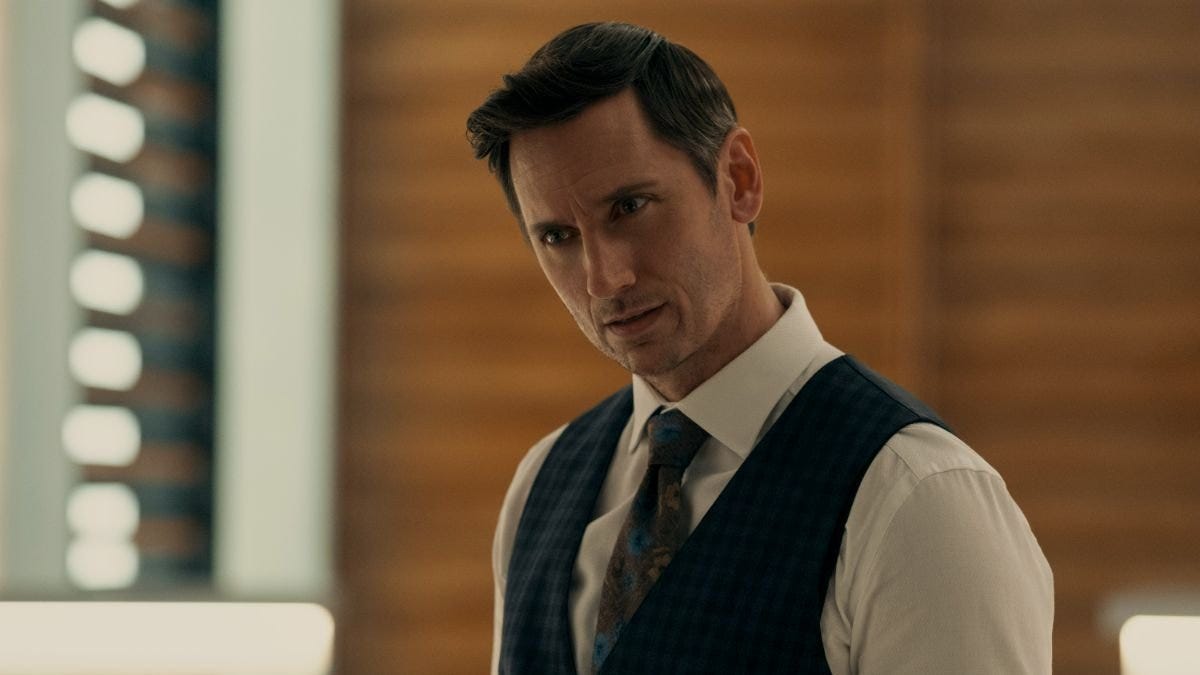 No one likes a know-it-all, and Gen V just introduced one of the most perverse ones you'll ever see. In the latest episode, "The Whole Truth," Vought+ reporter Tek Knight (Derek Wilson) comes to Godolkin University to uncover its darkest secrets but ends up leaving with his own being used against him.
Following Golden Boy's (Patrick Schwarzenegger) tragic and very public suicide in the series premiere, everyone inside and outside of Vought wants to know how the face of the next generation of superheroes ended up killing himself. In comes Godolkin University alum Tek Knight with his arrogant smile, exacting wit, and investigative journalism show , The Whole Truth With Tek Knight. But, as Dean Indira Shetty (Shelley Conn) finds out when Knight unexpectedly shows up drinking her scotch in her office, Knight wants to know about everything, including Golden Boy's brother Sam (Asa Germann) and the mysterious detention center known as "The Woods." It doesn't take long before Knight demonstrates why he's the ultimate lie detector.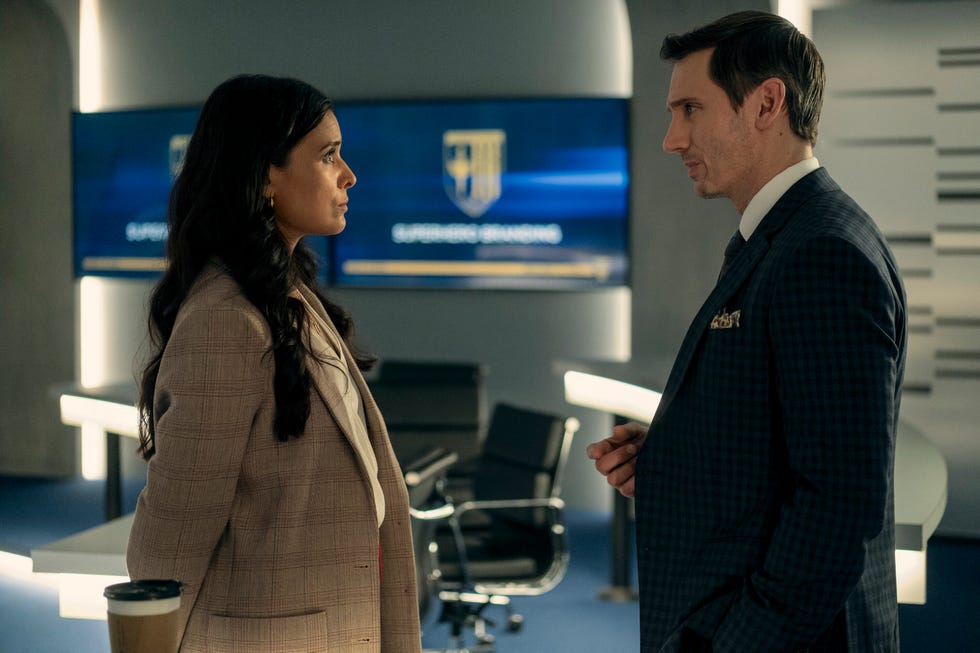 Brooke Palmer//Amazon Prime
Knight's superpower in Gen V involves being able to tell if someone's lying or not by observing physiological responses they have so minuscule they're imperceptible to the average eye. He uncovered Andre Anderson's (Chance Perdomo) relationship with Golden Boy's ex, Cate Dunlap (Maddie Phillips), by simply smelling her scent on his breath. He could tell Marie Moreau (Jaz Sinclair) was lying about how she ended up in Professor Brink's (Clancy Brown) office as Golden Boy was incinerating him by noticing a slight elevation in her heart rate. He probably could've figured out Stormfront was a Nazi spy in 10 seconds rather than an entire season of The Boys. The only thing that could stop Knight from getting to the truth is himself, and he did.
By the end of the episode, Knight told the viewing public that Golden Boy had a mental breakdown that led to his suicide, absolving Vought of any involvement and culpability. That's quite a concession for a bloodhound for the truth, but you'd likely do the same if you were being blackmailed with your perverse sexual desires. Before he filmed that part of his episode, Shetty surreptitiously met with Knight in a secluded wooded area to tell him she knows about the life-threatening tumor in his brain that is the reason for his sexual attraction to inanimate objects. Not only does she know, but she also shows him obscene footage of him sticking his penis inside a vacuum cleaner, a skeleton skull, and a donut. The man who never met a lie he couldn't detect also never saw a hole he didn't want to penetrate (yes, more dick humor from The Boys universe).
We may not have seen the last of Tek Knight, but this is also not the first we've heard of him either.

Is Tek Knight in the comics?
While Gen V is Knight's entry into The Boys' television universe, fans of the comic book have been waiting for him to pop up ever since The Boys introduced the '80s superhero group Payback in Season 3. In the comics, Knight is part of the group and is more Hughie Campbell (Jack Quaid) than Homelander (Anthony Starr) since he has no powers. He's also not an investigative journalist donning expensive tailored suits. He instead dons an Ironman-esque armor that allows him to fly, emit electromagnetic pulse shockwaves, and deploy projectile weapons. But Tek Knight in the comics isn't completely different from his Gen V incarnation.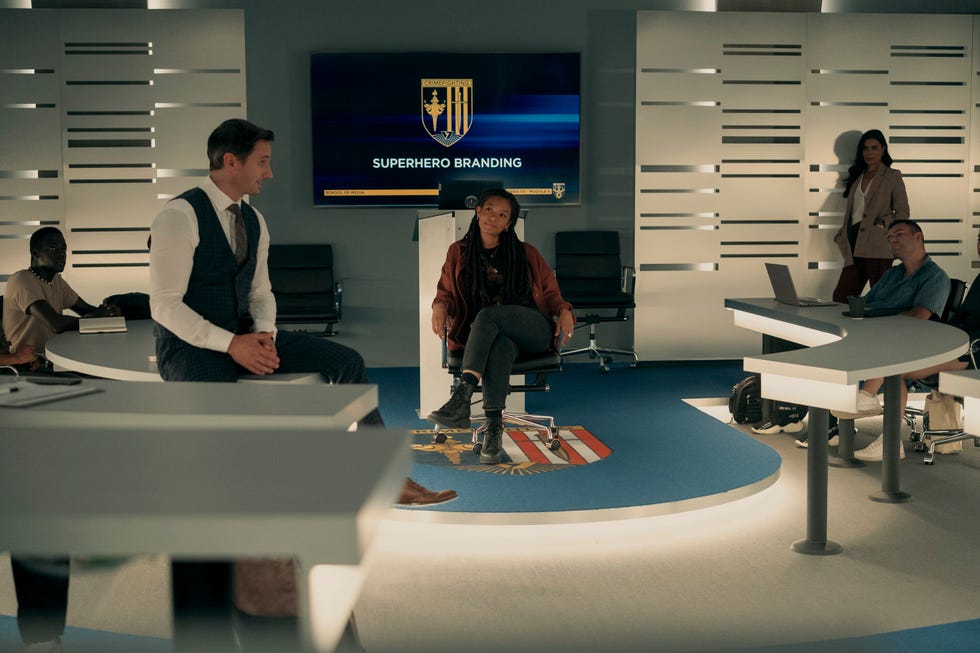 Brooke Palmer//Amazon Prime
No matter whether it is on the comic book pages or the Amazon Prime Video screens, Tek Knight is a freak. As in the show, the comic book Tek Knight also possesses a sexual proclivity for inanimate objects. The comic book takes his deviancy to a more grotesque level as he also has sexual relations with living creatures, including having sex with his sister's chinchilla until it dies. It's probably more likely Gen V will reenact the time he fucked an asteroid in the comics to save the planet than any bestiality. But who knows?!
Who plays Tek Knight in Gen V?
You have to be somewhat used to playing characters that are morally and sexually flagrant to play a role like Tek Knight on Gen V, and that's exactly what actor Derek Wilson is. Before smelling people's breath for clues and sticking his penis in donut holes, Wilson was best known for playing civil war re-enactor Donnie Schenck in AMC show Preacher. In the show, Wilson's character had one of his nipples bitten off as a child and engages in BDSM with his wife. He also blew his eardrum out, making him half deaf so he couldn't hear the word of God.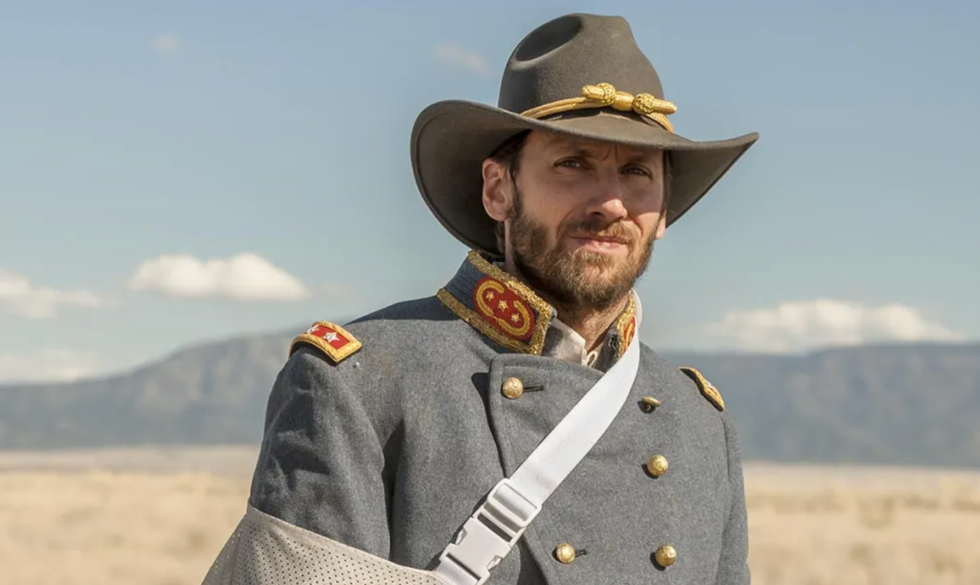 Amazon Prime
Will Tek Knight Return?
Seeing how Gen V is only borrowing parts of Tek Knight's comic book origins for the TV series, it's hard to tell if we'll ever see him donning his hi-tech suit or if we'll ever see him again. Wilson's IMDB page credited him for one appearance on the show, so his time in Gen V may be short-lived.
On the other hand, Vought is a corporation rooted in secrecy, and this mysterious detention center in Gen V has yet to be fully explained. It wouldn't surprise me if superhumans like Marie, Jordan, and Andre, who have seen the extent of Tek Knight's powers, call on him to help them get answers. Also, a conniving person like Tek Knight will likely use Shetty's blackmail on him to find his own on hers, especially since her job is on the line after the Golden Boy fiasco. If I were a betting man, I wouldn't bet against seeing Tek Knight fucking a hole in the ground in Gen V's future.

Senior Editor
Keith Nelson is a writer by fate and journalist by passion, who has connected dots to form the bigger picture for Men's Health, Vibe Magazine, LEVEL MAG, REVOLT TV, Complex, Grammys.com, Red Bull, Okayplayer, and Mic, to name a few.