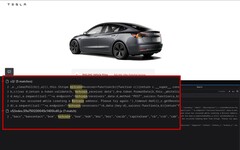 After shelving Bitcoin as a payment method due to criticism over environmental concerns, it appears that Tesla may start accepting the cryptocurrency as payment for its electric vehicles in the near future. The site's code also makes mention of Dogecoin, which is Elon Musk's favourite crypto flavour. The company has not announced any intentions to resume Bitcoin payments just yet.
Tesla, and its CEO, Elon Musk, have a bit of a sordid history when it comes to cryptocurrency, but it has been a while since the electric car company has accepted Bitcoin as payment for orders. Now, it appears that Tesla may start accepting Bitcoin in the near future once more, if Twitter user @LilMoonLambo's discovery is to be believed.
In a tweet posted to the social media site, @LilMoonLambo reveals that Tesla has added code that enables Bitcoin payments back into the design of its website. This is not a concrete indication that Tesla will accept Bitcoin, but it would be odd to code the feature into the website again if it didn't plan on using it.
Inspecting the Tesla order site and searching for "Bitcoin" reveals numerous mentions of the cryptocurrency throughout the payments page. Somewhat comically, doing the same thing with "Dogecoin" as the search term also reveals numerous mentions throughout the payments page.
Given the reasons Bitcoin fell out of favour for the EV maker, it's unlikely the brand would resume using Bitcoin, much less Dogecoin. That said, Tesla appears to be making a number of sweeping changes to its strategy, with recent changes to its EV pricing putting intense pressure on other electric vehicle manufacturers. The widespread adoption of its NACS charging hardware and the Supercharger licensing that goes hand-in-hand with NACS may be another strategy to diversify the company's revenue streams.
Buy a Hot Wheels RC 1:64 Scale Tesla Cybertruck Rechargeable Radio-Controlled Racing Car on Amazon.
Related Articles
Julian van der Merwe – Magazine Writer – 275 articles published on Notebookcheck since 2022
My interest in tech started in high school, rooting and flashing my Motorola Defy, but I really fell down the rabbit hole when I realised I could overclock the i7 930 in my Gigabyte pre-built PC. This tinkering addiction eventually lead me to study product design in university. I think tech should improve the lives of the people using it, no matter the field. I like to read and write about laptops, smartphones, software and trends in technology.
Julian van der Merwe, 2023-07-20 (Update: 2023-07-20)