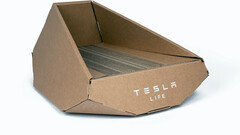 After some inventive Cybertruck swag like the GigaBier and its edgy bottle housing, Tesla is now introducing far out ideas to popularize the iconic design of its upcoming Cybertruck electric pickup.
Tesla's country branches keep introducing imaginative merchandise tailored to local tastes, like the GigaBier gift boxes that Tesla Germany sells with design inspired by the Cybertruck.
The edgy stainless steel body of its first electric pickup has now been an inspiration for Tesla China to create a… combined cat litter box/scratch board, of all things.
The litter box needs some assembly and is made of a 5-layer corrugated cardboard that mimics the Cybertruck's edgy design. "Cybertruck has a futuristic shape, a semi-open cat litter, and thick corrugated paper embedded inside to meet the nature and daily needs of cats," says the rough translation. The feline toilet can hold up to 33 pounds of litter, says Tesla, and costs the equivalent of US$12.
That's pretty decent as far as Cybertruck swag prices go, given that a GigaBier gift pack comes out to about US$30 a bottle of small 330ml beer with "notes of citrus, bergamot and sweet fruit."
Apart from the new Cybertruck merch in the form of a cat litter box, Tesla China has released other interesting accessories like a Tesla branding iron for all those surfaces that have remained unmarked by the Tesla logo. Apparently, hamburger buns, as per the description:
This branding mold can be used in many occasions. Inspired by the Tesla Cyber ​​Rodeo event, it features a custom-milled, hand-finished food-grade stainless steel head, and a sturdy beech wood handle. Ideal for adding the iconic T-Stamp to foods such as burger patties and bread, or natural materials such as wood and leather goods. Please be careful with heating and printing.
 That one costs the equivalent of US$67, though, more than the Cyberwhistle that Tesla China also sells. 
Daniel Zlatev – Tech Writer – 833 articles published on Notebookcheck since 2021
Wooed by tech since the industrial espionage of Apple computers and the times of pixelized Nintendos, Daniel went and opened a gaming club when personal computers and consoles were still an expensive rarity. Nowadays, fascination is not with specs and speed but rather the lifestyle that computers in our pocket, house, and car have shoehorned us in, from the infinite scroll and the privacy hazards to authenticating every bit and move of our existence.
Daniel Zlatev, 2023-08- 6 (Update: 2023-08- 6)