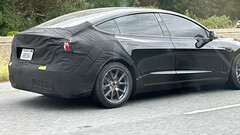 New ambient lighting, ventilated seats, and a sound system upgrade may be in store for the Tesla Model 3 Highland refresh that will be released later this year. The car already leaked out with new headlights and taillights, and it will have slightly longer body equipped with HW4 camera set.
Tesla could launch the new Model 3 Highland refresh with a couple of upgrades that haven't been discussed so far. The interior may get a new ventilated seats set for better comfort in hot weather, as well as an "upgraded sound system." Given that the current 14-15 speakers system with subwoofer is already pretty great even by audiophiles' standard, the upgrade might have something to do with the recently leaked second woofer on the Cybertruck.
While ambient lighting is acquired taste and may or may not actually add ambience depending on how it is executed, those living in hot climates would appreciate the new Model 3's ventilated seat option. The other interior changes are said to resemble what the Model S/X refresh brought, such as a more minimalistic and streamlined look with stalkless steering wheel and a larger central console display.
The Model 3 Highland would also come with a more aggressive design in a slightly longer body, more elegant headlights, and new front or rear bumpers. Perhaps the biggest under-the-hood change will be the addition of the new high-res Tesla Vision cameras made by Samsung, which would come packaged with Tesla's new Hardware 4.0 FSD computer for a better autonomous driving experience.
Last summer, Tesla filed an "Enhanced vehicle seat ventilation and construction techniques" patent which was granted in December. It includes schematics how ventilated Tesla seats would work and poured water in the rumor mill that the Model 3 will be next in line to get them as they even appeared in its manual.
It seems that Tesla may have been reserving this comfort upgrade for the new Model 3 Highland project, yet the biggest mystery out of the rumored new Highland features remains the eventual sound system upgrade.
Related Articles
Daniel Zlatev – Tech Writer – 764 articles published on Notebookcheck since 2021
Wooed by tech since the industrial espionage of Apple computers and the times of pixelized Nintendos, Daniel went and opened a gaming club when personal computers and consoles were still an expensive rarity. Nowadays, fascination is not with specs and speed but rather the lifestyle that computers in our pocket, house, and car have shoehorned us in, from the infinite scroll and the privacy hazards to authenticating every bit and move of our existence.
Daniel Zlatev, 2023-06-12 (Update: 2023-06-12)