It wasn't a good day for Gael Monfils. Another setback for the French tennis player as he left the Miami Open in discomfort. However, after seeing the 36-year-old tennis player retire midway owing to an injury, tennis fans have drawn a wide conclusion regarding his future in the sport.
The French tennis player was all set to conquer the Miami Open court. He had been out of the tennis circuit for months due to injuries. The Indian Wells tournament that took place a few days ago was the tennis star's first tournament in seven months.
Tennis fans are concerned about Gael Monfils' athletic career 
ADVERTISEMENT
Article continues below this ad
Tennis TV's official Instagram page, a well-known tennis update channel, recently shared a few videos of the French tennis player citing how "Sports can be cruel" at times. Pointing out how the 36-year-old tennis player is trying his best to stick to the sport, even after struggling with injuries for a long time.
The tennis update channel shared videos of the 36-year-old walking away from the court after his sudden withdrawal. Along with that, there were also a couple of videos where the player was trying to give his best on the tennis court. However, seeing the painful exit mid-match, tennis fans filled the comments section with their speculations, questioning whether this injury will bring an end to the French star's career, and whether this was the last match of the Tennis player before his retirement call.
Here are some comments.
"Injury GOAT tied in first with most retirements."
"He knows it's over."
"That's his last match folks, hate to see it." 
"He said he would retire if he got injured."
"Damn he had a great career. "
Nevertheless, last year, when Monfils was suffering from a foot injury, the French tennis player talked about what he felt regarding his retirement after dealing with injuries for such a long time.
Monfils' take on his sudden withdrawal 
ADVERTISEMENT
Article continues below this ad
The 36-year-old spoke a few months ago in an interview with AFP about how the injury was painful, but he was still trying every day to get better physically. Additionally, he also revealed that he doesn't know what's next for him, and just like every other human being, he also has some goals to achieve but sometimes needs to step back for the moment.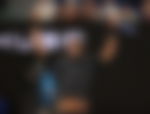 Further, he also focused on how the pure enjoyment of playing the sport is what keeps him going. This also inspires him to get back to full fitness, which will allow him to play great tennis. However, dealing with an injury sometimes puts a lot of pressure on a person.
ADVERTISEMENT
Article continues below this ad
WATCH THIS STORY – The Journey of Roger Federer to the Elite Billionaire's Club
Constantly getting up every day to do what you want but not being able to make it happen is something that has the ability to break a person. Additionally, for the past few years, the 36-year-old tennis player has continuously faced some psychological or physical problems that might have been keeping him away from the sport.