People were looking forward to the comeback of Venus Williams during the Australian Open swing. However, despite the anticipation, Williams stayed out of the event. As fans were wondering about her comeback, there is one strong indication from the legend herself which has enhanced expectations once again. With the year's first major far behind, the next one at the clay court seems to be the target.
Is she finally back on the court? Is she practicing for her run to the Roland Garros?
Is Venus Williams going to make a comeback at the Roland Garros?
ADVERTISEMENT
Article continues below this ad
The seven-time Grand Slam champion is the only Williams who is still active on the court. However, she hasn't played a professional tennis match since her comeback tournament at Auckland.
Since then, fans have been awaiting her comeback with their fingers crossed. Now, making their wishes true, Venus Williams has indicated that she will probably play during the clay court swing. Williams loves to interact with her fans through Q&A on the Instagram story of the Eleven by Venus account. During her recent session, one curious fan asked, "Will you be back for the clay swing?"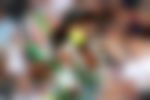 To this Williams gave a hopeful reply and stated, "I would love to! That's the plan. We will see." This statement has made all the fans go berserk.
Earlier, there was anticipation of her comeback at the Australian Open, which subsequently, did not come true. There is a huge assumption that the elder Williams will bid farewell to the sport like her sister, that is, after playing a major.
ADVERTISEMENT
Article continues below this ad
Will Williams coach Coco Gauff? 
The American teenage sensation defeated the seven-time Grand Slam champion in the first round of the 2019 Wimbledon and the 2020 Australian Open. However, Venus Williams loved the idea of coaching this young American star.
In a YouTube video, a fan raved about her forehand and wondered if she could help Coco Gauff fix hers. To this Williams stated excitingly that it was a cool idea. 
ADVERTISEMENT
Article continues below this ad
WATCH THIS STORY: 'I Just Never Got Into Her..'- 18-Year-Old Coco Gauff's Blatant Taylor Swift Admission as She Struggles to Remember Hit Albums
So, who knows, we might just find an iconic coach-player duo once Venus Williams retires.