Best Mid-Range Adjustable Weight Bench
Rep Fitness Adjustable Weight Bench (AB-3100 V3)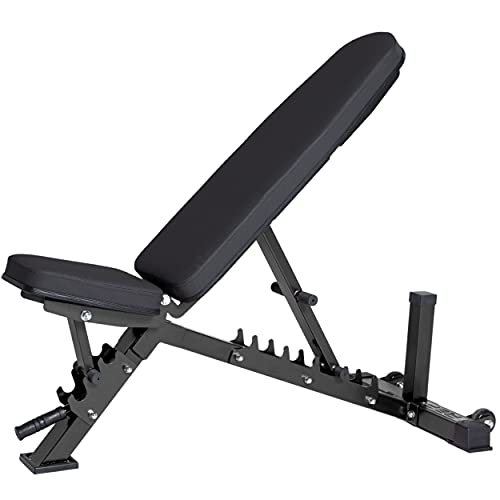 Best Mid-Range Adjustable Weight Bench
Rep Fitness Adjustable Weight Bench (AB-3100 V3)
Pros
Comfortable-yet-sturdy
Grippy, fabric-covered cushion
Easy to adjust
Stable enough for step-ups
Available in several colors
Few benches combine sturdiness, comfort, and versatility like this one from Rep Fitness, which offers six different incline angles and a three-post design, anchoring it to the floor no matter the exercise.
What we love most about this bench is the cushioning, "It's extra-soft, yet still manages to deliver rigidity when I drive my shoulder blades into it for a set of bench presses," explains Samuel. The simple incline adjustment mechanism is a pro, too.
The Ab-3100's adjustment feature moves smoothly and easily, ranging from fully flat to a 90-degree incline. The fabric cushioning is plenty comfortable and leaves only a minimal gap between the seat and back. It does all this without being too heavy, making it easy to move around in my home gym.
Like many of Rep Fitness' products, this one is constructed to be ultra-durable. The alloy-steel is rated to up to 700 pounds—more than enough for novice to intermediate lifters. It's a great accompaniment to your at-home power rack.
Read more: Best Home Gym Floor Mats
| | |
| --- | --- |
| Style | Adjustable |
| Maximum capacity | 700 lb. |
| Weight | 77 lb. |
| Wheels | Yes |
| Back pad positions | 5 |
| Seat positions | 3 |
Most Space-Saving Weight Bench
Escape Fitness Fitness Deck V2.0 Workout Platform/Adjustable Bench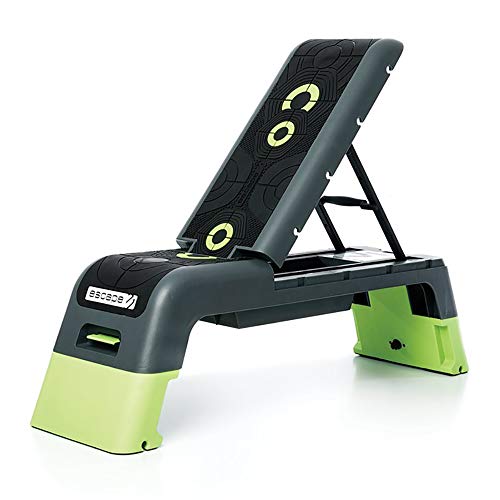 Most Space-Saving Weight Bench
Escape Fitness Fitness Deck V2.0 Workout Platform/Adjustable Bench
Pros
Unique design works for multiple exercises
Extremely lightweight
Compact and easy to store
Great price
Built-in storage compartment
Cons
Not built for seasoned lifters
Most weight benches are designed to be dead-simple and straightforward. But if you need something more, this unique weight bench is much more than just a weight bench. Think of it as a versatile home gym-in-one (for under $200, to boot!). We've used it as a stepping platform, a plyometric box, for resistance tubes, and more. We love that it adjusts into 16 configurations to adapt to almost any type of workout.
"I won't press heavy on the Fitness Deck, but I do love it for indoor use because it's ultra versatile," says Samuel. "At its shortest, I can do step-ups and lunges on it (and it's even better than a traditional bench, thanks to its ultra-hard surface). I can also use it for incline biceps curls and light ab exercises."
But what really sets the Fitness Deck V2.0 apart is the space-saving design. We have found it to be the perfect bedroom training weapon for a quick sweat. It's incredibly compact and lightweight (just 30 pounds), which makes it easy to stow away under the bed or in a closet when it's not in use. We also like the small built-in bench compartment, which great for stashing smaller workout equipment like resistance bands, towels, sliders, etc.
| | |
| --- | --- |
| Style | Adjustable |
| Maximum capacity | 375 lb. |
| Weight | 30 lb. |
| Wheels | No |
| Back pad positions | 4 |
| Seat positions | 1 |
Best Collapsible Weight Bench
Bowflex 5.1S Stowable Bench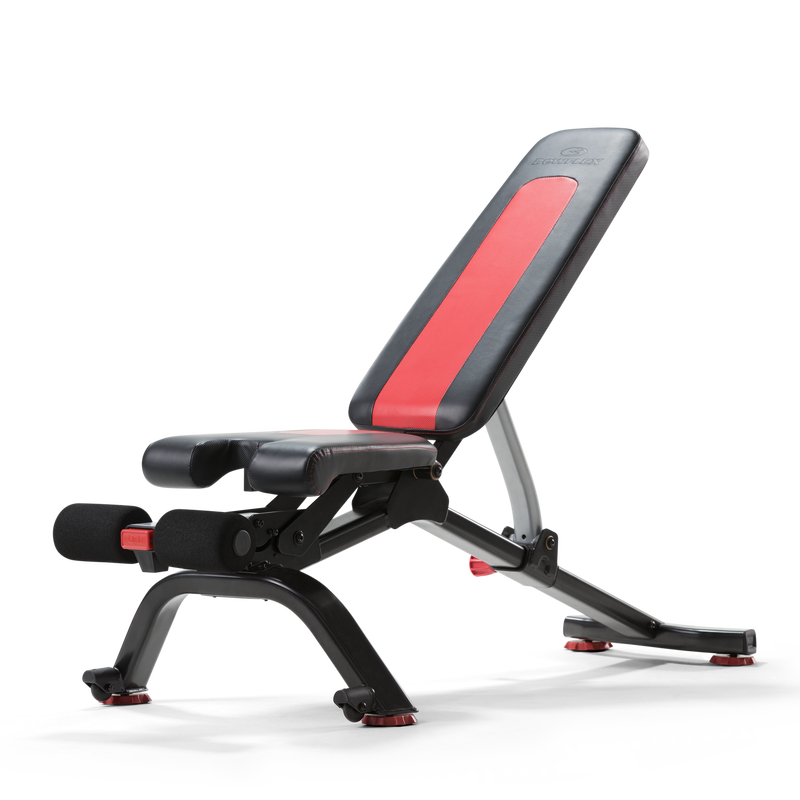 Best Collapsible Weight Bench
Bowflex 5.1S Stowable Bench
Pros
Generous maximum capacity
Six adjustable settings from flat to 90 degrees
Collapsible design stows vertically
Good price with free shipping
Cons
5" gap between seat and back when flat
Bowflex's flagship 5.1S Stowable Bench is a good mid-range weight bench option that we found suitable for beginners. It features six adjustable settings, including 30°, 45°, 60° 90°, flat and more considerable decline than most competitors (-20°).
The heavy-duty steel frame is rated to support up to 600 pounds but it is considerably lightweight, meaning if you line up on there for, say, incline rows or preacher curls, it may slip."It's fine for bench presses and seated exercises like press, biceps curls, etc," explains Samuel.
But what we were most impressed with about this bench was its unique, collapsible design. It was engineered to store vertically, reducing its in-room footprint by more than 50 percent. One more thing: the leg bar—we're not a fan. Especially for those moving heavy weight, it largely acts as a roadblock to setting up lifts.
| | |
| --- | --- |
| Style | Adjustable |
| Maximum capacity | 600 lb. |
| Weight | 70 lb. |
| Wheels | Yes |
| Back pad positions | 6 |
| Seat positions | 1 |
Advertisement – Continue Reading Below
Most Comfortable Mid-Range Weight Bench
NordicTrack Workout Bench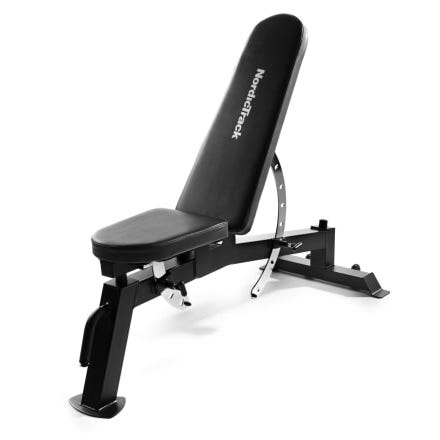 Most Comfortable Mid-Range Weight Bench
NordicTrack Workout Bench
Pros
Durable, premium sewn-on cushioning
Variety of backrest settings
Rock-solid NordicTrack reliability
Decent price with free shipping
If you've already got the NordicTrack equipment "thing" going in your home gym, you'll be pleased to know that they make an adjustable weight bench, too. We found the design to be sleek, simple without any unnecessary features—an ideal accompaniment to your in-home power rack or weight setup. The ergonomic bench has eight backrest settings and three seat settings supporting flat, incline, decline, and military positions.
Like many NordicTrack fitness products, it's constructed to withstand a ton of wear and tear. The 62-pound frame felt stable enough to support the wide variety of exercises we've thrown at it. Plus, it's portable enough to stow away for those of us who are short on space. We also like that the seat covers are sewn on, which is much more durable than traditional stapled-on alternatives. On the downside, its maximum weight capacity is only 300 pounds, so it's best for beginners.
| | |
| --- | --- |
| Style | Adjustable |
| Maximum capacity | 300 lb. |
| Weight | 62 lb. |
| Wheels | Yes |
| Back pad positions | 8 |
| Seat positions | 3 |
Most Durable Mid-Range Adjustable Bench
Tru Grit Fitness Adjustable Power Weight Bench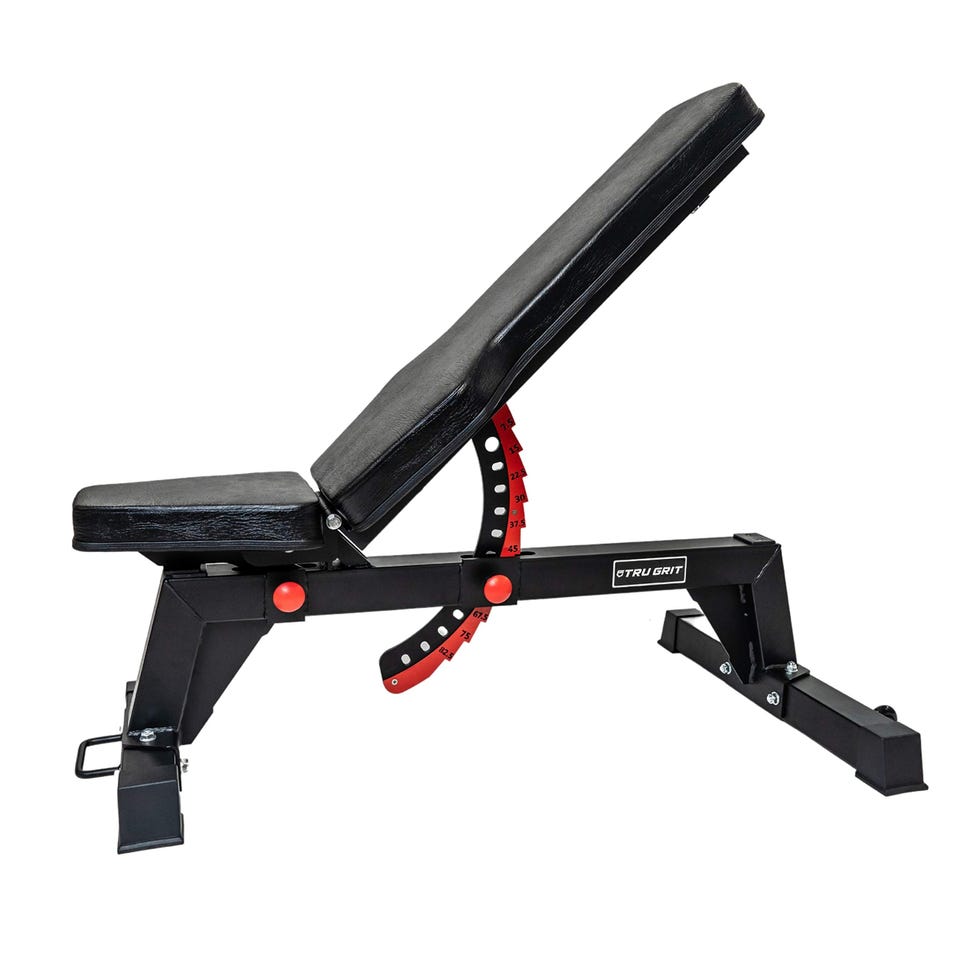 Most Durable Mid-Range Adjustable Bench
Tru Grit Fitness Adjustable Power Weight Bench
Now 40% Off
Pros
14 total positions
Extremely durable
Often on sale on Amazon
Shift from flat up to an 85 degree incline (and 12 other spots in between) with this rugged adjustable bench.
"This is the bench I have in my own backyard gym setup, and it's as reliable and durable as the brand name implies for all the pressing exercises I include in my training," says MH Senior Fitness Editor Brett Williams, NASM. "I've been using it for over two years, and it's just as sturdy as the day I put it together."
Read more: Best Lightweight Running Shoes
| | |
| --- | --- |
| Style | Adjustable |
| Maximum capacity | 880 lb. |
| Weight | 80 lb. |
| Wheels | No |
| Back pad positions | 12 |
| Seat positions | 2 |
Most Comfortable Heavy-Duty Weight Bench
Hammer Strength Home Multi-Adjustable Bench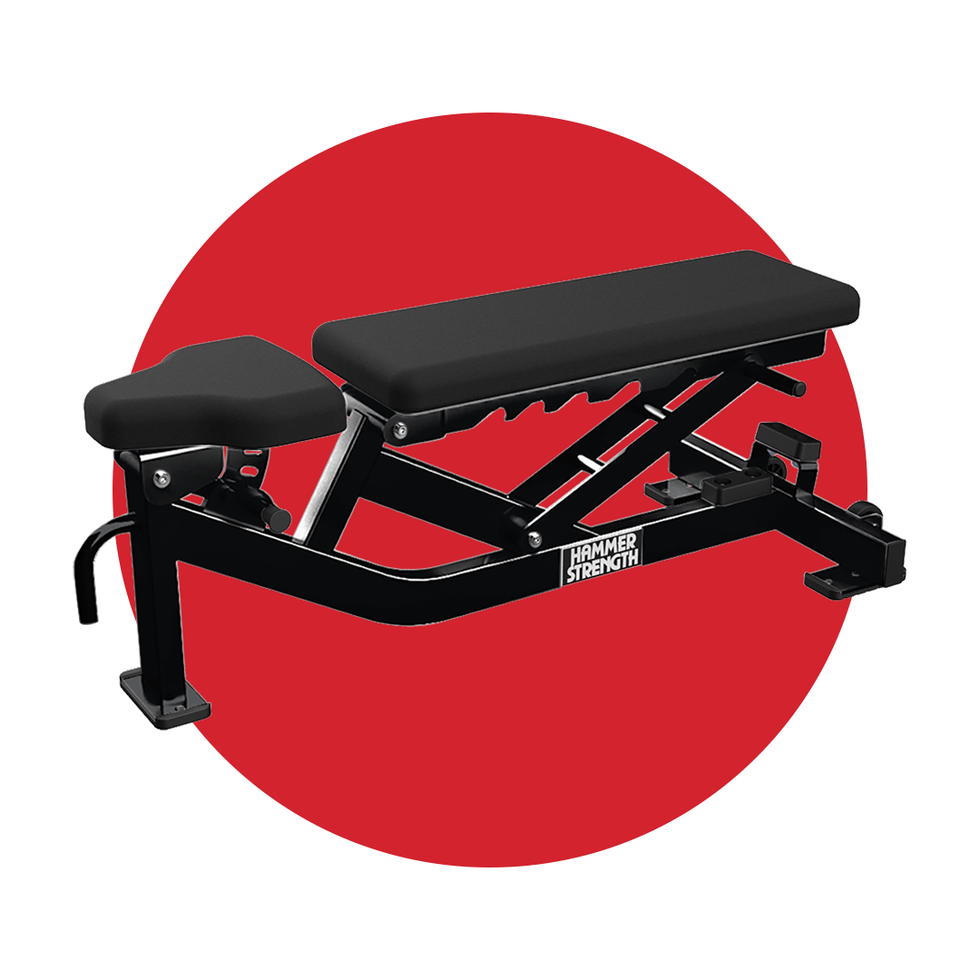 Most Comfortable Heavy-Duty Weight Bench
Hammer Strength Home Multi-Adjustable Bench
Pros
Easy set-up
Durable, stable design forged from heavy-duty steel
Beefy weight capacity
Certified to commercial ASTM and EN standards
Features 10-degree decline
This model from Hammer Strength was originally introduced in 2016 exclusively for athletics and clubs, and was designed to be a versatile bench with an Olympic rack system. It's American-made and sold around the world due to its high-quality, durable construction.
From Samuel's point of view, this is one of the sturdiest benches he's ever used. "Its tough surface lets me create a great base for bench presses."
An underrated thing he loves: The comfort of the seat portion of the bench, which allows for locking-in a good position during overhead presses and incline curls.
With seven different back pad positions (from -10 degrees for decline lifts and up to 75 degrees for military presses), it packs even more multi-functionality than most benches out there. Plus, it has built-in wheels, making it great for home gym spaces that require moving a bench around during workouts to accommodate space.
It has a hefty price tag, though. Still, if you're looking to do some heavy lifting, it may be one of the best benches for you.
| | |
| --- | --- |
| Style | Adjustable |
| Maximum capacity | 845 lb. |
| Weight | 85 lb. |
| Wheels | Yes |
| Back pad positions | 7 |
| Seat positions | 4 |
Advertisement – Continue Reading Below
Best Budget Foldable Weight Bench
Flybird Foldable Flat Weight Bench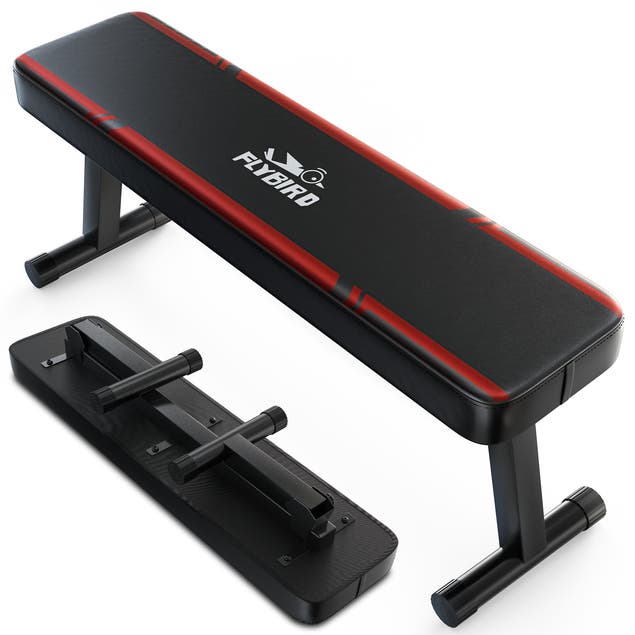 Best Budget Foldable Weight Bench
Flybird Foldable Flat Weight Bench
Pros
Sturdy weight capacity
Lightweight, easy to move around
Foldable design is great for tight spaces
Great for beginners
Flybird's Foldable Flat Weight Bench is perfect for your multifunctional home gym. This space-saving bench is made with commercial quality steel and boasts a stellar 1,000-pound weight capacity.
We found it sturdy and reliable for various exercises such as light dumbbell presses, dumbbell curls, and skullcrushers. And at just over $100, it's kind of a no-brainer in terms of value.
| | |
| --- | --- |
| Style | Flat |
| Maximum capacity | 1,000 lb. |
| Weight | 20.5 lb. |
| Wheels | No |
| Back pad positions | 1 |
| Seat positions | 1 |
Best Overall Adjustable Weight Bench
PRIME Fitness USA Adjustable Bench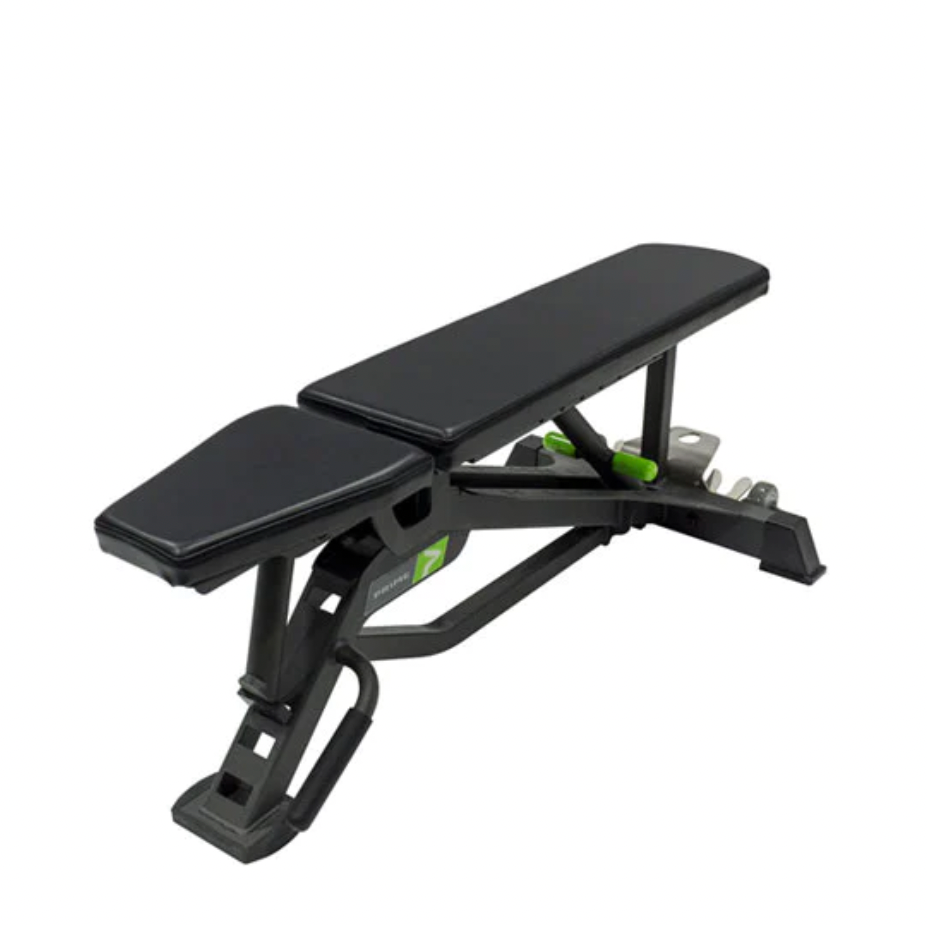 Best Overall Adjustable Weight Bench
PRIME Fitness USA Adjustable Bench
Pros
Built-in wheels for easier transport
Beefy weight capacity
Ultra-durable, stable heavy-duty steel construction
American-made
"I love this bench so much I wish it was in commercial gyms. It adjusts quickly and easily, and each incline notch has the angle marked right next to it, so you know exactly how you're positioning your body for a movement," says Samuel.
"And driveway lifters will love how immovable this bench is: Unlike some lighter benches, it won't shift at all on exercises like chest-supported rows." With a weight capacity of 1,000-pounds when laying flat and 600-pounds in an incline position, you can be confident and stable pushing heavy weight on this bench.
The bench has 7 adjustable angles, ranging from -10 to 80 degrees, allowing you to perform a variety of exercises including incline bench press, decline bench press, military press, and so much more. It features high-quality, commercial-grade upholstery that is tear-resistant and easy to clean, too.
But what we really love about this bench is its ultra-durable construction. The frame is made from heavy-duty, 11-gauge steel tubing, meaning it's made to last. And it has a large footpad, which adds to overall stability.
"This is the sturdiest home bench I've ever used, and it also switches quickly between incline settings, making it ideal for dropsets and supersets that require different bench settings," explains Samuel.
"Regardless of the surface, it won't slide away on you, and the cushioning manages to be comfortable without letting my body slide on it during bench presses."
One downside: It's one of the heavier options on this list. But built-in wheels make transport easier.
| | |
| --- | --- |
| Style | Adjustable |
| Maximum capacity | 1,000 lb. in flat position; 600 lb. in incline position |
| Weight | 94 lb. |
| Wheels | Yes |
| Back pad positions | 7 |
| Seat positions | 5 |
Best Overall Flat Weight Bench
Rep Fitness FB-3000 Flat Bench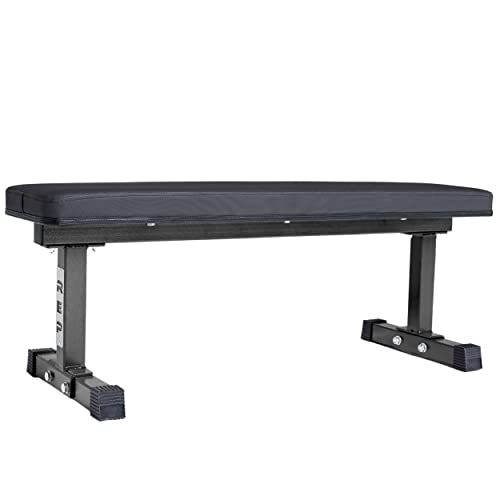 Best Overall Flat Weight Bench
Rep Fitness FB-3000 Flat Bench
Pros
Meets International Powerlifting Federation (IPF) standards
High max weight capacity
Durable, stable design forged from heavy-duty steel
Relatively lightweight
Great price
Available wall storage hanger (optional)
Cons
Lacks adjustment features
The professional-grade REP Fitness FB-3000 flat bench is forged from 11-gauge heavy duty steel that many buyers report is extremely durable—enough to support up to 1,000 pounds. During testing, we felt it also features one of the most stable designs we've experienced. We also like that the bench height is set to International Powerlifting Federation (IPF) standards, so you know you're getting the real deal.
Other features we enjoyed while testing included a grippy high-density foam pad for stable (and comfortable) lifting. There's even an optional wall hanger for stowing it away when not in use. At around $175, it's not only one of the best value weight benches, but our pick for the best overall flat bench of 2023.
| | |
| --- | --- |
| Style | Flat |
| Maximum capacity | 1,000 lb. |
| Weight | 45 lb. |
| Wheels | No |
| Back pad positions | 1 |
| Seat positions | 1 |
Advertisement – Continue Reading Below
Best Adjustable Weight Bench for Novice Lifters
PowerBlock PowerBlock SportBench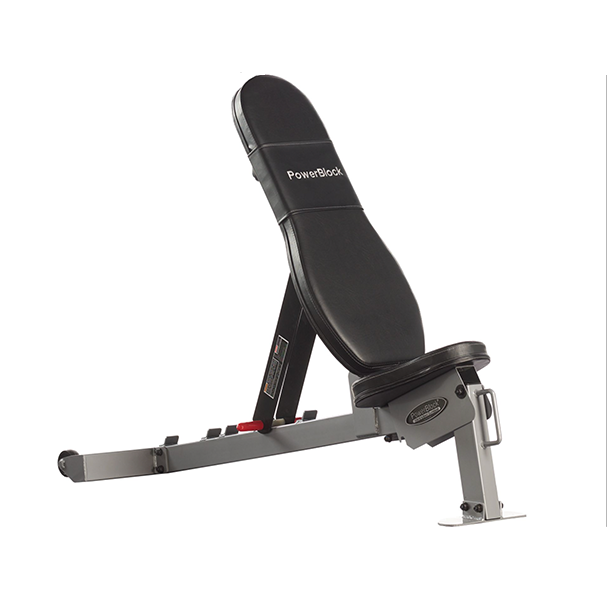 Best Adjustable Weight Bench for Novice Lifters
PowerBlock PowerBlock SportBench
Pros
Sturdy rectangular steel construction
Thick Duracraft vinyl padding
Built-in wheels and handles for easier transport
Cons
Seat is lacking in decline range
Low weight capacity
If you've got $200+ to burn and are looking to add serious lifting capacity to your at-home gym, this adjustable bench from PowerBlock is a good choice. With a modest 550-pound rating, we feel it was designed with novice lifters in mind.
"This is one of the first home benches I ever used, and it still holds up great today," says Samuel. "It has an old-school design and shape that works well for bench presses, and is a great bench for ez bar chest-supported row or curl concepts because of the simple incline adjustment that never gets in the way of your natural movement pattern on either exercise."
In our experience, it's plenty versatile, with 5 adjustable back positions and seat adjustments. And an extra thick, three-inch Duracraft vinyl padding feels extra comfy during even the heaviest presses.
One downside: It'll slide a bit on cement, so make sure you place it on a yoga mat if that's how you plan to use it.
What do buyers say? "This product is sturdy, easy to assemble and a great piece of equipment," said one PowerBlock SportBench buyer on the Dick's Sporting Goods' site.
| | |
| --- | --- |
| Style | Adjustable |
| Maximum capacity | 550 lb. |
| Weight | Not listed |
| Wheels | Yes |
| Back pad positions | 5 |
| Seat positions | Not listed |
How to Choose the Best Weight Bench (for You)
Weight benches are deceptively simple. Flat models are the simplest designs of all—they're literally just extremely strong benches. Adjustable models add a bit more versatility with adjustable backs and seats that allow for dozens, even hundreds, of configurations. But, which weight bench is best? As with all things, there's no "best" weight bench—it's rather about the model that's right for you.
Here are a few things to consider when shopping for a weight bench to add to your home gym:
Maximum weight capacity: First and foremost you'll need a weight bench that's strong enough to accommodate your training regimen—and even if you're not doing heavy-weight moves, you'll want your bench to accommodate a decent amount of load. That's because it's about more than your bodyweight and the weight of the load you're training with; each time you set up on the bench, there's potential for additional impact. In general, always aim for a bench that can support at least 500 pounds; that'll set you up for success in nearly all your training, and support you with more advanced exercises that offer even more impact (such as step-ups and plyometric Bulgarians).
Adjustability: In general, the three types of weight benches are flat, adjustable incline, and adjustable incline/decline. The first two are pretty self-explanatory and the latter, of course, adds versatility for decline-angle exercises.
"If you're unsure which bench to get, opt for a bench with incline-angle options. Sure, this may cost slightly more initially, but it'll set you up with a bench that can grow with you," explains Samuel.
"In general, most website workouts and app workouts assume that, if you're training with a bench, it has incline options. So not having incline options can set you up for frustration. It'll also heavily limit your ability to vary your workouts in fun ways. The incline bench is the most future-proofed purchase option."
If you're a powerlifter, or you're buying a bench for a particular program, a flat bench might be perfect.
Decline-angle benches, open up new movements (especially when it comes to core training), but they're generally unnecessary. Think of that as your luxury option.
Storage: Like all home gym equipment, weight benches can take up a lot of room. If you're tight on space or just appreciate being able to move your equipment out of the way, consider a collapsible weight bench or, at the very least, one with wheels.
If you're after an adjustable weight bench, wheels should be a top priority. Because they're on the heavier side, this will make stowing away and setting up tremendously easier. You don't want setting up your bench every session to be a part of your workout.
What to Avoid When Shopping for a Weight Bench

Low weight capacity: Generally, it's a good idea to shift away from any bench that doesn't have a 500-pound weight capacity. Even if you don't plan on lifting heavy, it's important to opt for a bench that can safely support you, the weight you'll be lifting, and any added impact that might occur during use.
That being said, there are a few sub-500-pound benches on this list that we do like. Benches like those listed from Escape Fitness and NordicTrack are NOT sturdy to the level we'd want for heavy-lifters, but they also don't pretend to be.
Every bench on the market should have a listed weight rating, so consider it a red flag if that information isn't made accessible on a manufacturer's product page. The thicker the steel used to make the bench, the stronger it is; we recommend opting for 11-gauge steel when possible, as it's most commonly used in benches with at least a 1,000-pound rating.
As NYC-based trainer David Otey, C.S.C.S., states, "No one wants to buy a bench that is rickety and unsafe."
Short return or warranty period: Return policies and warranties represent the manufacturer's confidence in their product. And with most home gym equipment manufacturers, the better the quality, the better the warranty. In the case that something goes wrong with your bench, it's important to know your investment is protected, so look for benches that come with at least a 1-year warranty.
Padding: The right balance between stiff and cushioned padding is essential to ensure your bench will stay in good condition with use. Highly cushioned benches might feel nice, but they tend to deform over time, creating an even surface. While most padding is stitched to the bench, some is stapled, which tends to lift away from the bench's frame eventually. Not enough padding isn't good either, as you'll feel like you're lying on a plywood board, according to Otey.
Pad gaps: If you plan on using your adjustable bench for flat bench variations, be mindful of the distance between the back pad and seat pad (otherwise known as the 'pad gap'). Anything larger than 2 inches will be noticeable and may feel uncomfortable during certain lifts.
Price: The type of bench, specifications and features offered, quality of the materials, and durability of the build all contribute to the price tag you'll pay for a given bench. As a rule of thumb, cheap options will ultimately pack less value in the long-term.
Other features: Consider the type of bench you're looking for and whether you'll need to move it around your at-home gym space. Adjustable benches tend to weigh more, so you'll want one with wheels and/or handles to make setting up and stowing away a breeze.
Consider the bench's base, too. Heavier benches (like the Prime Fitness or Hammer options above) are sturdy enough that, when you're doing, say, a spider curl or incline row and you throw your chest against the bench, it won't slide. But if you purchase a lighter-weight bench, such as a Bowflex or even Flybird model, you definitely want something with rubber grips. Without them, the bench will slide away if you lean against it. If you opt for a model (or already have one) without grips, throw a yoga mat underfoot for some extra stick.
Advertisement – Continue Reading Below
Is a Weight Bench Worth Buying?

"Absolutely," says Otey, "Your exercise options will drastically open up with a weight bench."
It's hard to know what equipment you really need in your home gym vs. what equipment will just end up collecting dust and occupying precious space—we get it. But you'd be wrong to consider a weight bench an unnecessary addition. The versatility an adjustable or flat bench can add makes it one of the most worthwhile investments for any at-home set up.
With a weight bench, you can unlock a wide range of exercises including dumbbell presses, incline curls, chest-supported rows, and so much more. You also make other exercises, like skull crushers (which sculpt your triceps) less awkward and more comfortable for your home workouts. Which can ultimately help you to target different muscle groups and achieve a more well-rounded workout.
Are Weight Benches Suitable for All Fitness Levels?

You don't necessarily need a weight bench to get strong and build muscle, but having one gives you access to a host of exercises (regardless of fitness level), especially when it comes to upper-body training.
Most basic exercises that beginners should master, like dumbbell presses and single-arm dumbbell rows and hip thrusts, are much easier to execute with a bench (especially an adjustable one). Meanwhile, more advanced lifters can get incredible mileage out of a bench by unlocking more innovative moves like half-bench single-arm presses and single-arm rows.
Flat vs. Adjustable Benches

Here's a breakdown of the key differences:
Design: A flat weight bench is designed with a fixed, flat surface, whereas an adjustable weight bench allows you to adjust the angle of the bench to different incline or, in some cases, decline angles.
"The adjustable benches that offer a decline setting are a terrific value for anyone who wants to get creative with their core exercises while training at home," notes Samuel.
Exercise variety: "Adjustable benches give you so many more options for your exercises," explains Otey. "Instead of just working at flat or upright, all of the angles in between can give you variety and diversity in your training options." Those angels allow you to bias muscle groups in different, more selective ways. A flat weight bench limits you to exercises that can be performed on a flat surface.
Convenience: Adjustable benches offer more convenience overall (especially well-built ones), offering access to more movements and angles. Adjustable benches also offer support for extra movements, such as overhead presses and lateral raises, which can allow for greater loading of those movements in the long term. But flat weight benches win for convenience in two areas. They're generally lighter, so you can more easily move them around your gym, and they're easier to stow when not in use, too.
Maintenance: Because flat weight benches generally have fewer mechanisms and lack a hinge of any sort, they'll be easier to maintain. Adjustable benches don't require a ton of maintenance, but it's worthwhile every so often to check on bolts and caps, and make sure your hinge mechanism is working smoothly.
Price: Generally, an adjustable weight bench is more expensive than a flat weight bench due to its more complex design and features.
Advertisement – Continue Reading Below
Best Weight Bench Exercises
Why You Can Trust Us

At Men's Health, we take great pride in providing our readers with reliable and trustworthy product recommendations. We believe that our readers deserve the best, which is why we always make sure to conduct thorough research and testing in our in-house Fitness Lab before making any recommendations.
Our fitness writers and editors are experts in their own right, using their informed opinions to select products and ensuring that our content is of the highest quality. Our product recommendations are purely editorial, and while we may receive free products to test and review, we only recommend the products we are most impressed by. We never let retailers or public relations contacts dictate our content or product coverage, which is why you can trust us to provide you with reliable and unbiased product recommendations.
How We Selected
For the past few years, we consulted with Men's Health's Fitness editors and writers on the top weight benches they've experienced firsthand. Experts including our fitness director Ebenezer Samuel, C.S.C.S., have tested dozens of weight benches throughout the years, from high-end, commercial-grade versions all the way down to budget models.
Our extensive testing process involved a comprehensive evaluation of multiple factors, including size, durability, performance, suitability for different fitness levels, and value, to ensure that we recommend only the best. We put each weight bench to the test through exercise routines that included flat and adjustable bench moves, covering a wide range of motions and use scenarios.
To determine their stability and structural integrity, we subjected benches to both comfortable and near-maximum weight capacities, allowing us to assess their performance at under varying loads. To gather diverse perspectives, we consulted with our MH Advisory Board and Strength in Diversity trainers, who provided valuable feedback on the top weight benches based on their expertise and experiences.
Fitness and Commerce Editor
Talene Appleton is the Fitness and Commerce Editor at Men's Health, a NASM-CPT certified trainer, and former professional dancer and chef. With a background in fitness, nutrition, and culinary arts, her passion lies in inspiring others to lead healthy lives through engaging and research-driven content. You can find her work elsewhere at The Food Institute, The Nessie, and other outlets.

Ebenezer Samuel, C.S.C.S., is the fitness director of Men's Health and a certified trainer with more than 10 years of training experience. He's logged training time with NFL athletes and track athletes and his current training regimen includes weight training, HIIT conditioning, and yoga. Before joining Men's Health in 2017, he served as a sports columnist and tech columnist for the New York Daily News.