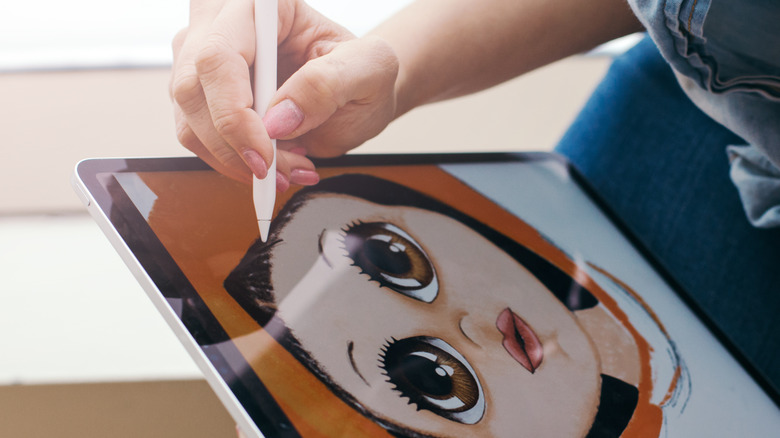 Anna Kraynova/Shutterstock
Today's phones and tablets offer a versatile canvas for digital artists. Whatever level of expertise you're at, and whether you're into sketching, painting, illustrating, or even exploring 3D art and animation, there's a digital art app out there for you. Though some apps are designed only for one platform, such as the iPad, others are available on multiple operating systems spanning mobile and desktop, and they cater to a range of preferences, skill levels, and budgets.
The apps in this roundup all offer intuitive interfaces, powerful tools, an array of brushes, effects, layering options, and cover options for users of iOS, iPadOS, and Mac computers, Android phones and tablets, and Microsoft Windows devices, including Surface tablets. Four of these five apps are free to download but offer some kind of paid upgrade option, such as a monthly or annual subscription, which unlocks additional features like extra brushes or access to unlimited layers. 
Adobe Fresco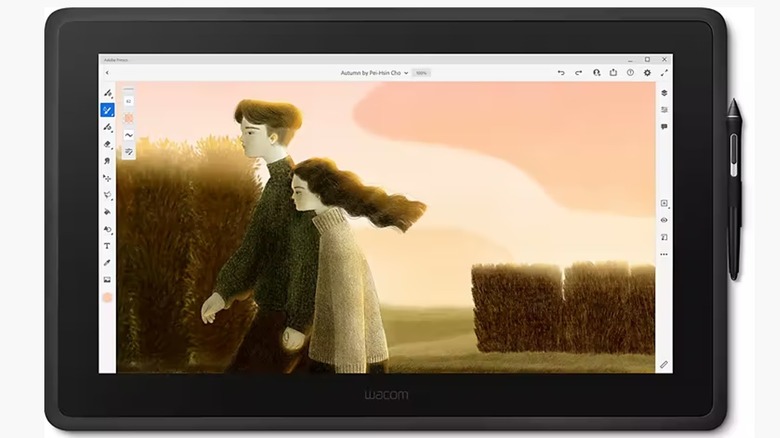 Adobe
Adobe Fresco is a serious digital art app that offers a wide range of customizable brushes, including conventional pixel brushes, live brushes, and vector brushes. Live brushes emulate the effect of applying oil and watercolor paint, and vector brushes enable you to create images with a hand-painted look that can scale infinitely, without pixelating. If the sheer number of brushes gets to be too much, you can "favorite" the ones you use most to make them easier to find.
One of the main benefits of Fresco for experienced visual artists is likely to be the familiar Adobe interface, which should make it easy to move between Fresco and mobile or desktop versions of apps such as Photoshop or Lightroom. Like those apps, Fresco benefits from regular updates, and some of the most recent additions include customizable Multi-Color Swatches, Snap To Shape which automatically turns a rough shape into a sharply refined one, and Paint Inside, which lets you constrain brushstrokes to set boundaries.
Adobe Fresco is free to download on the App Store and Microsoft Store. The basic feature set is limited to around 100 brushes and 2 GB of cloud storage. A paid subscription ($10 per month, or via an existing paid Creative Cloud plan) unlocks extra features, including more than 1,000 additional brushes, additional cloud storage, and premium fonts. Users of low-end devices should be aware that this is a large application — 5 GB of free space is required for installation, and Adobe recommends 16 GB of available space for the best performance.
IbisPaint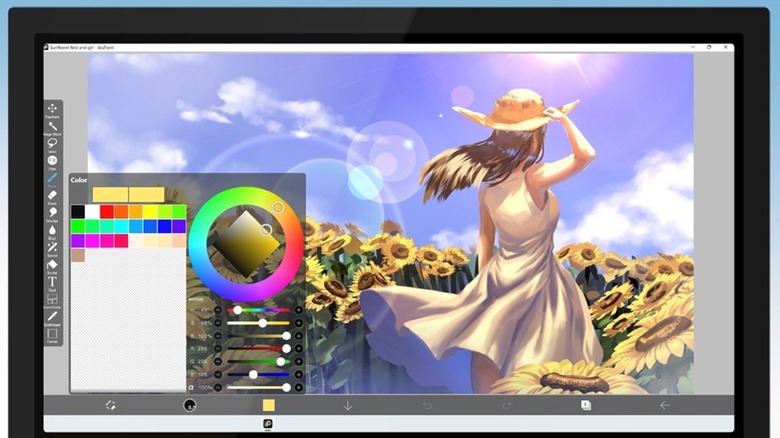 Ibis
IbisPaint is a fully-featured digital art app with a vibrant online community, available to download on iPhone, iPad, Android, and Windows devices. Developed in Japan, IbisPaint contains a variety of powerful illustration features, including more than 15,000 adjustable brushes, advanced selection tools, support for unlimited layers (including vectors) and blending, and a recording option that can output your activity as a video.
Users coming from other drawing apps might face a bit of a learning curve, but once you've gotten used to the interface, IbisPaint is a powerful tool, which includes some fun and unique features specifically aimed at manga artists, including multiple tools for inputting and manipulating text, and a Satoshi Kon-style Glitch filter. Be aware that in keeping with its origins, some of the online community resources for IbisPaint, and much of the developers' social media output, are in Japanese.
IbisPaint X is the basic version of IbisPaint, available for free with ads, while IbisPaint is ad-free and costs $9.99. Both versions can be upgraded via a subscription to a "prime membership" ($27.99 per year) which unlocks features including 20 GB of cloud storage, additional fonts, and a clouds filter. There are more user-friendly drawing apps out there (does anyone really need 15,000 brushes?), but IbisPaint offers good value for digital artists, even more so if you stick with the free ad-supported version. Aspiring manga artists, especially, will find a lot to love.
Linea Sketch
Linea Sketch is a simple, straightforward drawing app for iOS that offers fewer features than the other apps in this roundup, but as such, provides a simpler, less intimidating interface for a casual or beginner digital artist. You don't get as many brush options, or as much ability to customize them as competitors, and you won't be able to make vector graphics, but for a lot of digital artists, Linea Sketch will strike a good balance between cost and usability. In fact, if you don't mind watermarks on images that you export from the app, you might be able to get away with the free version of Linea Sketch. Upgrading to a $0.99 per month subscription removes the watermarks and the pop-up messages that nag you to subscribe, but basic functionality remains the same.
The biggest drawbacks of Linea Sketch for advanced users are likely to be the limited brush options and the maximum of five layers, but if you're just starting out or you only need to make the occasional sketch, it might be the only digital art app you need. And at less than 100 MB in size, it won't hog the limited storage on a low-end phone or tablet. The app can be downloaded from the App Store.
Procreate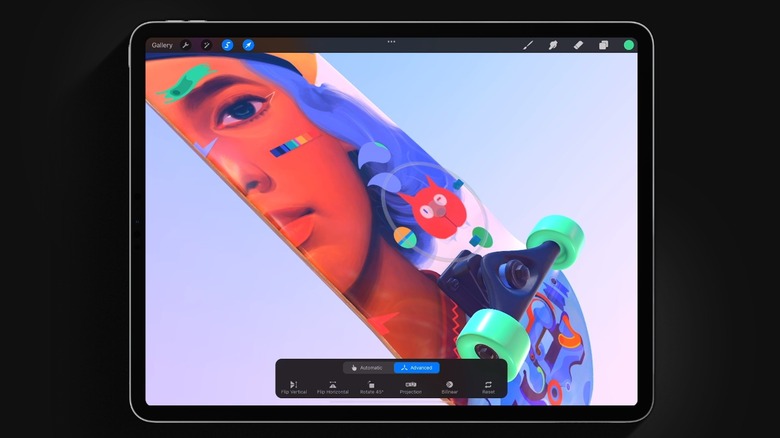 Procreate
Procreate regularly tops lists of digital art apps, and for good reason. Available exclusively for the Apple iPad for $12.99 on the App Store (there are some nice alternatives for Android, though), Procreate turns the device into a fully-fledged art studio, enabling you to create everything from sketches to animations. First launched way back in 2011, Procreate was among the first digital art apps for the iPad, and despite being paid, it's still one of the most popular.
Procreate was designed from the outset for the iPad, so as you'd expect, it can take advantage of the full range of gesture controls available in iPadOS, and of course, the Apple Pencil. At the heart of Procreate is Brush Studio — essentially an app within an app that allows users to customize the 200+ included brushes and even create their own brush packs to share with other Procreate fans. The Procreate interface is relatively clean and uncluttered, considering the depth of the functionality on offer.
Alongside fairly standard adjustment tools like filters and blur effects, Procreate also includes support for layers and blending, but advanced features like Color Harmony and Animation Assist take things to the next level. Color Harmony is designed to help you easily pick complementary colors, while Animation Assist enables you to transform your artwork into animations. It can even create a timelapse video showing how your artwork was created, from the first brushstroke to the finished product.
Sketchbook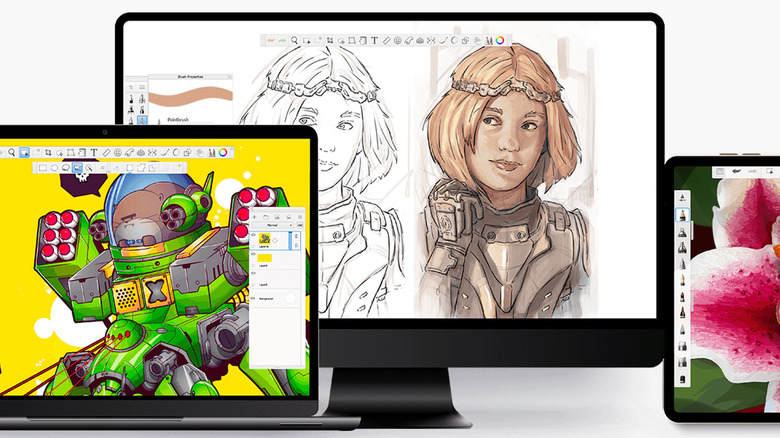 Sketchbook
Sketchbook is a well-established and great-value drawing app that has long been a favorite of digital artists on both desktop and mobile. Sketchbook for mobile is free to download, but for a one-time fee of $1.99, users can install a premium bundle that unlocks additional features including extra brushes, custom gradients, and layer masking blend modes. Serious artists might see a benefit from upgrading, but the free feature set should be more than powerful enough for many users.
Two of our favorite features are Predictive Stroke, which helps when drawing smooth curves, and a Dynamic Symmetry mode that automatically mirrors brushstrokes vertically, horizontally, or radially to create a perfectly symmetrical design. The Sketchbook interface is simple and intuitive, with brushes in a left-hand sidebar and editing and style options, including text, along the top of the screen. Layers and blend modes are controlled from a toolbar on the right. For an even cleaner look while working, all the toolbars can be hidden on demand using a three-finger double-tap. In addition to supporting the normal range of touch gestures, Sketchbook works well with accessory styluses and includes support for pressure and tilt-based strokes. The app is available to download on Windows, Mac, iPad, and Android.