Best Picture
LG C2 Series 55-Inch Class OLED Evo Smart TV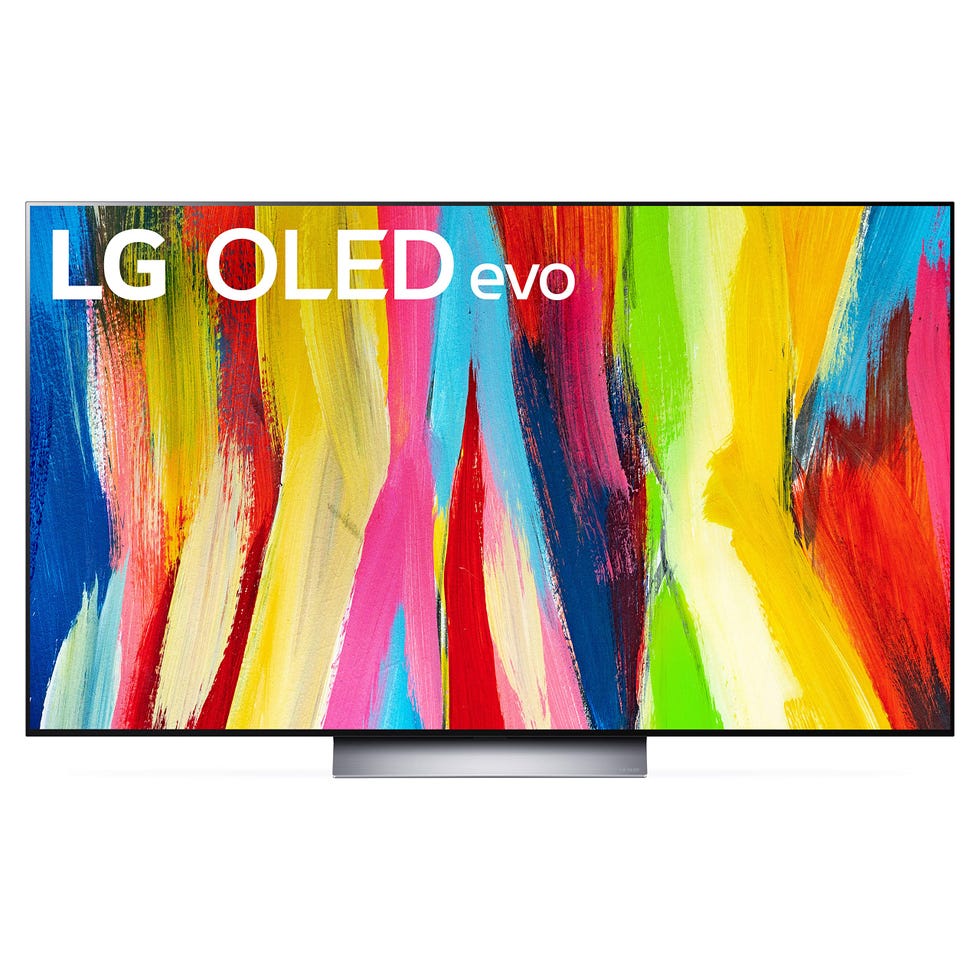 Best Picture
LG C2 Series 55-Inch Class OLED Evo Smart TV
Now 20% Off
Pros
Overall picture quality stands above rest on this list
Rich colors and smooth movement thanks to OLED panels
Reasonable mid-tier price point
Picture quality translates well for movies too
Cons
OLED panels prone to glare
The LG C2 is lauded by many as the top dog for watching sports thanks to its OLED panels. OLED is going to provide the best viewing for sports, as the panel type provides a lightning-fast pixel response that results in crystal clear following of balls, pucks, and more. The trick when dealing with an OLED TV though is making sure your viewing situation is void of any bright light nearby. OLED TVs are made with panels that have a gloss effect, and so when placed near a window or exposed to bright light a weird mirror effect can happen that inhibits viewing.
| | |
| --- | --- |
| Sizes Available | 42, 48, 55, 65, 77, 83 inch |
| Panel Type | OLED |
| Refresh Rate | 120 Hz |
| Resolution | 4K |
Best Overall Value
Hisense Class U8 Series ULED Mini-LED 55-Inch Google Smart TV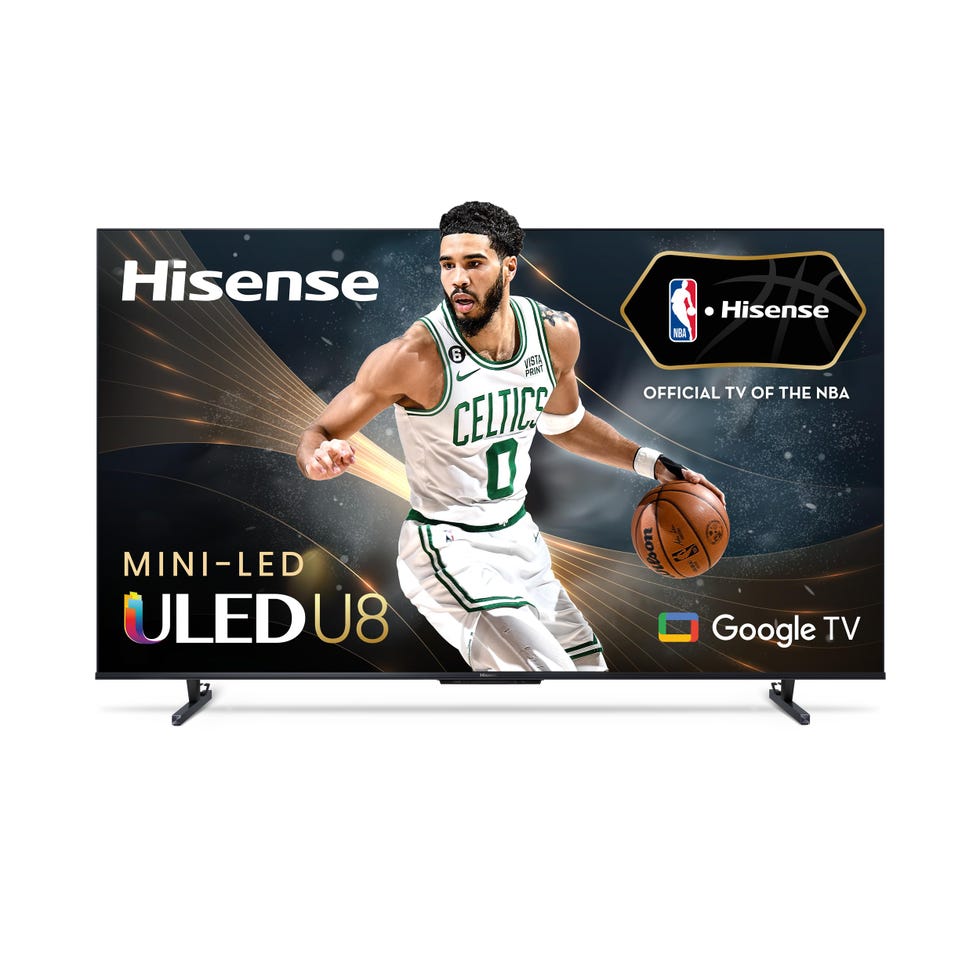 Best Overall Value
Hisense Class U8 Series ULED Mini-LED 55-Inch Google Smart TV
Now 27% Off
Pros
Excellent picture quality for the price point
144 Hz refresh rate perfect for fast movements
TV design also makes it good for gaming
Good audio quality
Better at keeping away glare than OLED
Cons
Not as great of picture as an OLED can produce
The Hisense U8 is a solid TV around $1000 that promises an elite picture for watching sports. At the core of the U8 lies a mini-LED system that provides a much brighter picture than a traditional LED array. The mini-LEDs flex their might whenever you're watching a game where it's raining/snowing outside, as well as a game set in an indoor stadium or arena where the lighting varies heavily on how the broadcast is set up. Everything from snap throws in football to fast breaks in basketball gets captured in a clean and easy manner. What's great is the U8 comes with superb built-in audio that can work stand-alone if you don't want to add a sound system.
It's true you might get better imaging processing with an OLED TV, but really what sells us on Hisense mini-LED is its ability to promise high definition while shaving off several hundred dollars. If you are looking for great value for the price, this is a worthy pick.
| | |
| --- | --- |
| Sizes Available | 55, 65, 75 inch |
| Panel Type | Mini-LED |
| Refresh Rate | 144 Hz |
| Resolution | 4K |
Best Deal
TCL Q7 QLED 55-Inch Smart TV with Google TV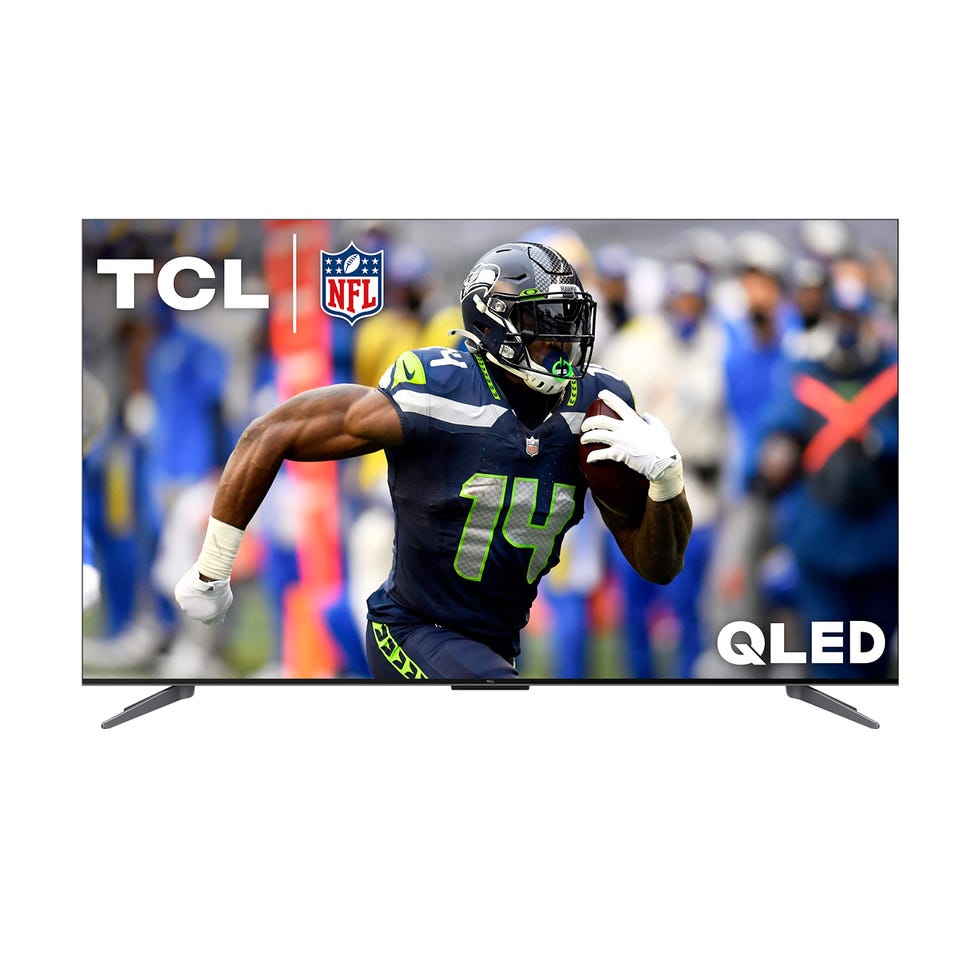 Best Deal
TCL Q7 QLED 55-Inch Smart TV with Google TV
Now 20% Off
Pros
Great price for a TV of this caliber
QLED panel type and 120 Hz refresh rate
Available in 85-inch size
Cons
Audio quality not the best
TCL makes some of the best wallet-friendly TVs for watching sports, and the secret is its QLED lineup. You get proper color accuracy, proper brightness levels, and proper refresh rate (120 Hz) with this new Q7 model, making it perfect for watching games in bedrooms and living rooms. The Q7 works well for covered patios too, but it is worth noting reviewers that the TV has better viewing in darker settings. The Q7's audio quality will suffice, but it's not ideal. This is probably where TCL was able to keep a lot of extra costs out on this model, and so investing in a sound bar, or using the sound bar you currently have, is a recommended solution if you want big-game audio to go with your picture.
| | |
| --- | --- |
| Sizes Available | 55, 65, 75, 85 inch |
| Panel Type | QLED |
| Refresh Rate | 120 Hz |
| Resolution | 4K |
Advertisement – Continue Reading Below
Best for Outdoor Viewing
Samsung Neo QLED 4K Class QN90B 55-inch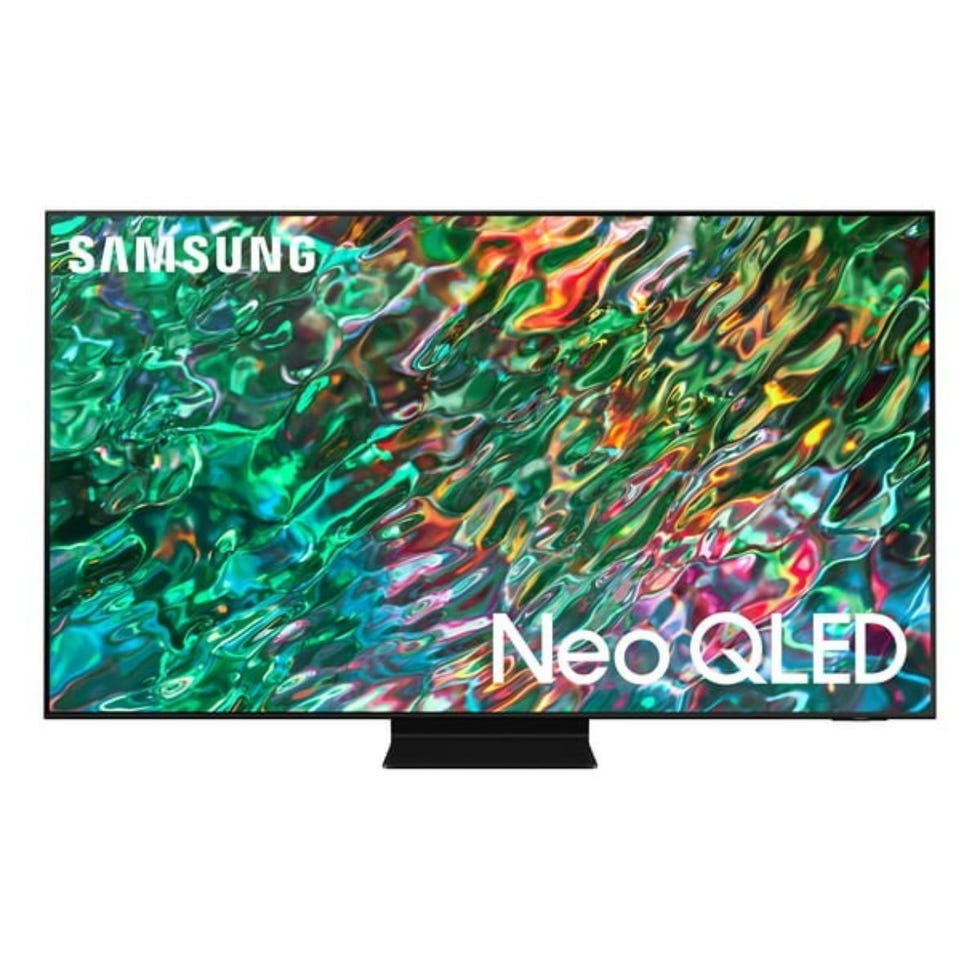 Best for Outdoor Viewing
Samsung Neo QLED 4K Class QN90B 55-inch
Pros
Does better at reducing glare than OLED panel TVs
Excellent at adjusting brightness
Smooth picture
Great candidate for setting up in a patio
Cons
Shadows are not as good of quality as other OLED TVs on this list
If you don't want to have to worry about the gloss effect OLED TVs can create, then something like this Neo QLED from Samsung is a solid alternative. QLED technology is known for its ability to create advanced levels of brightness and color accuracy, but it does not do as well when measuring shadows on the screen. This viewing formula might be a knock on a TV if you want to get the very best movie quality—the shadows of a TV screen help create stronger contrast and depth—but shadows are not such a priority for watching sports due to the fact a broadcast crew can only do so much in doctoring the picture of a live game. All-in-all, this is a high-grade level TV that caters to those who want to avoid that glossy look QLED TVs can create and potentially place their TV outside or close to a big living room window.
| | |
| --- | --- |
| Sizes Available | 43, 50, 55, 65, 75, 85 inch |
| Panel Type | QLED |
| Refresh Rate | 120 Hz |
| Resolution | 4K |
Best for Sports and Gaming
Sony BRAVIA XR OLED 55 Inch 4K Ultra HD TV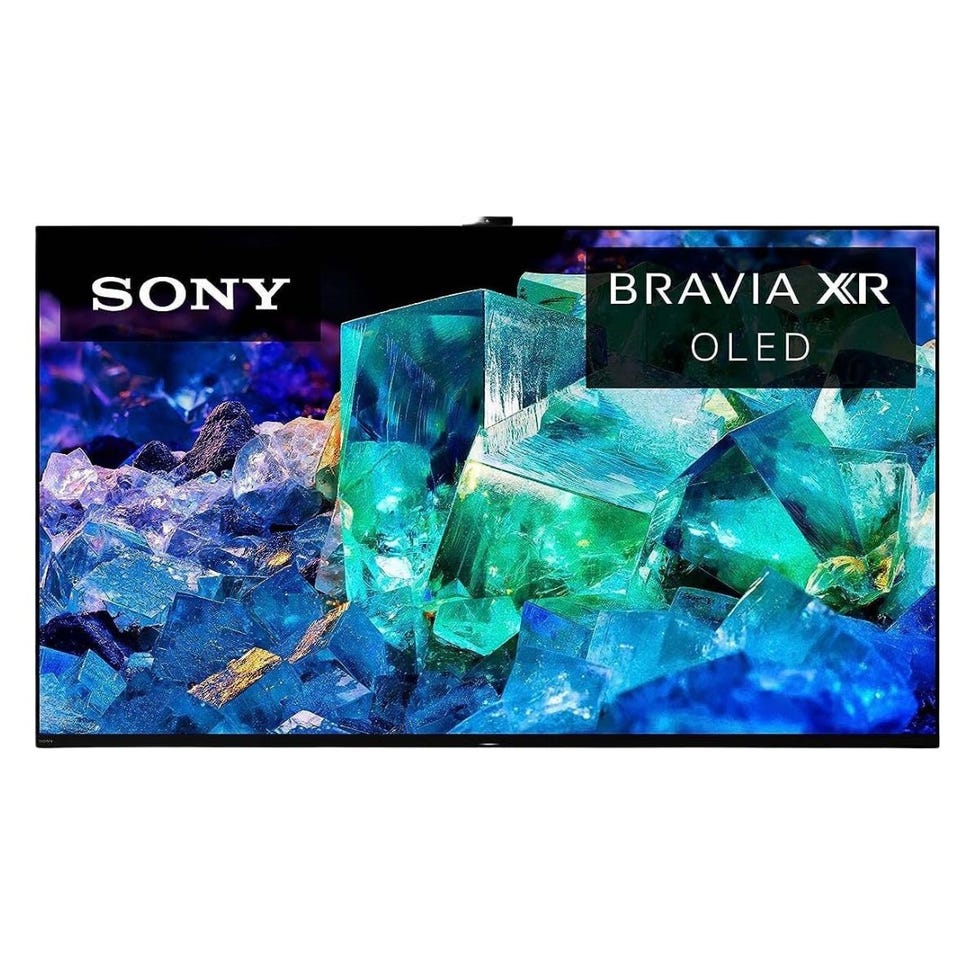 Best for Sports and Gaming
Sony BRAVIA XR OLED 55 Inch 4K Ultra HD TV
Pros
Top-tier OLED panel type
Picture quality works great for PS5 gaming
High quality also translates to movies
Best color quality on this list
Cons
Most expensive TV on this list
OLED panels prone to glare
Sony makes a couple of different BRAVIA TVs, but when it comes to getting a crisp, ultra-responsive picture we like the OLED model. You have the same downsides of the potential mirror glare other OLED screens have, but the benefits of this model are pretty awesome if you can avoid the lighting issue. With this TV you get all the brightest and fullest colors on the screen, making everything from the grass of a field to the uniforms of players pop. BRAVIA TVs are also optimized for Playstation 5 gaming, so pairing this TV with a PS5 will essentially yield you the best picture quality and image processing you can get for a TV that doubles for watching sports and gaming. Oh, and did we mention this TV is great for watching movies too? We give this TV the Triple Crown.
| | |
| --- | --- |
| Sizes Available | 55, 65 inch |
| Panel Type | OLED |
| Refresh Rate | 120 Hz |
| Resolution | 4K |
Which TV Panel Type Is Best for Sports?
Any of the TVs we named above are going to be great for watching sports, but if we had to say what panel type provides the best viewing experience it's an OLED display. OLED TVs have rich colors, smooth motion, and high-quality 120 Hz refresh rates that guarantee all movements are captured during a game.
Advertisement – Continue Reading Below
What to Look for When Buying a TV for Sports
Panel Type
As shown above, there are several kinds of panel types that provide solid viewing experiences. The best panel type overall is OLED, but it's important to remember what we said about the gloss effect the screen can produce. Other panel types of QLED and mini-LED will work well but also have their noted tradeoffs. If there's a panel type you should avoid, stay away from LED; the brightness and color accuracy won't be as accurate as the other panel types we've noted.
Screen Resolution
Screen resolution deals with the number of pixels in a display, which ultimately affects the picture's sharpness. The best screen resolution you can get for watching sports is 4k, as broadcasts from major leagues are now showing 4k viewing. So by all means, go for the 4k screen resolution on your TV.
Picture Quality
Most of the time, a higher resolution means higher quality. For sports viewing, 4k is what you can cap out at for broadcasts so it's ok to ignore anything higher. Other factors like shadows and color are taken into account for picture quality, which can lead back to the panel type you're buying and the refresh rate.
Audio Quality
If you really want to create a good environment for watching sports, you will probably want to upgrade to a sound bar or speaker system. Alas, if you need to save up for a while or you just want to go TV only there are a few models you can choose that will provide quality audio. Just make sure to avoid the cheaper TV models on this list, as they are more likely to have lesser-quality audio.
What Is a Good Refresh Rate for Watching Live Sports

Your refresh rate, also known as hertz (Hz), is how fast a TV resets its image per second. A faster refresh rate is going to help capture quick movements on the screen the best, so a TV with a high level of hertz is good for watching sports. The general consensus on what exact number is good for watching sports is 120 Hz.
How We Selected

The Men's Health team has researched, personally tested, and compared dozens of TVs over the past year. We evaluated features like panel type, screen resolution, and picture quality to determine what models perform best when watching sports. We took into account the need for high refresh rates and adjustable brightness when viewing a sports broadcast when choosing our picks, and we made to curate our picks to reflect the different environments a TV might be used for.
We also researched reviews from popular Reddit groups like r/4kTV, as well as advanced TV reviews from publications like RTINGS and TechRadar. The final list above represents our honest picks for the absolute best outdoor TVs worth buying in 2023.

Gear and Commerce Editor
John Thompson is the Gear and Commerce Editor at Men's Health, where he covers fashion, grooming, gear, and technology. He was previously the Style & Gear Editor at BroBible.com, and a commerce writer for TheManual.com. His interests include attending concerts, spending time outside, and following his favorite baseball team, the Kansas City Royals.