1
Image Comics Invincible Book 1: Family Matters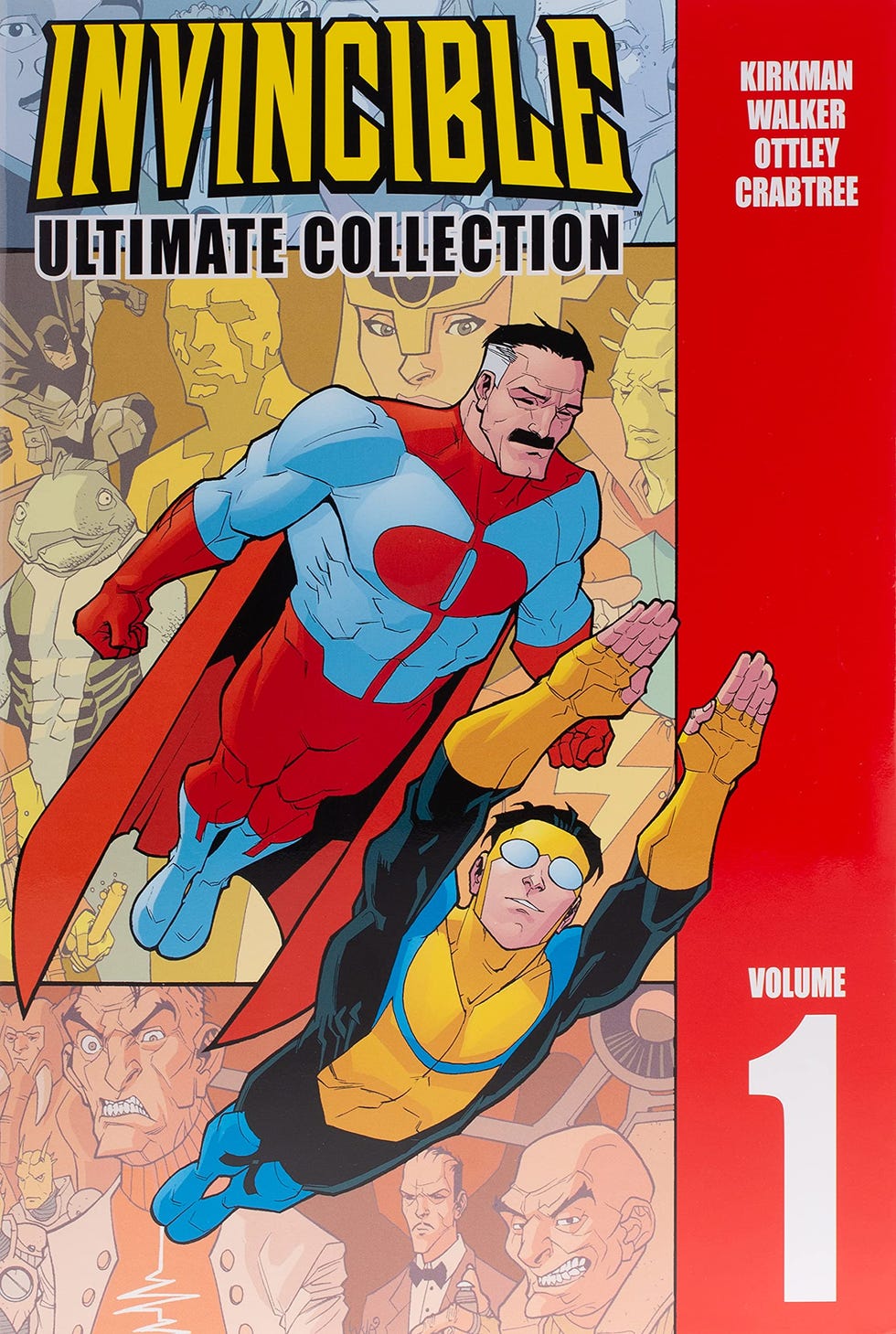 1
Image Comics Invincible Book 1: Family Matters
Now 25% Off
This is where it all started. On one hand, most of the plot in the first few Invincible books was covered during season one of the series, including the introduction of Mark's home life and the onset of his powers. Working with original series artist Cory Walker and colorist Bill Crabtree, Kirkman establishes Invincible's world in these first issues. That's where readers meet not only the Grayson family but also the Guardians of the Globe Immortal (voiced in the show by Ross Marquand) and Robot (Zachary Quinto), as well as Mark's partner Atom Eve (Gillian Jacobs).
Most of these issues feature the happiest days of Mark's life. The cartoony illustrations and bright colors show Mark living out a power fantasy, getting a break from his boring high school life by flying through air with his dad and paling around with other superheroes. It may cover familiar ground for most fans, the first collection of comics shows how far Invincible has come—and why he fights to keep going.
2
Image Comics Invincible Book 4: Head of the Class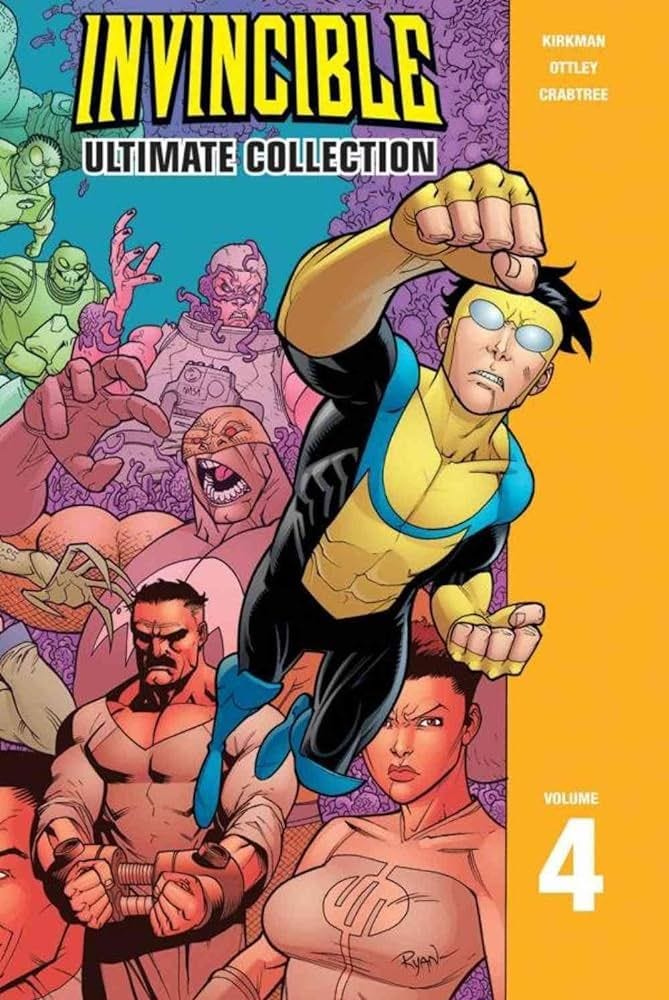 2
Image Comics Invincible Book 4: Head of the Class
Now 12% Off
Credit: Image Comics
Invincible Book 4: Head of the Class collects issues #14 – 19 of the original series, picking up right after Mark's battle with Omni-Man. While Season 2 of Invincible picks up in the same place, Kirkman and new regular artist Ryan Ottley depict Mark's next stage of life including his high school graduation and new relationship with Global Defense Agency director Cecil Stedman (voiced by Walton Goggins in the show). At the same time, Book 4 fleshes out the world of Invincible, taking him from the depths of the undersea kingdom of Aquaria and introducing the multiversal threat Dr. Angstrom Levy (voiced by Sterling K. Brown).
As with previous books, Kirkman and Ottley keep focused on Mark's personal life, showing how his mother deals with her husband's betrayal and Mark's tense relationship with his girlfriend Amber (voiced by Zazie Beetz). While these plot points do show up in the first half of Invincible's second season, they play out quite differently in the comics, in which Amber does not yet know about Mark's double life and his best friend William (voiced by Andrew Rannells) has not yet come out. The comics provide a slightly different take on Mark's life, perfect for anyone hungry for more Invincible.
3
Image Comics Invincible Book 5: The Facts of Life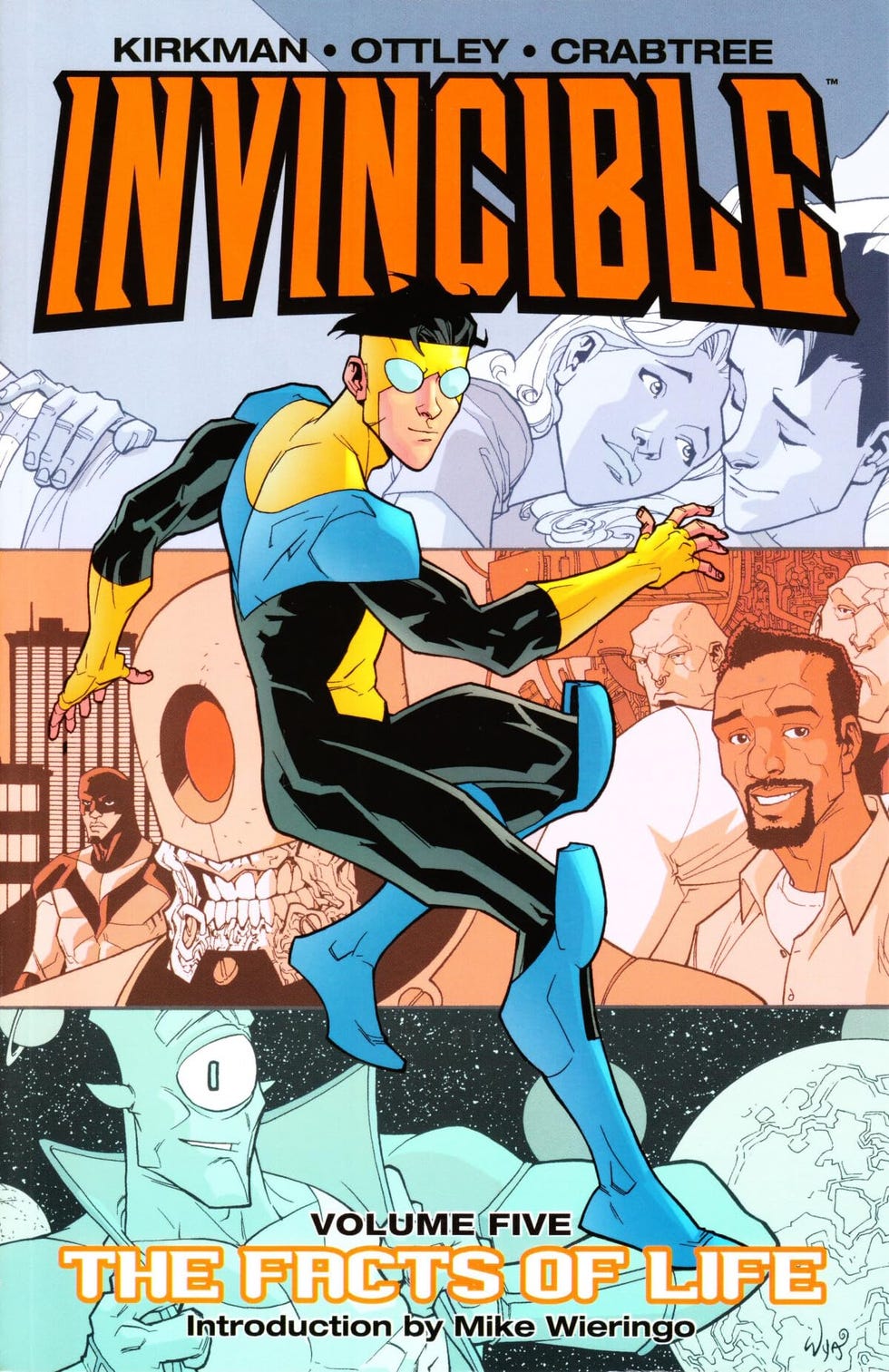 3
Image Comics Invincible Book 5: The Facts of Life
College was supposed to give Mark a break from the superhero life, a chance to live like a normal kid who did not have an intergalactic mass murderer for a father. But as he learns in Book 5: The Facts of Life, Invincible brings all of his trouble with him to college. Collecting issues #20 – 24 of Invincible, The Facts of Life finds Mark trying to pay attention to his teachers and his obligations to Stedman and Amber keeps finding wild explanations for his erratic behavior. Oh yeah, and Angstrom Levy has recruited the Mauler Twins (Kevin Michael Richardson) for his multiversal war.
The Facts of Life forces Mark to realize that he will never have a normal life, and not just because Omni-Man tried to kill him. While other kids get to go to school and pursue regular love lives, and while other heroes such as Atom Eve devote themselves entirely to doing good, Mark must try to balance the two. When Mark's classmate Rick goes missing, only Invincible can put things right, even if he wishes he could just be another kid trying to pass English 101. Plus, we finally learn the secret origin of Allen the Alien!
Advertisement – Continue Reading Below
4
Image Comics Invincible Book 6: A Different World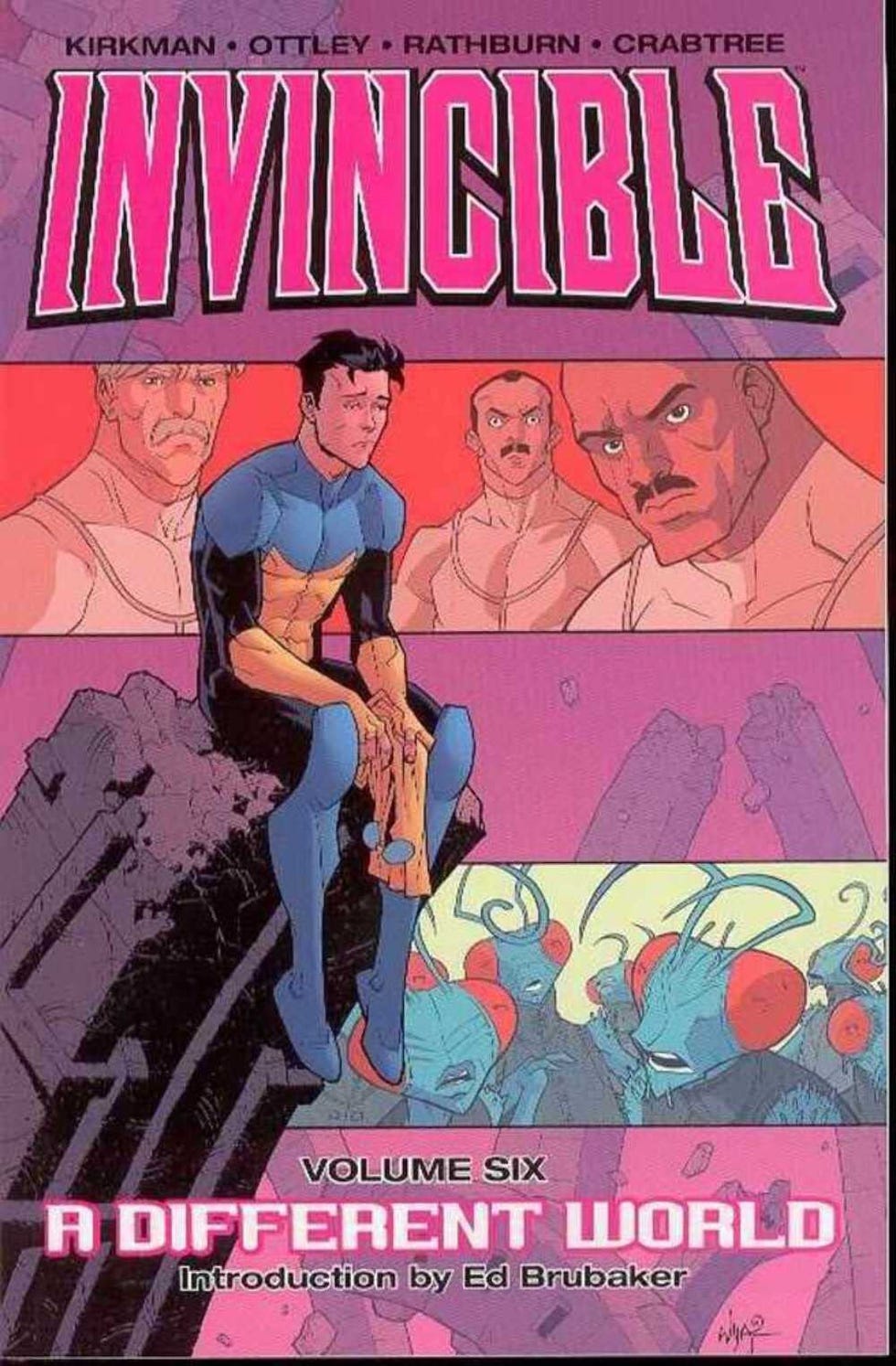 4
Image Comics Invincible Book 6: A Different World
In A Different World, Mark must face his deepest fear: his father. After nearly killing his own son and nearly destroying Earth, Omni-Man has resurfaced and wants to reenter Mark's life. Invincible's reunion with Omni-Man doesn't go the way anyone expects, and it's just one of the amazing events that occur in Invincible #25 – 30, collected in Book 6: A Different World. Kirkman and Ottley slow down to show not only the challenges facing Mark, but all of the rest of the Invincible Universe. Most notably, A Different World shows a sensitive side to unrepentant jerk Rex Splode, revealing him to be more than just an explosive hot head.
Of course, with Omni-Man's return, other Viltrumites cannot be far behind, which means that A Different World comes packed with wall-to-wall superhero excitement. The comic finally reaches the levels of gore animated fans have come to love, as Viltrumite battles Viltrumite. And on a less propulsive scale, the Guardians of the Globe gather their new members, hoping they have the muscle to live up to their names.
5
Image Comics Invincible Book 7: Three's Company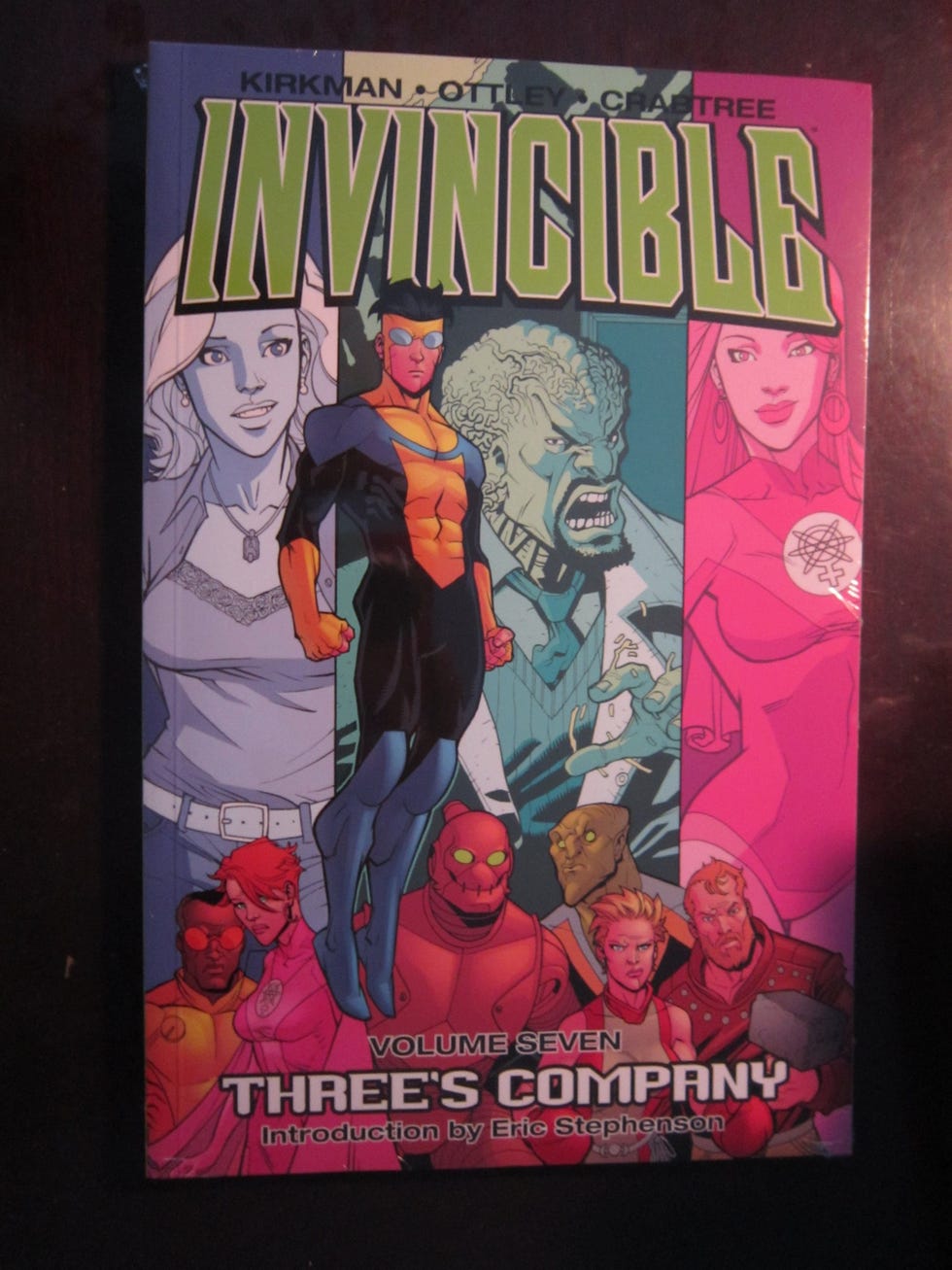 5
Image Comics Invincible Book 7: Three's Company
Now 12% Off
Invincible may be owned by his creators Robert Kirkman, Cory Walker, and Ryan Stegman, but he's part of a larger superhero universe from publisher Image Comics. In fact, the character made his first appearance in The Savage Dragon #102 (2002), the long-running superhero series by Erik Larsen. Contract negotiations prevent other Image Characters from making an appearance on Invincible, barring even the Astounding Wolf-Man, which Kirkman co-created with artist Jason Howard. But in Invincible Book 7: Three's Company, readers can see Invincible join the superhero group the Pact, alongside fellow Image heroes Shadowhawk, Firebreather, and Zephyr.
Of course, that's just one of the adventures found in Three's Company, which collects Invincible #31-34 along with both issues of The Pact. Still reeling from his reunion with his father, Mark must face his greatest threat yet, a monster with the power of multiverse. Mark must fight through world after world in order to get back to his own universe and rescue not only his mother but also his newly found brother. Three's Company represents a turning point in the life of Invincible, forever changing the way he thinks about his mission on Earth.
6
Image Comics Invincible Presents Atom Eve & Rex Splode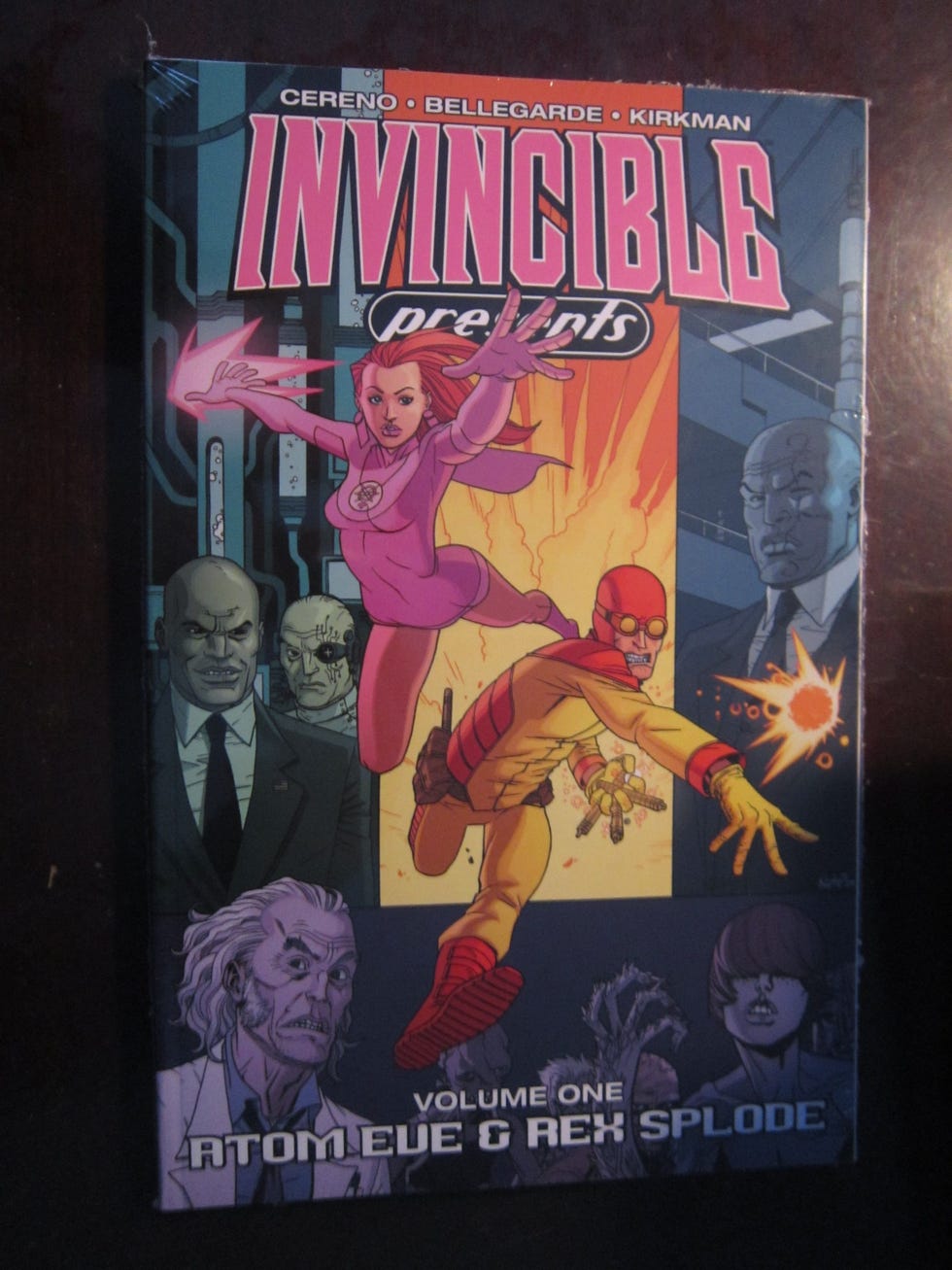 6
Image Comics Invincible Presents Atom Eve & Rex Splode
Atom Eve and Rex Splode may be just side characters in Invincible, but they deserve more attention than just bit players in Mark's life. The mini-series Atom Eve and Atom Eve & Rex Splode finally tell the full backstory of two of the best characters in the Invincible universe. Regular creative team Kirkman and Ottley step aside and turn the reigns to writer Benito Cerino and artist Nate Bellegarde, who join colorist Bill Crabtree and letterer Rus Wooten for the duo's adventures.
Together, Cerino and Bellegarde follow the tragic histories behind both of the characters, and the secrets of their tumultuous relationships with their parents. Viewers of the Invincible cartoon know about the heavy expectations Eve's father places upon her, but Atom Eve & Rex Splode reveals the root of his insecurities. Even more shocking, Cerino and Bellegarde make readers truly care for Rex, showing his abrasive exterior to be little more than a shield for a terrible childhood.
Advertisement – Continue Reading Below
Invincible has never been just about Invincible. From the very beginning, Kirkman and his collaborators have pulled from familiar superhero lore to build out a world filled with other powerful beings. The Guarding the Globe maxi-series shows us just how big the world of Invincible can be, filled with characters who resemble those from Marvel and DC and characters who have no equal.
Written by Kirkman and Benito Cerino, with art by pencilers Ransom Getty, Kris Anka, and a host of inkers, Guarding the Globe looks like a more traditional superhero comic. It follows Cecil Stedman's efforts to create a team powerful enough to protect not only the United States but the entire world. The artists fill splash pages with battles between Guardians we know, including Robot and Black Samson (voiced by Khary Payton), along with newcomers Kaboomerang, Japandroid, and the Chupacabra.
8
Image Comics Brit Volume 1: Old Soldier (Brit, 1)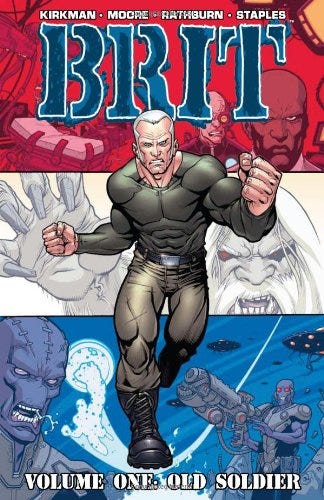 8
Image Comics Brit Volume 1: Old Soldier (Brit, 1)
The revelation of Omni-Man's true purpose may have hurt Mark on a personal level, but he wasn't the only one affected by the loss of Earth's mightiest hero. Before launching his attack, Omni-Man decimated the greatest superhero team, The Guardians of the Globe, forcing Cecil Stedman to rebuild from what's left. When that rag-tag team failed to meet expectations, Cecil reached into the past to call up a man with the grit to properly lead the team, a crusty old World War I era hero called Brit.
Created by Kirkman artist Tony Moore, with additional pencils by Cliff Rathburn and colors by Val Staples, Brit takes a harder-edged approach to the Invincible universe. Super-strong and nigh invulnerable, Brit has seen his share of carnage, which he accepts with a dispassionate sneer. Brit amps up the sex and violence of the standard Invincible comic, playing the character as a blue-collar, American version of James Bond. As dark as the comic sometimes gets, Brit is pure Invincible, complete with its deep character study and surprising humor.
Before Invincible, there was Tech Jacket. The first creator-owned superhero comic book Kirkman did with Image, Tech Jacket later integrated into the rest of the Invincible universe, joining Mark on his mission against the Viltrumite invasion. Drawn by E.J. Su, with colors by Val Staples and Ron Riley, Tech Jacket's first six issues read like a Manga-influenced version of the Iron Man story. High schooler Zack Thompson has his life turned upside down when he gets fatally wounded trying to help a crashed alien. As a final thanks for his good deed, the alien gives Zack a piece of alien technology, a sophisticated piece of machinery that bonds to his body and gives him amazing abilities.
At first glance, Tech Jacket feels like a trial run for Invincible. Both series have high school protagonists and combine mundane, down-to-earth problems with superhero adventures. But as Tech Jacket later joins the Guardians of the Globe and meets up with Mark, he provides a different look at Invincible's life, thanks especially to his good relationship with his dad.
Advertisement – Continue Reading Below
In the Invincible animated show, Mark adores the comic book hero Seance Dog, a Doctor Strange-style canine master of the Mystic Arts. But comic book Mark loves Science Dog, a pooch with the greatest scientific mind on Earth. With their two Science Dog specials, Kirkman and Walker showed readers what all the hubbub is about. Presented as comics that Mark would read in his universe, the Science Dog specials follow the titular hero's early days as a regular pup, invited into a secret lab as a mascot, to his exploits saving the world against inter-dimensional invaders.
Kirkman and Walker tone down the violence of Invincible a little, making Science Dog believable as a comic that Mark would have read as a kid. The colors by Kanila Tripp, Fco Plascencia, Dave Stewart, and Chris Chuckry hearken back to the early days of comics, giving the proceedings a lighter feel and hearkening back to old-school adventure comics.