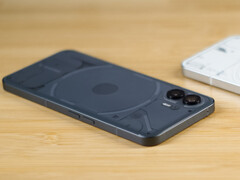 The Nothing Phone (2) is reasonably priced, looks good and has a very bright screen. But is it worth it in view of strong alternatives? We summarize our review for you below.
Florian Schmitt (translated by Jacob Fisher), Published 🇩🇪
The Nothing Phone (1) was intended to make smartphone manufacturers sweat. Indeed, they had every reason to do so, since Carl Pei was one of the founders and he had already shown with OnePlus that high-performance smartphones with a good camera don't have to cost huge sums of money.
The Phone (1) was initially an affordable mid-range smartphone. With the new Phone (2), Nothing is finally taking on the big players. Housing a Qualcomm Snapdragon 8+ Gen 1, the smartphone is lightning fast in our benchmarks and is able to hold its own against many similarly-priced devices. The price of US$769.00 for 12/256 (in Dark Grey and White at amazon.com) is completely acceptable.
Moreover, the Phone (2) has a very bright screen with a brightness of almost 1,000 cd/m² and is even brighter in small areas if desired. The cameras are also solid, but you shouldn't expect a high-end setup with periscope lenses. With a main and wide-angle camera, the Nothing Phone (2) is a little more traditional, but thanks to the fast SoC and modern camera sensor, it takes decent photos, even in low light.
The smartphone was just as convincing in our localization test as in the battery life: the phone lasted more than 15 hours in our Wi-Fi test.
We still haven't mentioned the eye-catching design – the Nothing Phone (2) once again has the Glyph interface under a transparent glass back. In short, there are now more LEDs and numerous new functions. For example, you can see when the Uber driver will reach your location via the LEDs.
We don't really have that much to complain about regarding the Nothing Phone (2): eSIM support and a faster USB port with the option of image transfer are what we would wish for in the next device.
Those wanting to find out more about the Nothing Phone (2) are advised to read our extensive review with its detailed benchmarks, comparison tables and our final rating.
Editor of the original article: Florian Schmitt – Managing Editor Mobile – 1053 articles published on Notebookcheck since 2009
I initially wrote about gaming laptops when I joined Notebookcheck in 2009. I was then involved with the setup of the comparison portal Notebookinfo and worked with social media concepts for large companies like BMW and Adidas, while also returning to work for Notebookcheck in 2012. Nowadays, I focus on smartphones, tablets, and future technologies. Since 2018 I have been Managing Editor for mobile device reviews, working alongside my colleague Daniel Schmidt.
Translator: Jacob Fisher – Translator – 239 articles published on Notebookcheck since 2022
Growing up in regional Australia, I first became acquainted with computers in my early teens after a broken leg from a football (soccer) match temporarily condemned me to a predominately indoor lifestyle. Soon afterwards I was building my own systems. Now I live in Germany, having moved here in 2014, where I study philosophy and anthropology. I am particularly fascinated by how computer technology has fundamentally and dramatically reshaped human culture, and how it continues to do so.
Florian Schmitt, 2023-07-31 (Update: 2023-07-31)