Image: Raspberry Pi Foundation
Holiday cheer is coming early for makers and single-board computer enthusiasts: The Raspberry Pi Foundation just announced the successor to the Raspberry Pi 4, and it looks totally badass.
Arriving at the end of October, the new Raspberry Pi 5 has been unveiled with just two variants named so far: a $60 4GB version, and a $80 8GB option. It's a departure from leading with a $35 model (currently the 1GB Raspberry Pi 4), but given the long history of that entry price, it's not unlikely to see additional variants announced down the road.
Right now, the focus is on power, and it's understandable why. Not only does the Raspberry Pi 5 appear ready to deliver a sizable step up in performance compared to its 2019 predecessor, but its new silicon was designed in-house by the Raspberry Pi team. The specs show tangible upgrades across the board:
2.4GHz Arm Cortex-A76 CPU (quad-core, 64-bit)
VideoCore VII GPU (supports OpenGL ES 3.1, Vulkan 1.2)
Dual 4K60 HDMI output
4K60 HEVC decoder
Dual-band Wi-Fi 5 (802.11ac)
Bluetooth 5.0 / Bluetooth Low Energy (BLE)
High-speed microSD card interface (with SDR104 mode support)
2x USB 3.0 ports (supports simultaneous 5Gbps operation)
2x USB 2.0 ports
Gigabit Ethernet (supports PoE+ with separate PoE+ HAT)
2x 4-lane MIPI camera/display transceivers
PCIe 2.0 x1 interface
Raspberry Pi standard 40-pin GPIO header
Real-time clock
Power button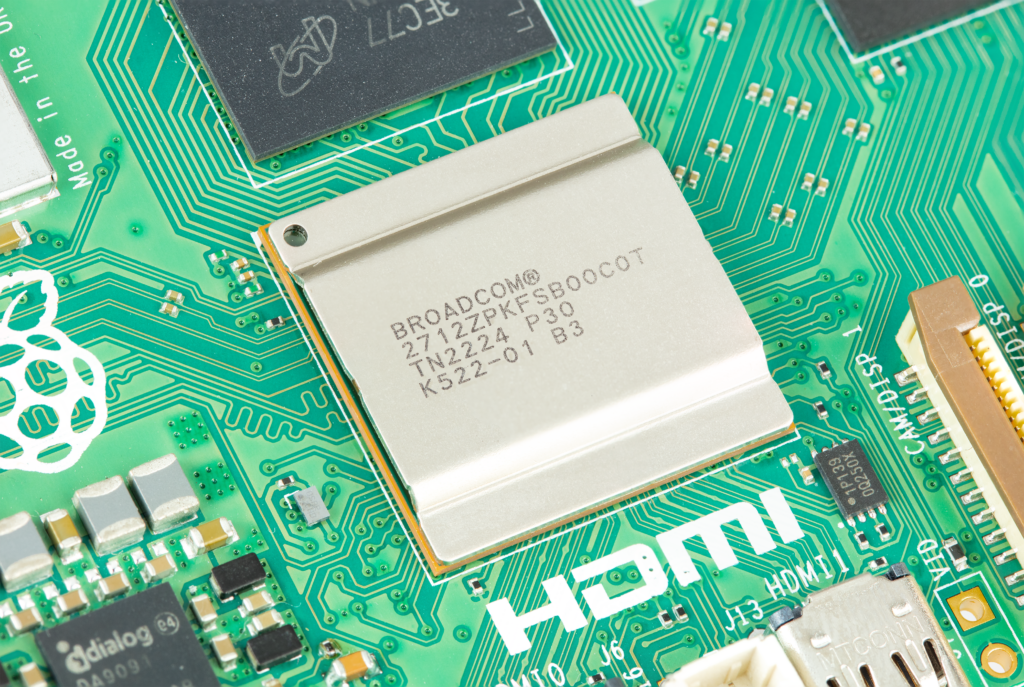 Raspberry Pi Foundation
For hardware nerds there are plenty of details to dig into, like the fact that the application processor (the chip powering the board) sees a die shrink from 28nm in the Raspberry Pi 4 to 16nm in the Raspberry Pi 5. The architecture also moves from a monolithic design to a chiplet design. But overall, the performance boosts can be described by the number 2—for starters, you can expect the Raspberry Pi 5 to be about two to three times faster. Memory bandwidth also doubles, running at 4,267 MT/s versus the RPi 4's effective speed of 2,000 MT/s. And you can drive up to two 4K60 displays, compared to just one 4K60 or two 4K30 displays before.
There are noteworthy practical changes, too. Ex: The board now sports mounting holes for a heatsink, along with connectors for a coin battery to power the real-time clock. And I don't know about other Raspberry Pi fans, but honestly, that power button is as exciting to me as the hardware updates.
(Itching for more info? You can dive into the Raspberry Pi 5 announcement post, which has a full rundown of the board, including a comprehensive technical overview.)
Raspberry Pi Foundation
The Raspberry Pi 5's accessories have gotten souped up, too. The official case now includes an integrated fan, and it's also been tweaked to allow insertion of the board without having to first take out the SD card. Oh, and you can more easily stack other cases or add-on boards (formally known as HATs, or "hardware attached on top") by removing the lid. It will run you more—$10 versus the Raspberry Pi 4's $5 case—but you definitely get something for the money.
You can also now buy an active cooler for the RPi 5's chip, which is both an adorable and affordable addition to the board—at just $5, it's the same price as a set of passive heatsinks. And you're likely going to need it if you push your board. Though it generally consumes less power and is more efficient, the Raspberry Pi 5's application processor hits higher peaks when pushed to its limits (about 12 watts, compared to the RPi 4's 8W).
Speaking of—if you have an older Raspberry Pi power supply, you'll likely want to upgrade to the new $12 27W (5V, 5A) power supply. The previous 15W (5V, 3A) model won't cut it, as the current fed to the USB ports will drop down to 600mA. The 27W version allows the USB current to reach 1.6A, plus provide an additional 5W of power to the board…which you can use for overclocking.
Yes, overclocking.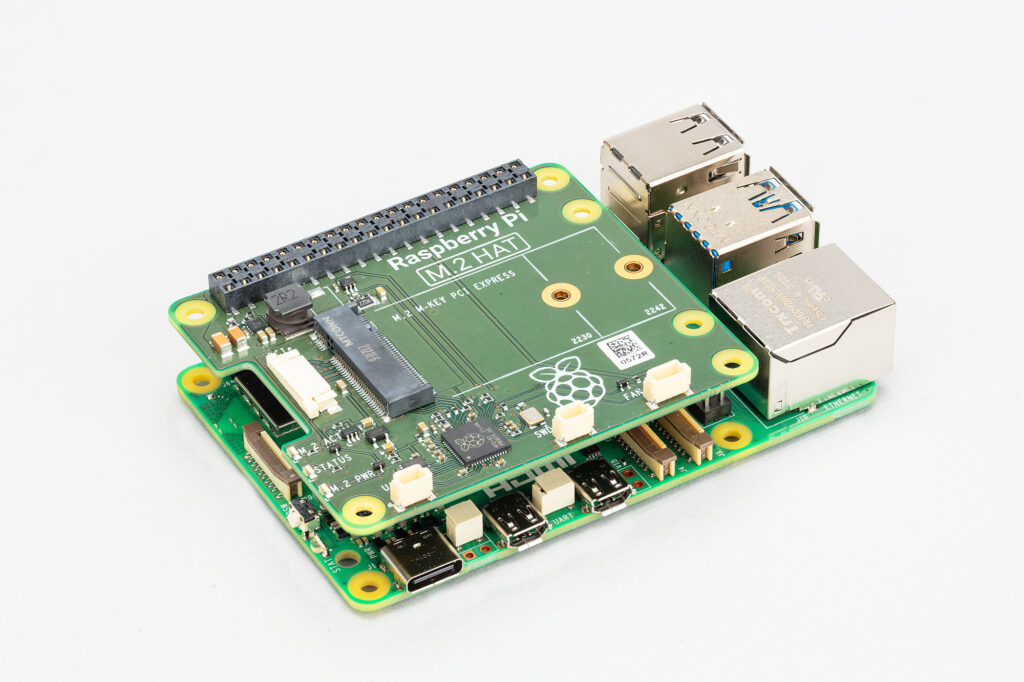 Raspberry Pi Foundation
Also, did you think we were done yet? Not quite. Because there are new HATs coming, too, and the best of the bunch (in my humble opinion) is the M.2 HAT that enables the use of an NMVe SSD (or any M.2 module).
Truly, if you didn't catch the theme, the Raspberry Pi 5 is leaning hard into high-octane mini-computing. And the good news is the Raspberry Pi Foundation is going to sell first to individuals through the end of the year, as a thank you for being patient with RPi 4 supply issues. (Update: Some retailers have already begun offering pre-orders for the Raspberry Pi 5. If you're in the US, head over to Sparkfun or PiShop.us; UK enthusiasts can hit up The Pi Hut and Pimoroni.) Print subscribers to The MagPi and HackSpace magazines get priority access, too, via a single-use code.
Honestly, I can't wait—and to whet our appetites, a new official first-party operating system will be launching ahead of the Raspberry Pi 5 in mid-October. Called Raspberry Pi OS, it's based on the Linux Debian distro, as well as the Raspbian derivative that's existed for years. The newest Raspberry Pi is heralding a glow-up of epic proportions.
Alaina Yee is PCWorld's resident bargain hunter—when she's not covering software, PC building, and more, she's scouring for the best tech deals. Previously her work has appeared in PC Gamer, IGN, Maximum PC, and Official Xbox Magazine. You can find her on Twitter at @morphingball.