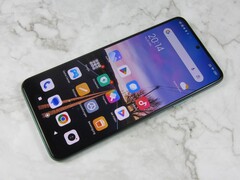 The goal that Xiaomi is pursuing with its Redmi Note series can be summed up as follows: to offer every user the right mid-range smartphone. Accordingly, there are a number Redmi Notes to choose from, making it rather difficult to tell the models apart. Our little overview should help you to find the right Redmi Note.
Manuel Masiero (translated by Jacob Fisher), Published 🇩🇪
There are four models to choose from in Xiaomi's current Redmi Note 12 lineup. These are the Redmi Note 12, Redmi Note 12 5G, Redmi Note 12 Pro 5G and top model Redmi Note 12 Pro+ 5G, sorted in ascending order of price and performance. Prices start at around US$200 for the Redmi Note 12, the only Redmi Note smartphone without 5G, while the Redmi Note 12 Pro+ 5G starts at around US$500. The older and therefore somewhat cheaper smartphones of the Redmi Note 11 series remain interesting, as they are in no way inferior to their successors in terms of equipment and performance.
Equipment: AMOLED display with 120 Hz in all models
The current Redmi Note 12 generation have AMOLED displays installed, which offer a refresh rate of 120 Hz in all four models. A fingerprint sensor integrated in the power button and IP53 certification are also found in each model. The latter thus provides the Redmi Notes with protection against dust and splash water. The devices are also similar in terms of memory configuration, since LPDDR4X RAM and UFS 2.2 storage are used throughout. The Redmi Note 12 has up to 4/128 GB, while the Redmi Note 12 Pro+ 5G has up to 8/128 GB on board.
Redmi Note 12 vs Redmi Note 12 5G: the 5G model is better for gaming
If you can do without 5G, you'll get a good mid-range smartphone in the Redmi Note 12, which scores with good features typical for the Redmi series. The Redmi Note 12 5G costs around US$50 more and, in addition to 5G, also comes with the Snapdragon 4 Gen 1 and thus the slightly faster SoC. As our review shows, the cheapest 5G phone from the Redmi Note 12 series is also much better for gaming than the smallest version. PUBG Mobile, for example, runs smoothly at an almost constant 60 FPS in HD/High settings.
The two Pro models: better cameras with up to 200 MP
The Pro models, namely the Redmi Note 12 Pro 5G and Redmi Note 12 Pro+ 5G, are particularly interesting for buyers who need a smartphone with a good camera sensor. In the Redmi Note 12 Pro 5G, the 50 MP Sony IMX766 assumes this task, while the Redmi Note 12 Pro+ 5G has the 200 MP Samsung HPX. In contrast to the Redmi Note 12 and the Redmi Note 12 5G, both Pro models come with an even faster SoC in the form of the MediaTek Dimensity 1080 and also go a step further in terms of equipment, such as WiFi 6 instead of WiFi 5 and fast charging with up to 120 watts.
My fascination for computers started with the C64. Since then, I've put everything that comes my way in terms of hardware through its paces. From the C64 to the Amiga 500 and the first PC with an 8088 CPU, my list of projects has grown increasingly longer. For more than 20 years now I have also turned my hobby into my profession and have been active in the mobile section of Notebookcheck since 2021. Before that, I worked as a hardware editor for IDG Media (tecChannel.de) and VNU Business Publications (PC professional), among others.
Translator: Jacob Fisher – Translator – 216 articles published on Notebookcheck since 2022
Growing up in regional Australia, I first became acquainted with computers in my early teens after a broken leg from a football (soccer) match temporarily condemned me to a predominately indoor lifestyle. Soon afterwards I was building my own systems. Now I live in Germany, having moved here in 2014, where I study philosophy and anthropology. I am particularly fascinated by how computer technology has fundamentally and dramatically reshaped human culture, and how it continues to do so.