Whether you're just starting or an experienced maker, investing in a combo tool kit is a smart and affordable way to equip your workshop or garage. If you're in the market for new tools, now is a great time to consider upgrading your collection; Lowe's is offering 25 percent off the Craftsman 8-Tool Combo Kit.
Craftsman V20 8-Tool Max Power Tool Combo Kit with Soft Case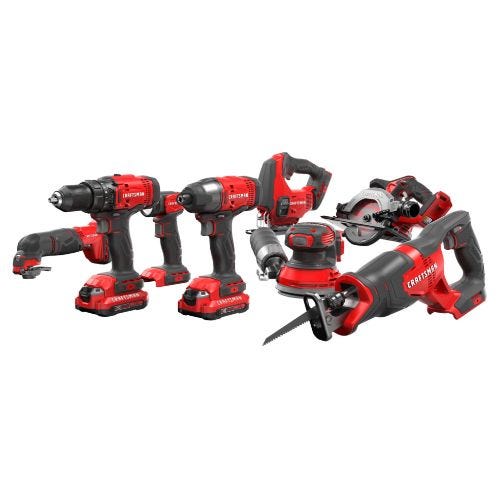 Craftsman V20 8-Tool Max Power Tool Combo Kit with Soft Case
Now 25% Off
This comprehensive combo kit includes all the essential tools you'll need to confidently take on many projects. It features a ½-inch drill/driver, a ¼-inch impact driver, a reciprocating saw, an oscillating tool, a 5 3⁄8 circular saw, a jig saw, a 5-inch random orbit sander, and a task light. The kit also comes with two 20-volt, 2.0 amp-hour batteries, storage bags, and various accessories. That would all run you over $800 if you bought everything separately. With Craftsman's V20 platform, the power tools in this kit can share the same batteries, making it a wise investment for any DIY enthusiast.
One of the most essential tools is the cordless drill, and Craftsman makes some of the best. The ½-inch drill-driver in this combo kit features a two-speed gearbox and built-in LED to improve visibility. The ¼-inch impact driver delivers 1,460 inch-pounds of torque for heavy-duty tasks, while the reciprocating saw runs at 3,000 strokes per minute, allowing you to quickly churn through wood, metal, and plastic.
A circular saw is another vital tool for DIY projects and the one in this toolkit is an excellent option for fast and accurate cutting. As with Craftsman's cordless drill, the brand makes saws among the best for breaking down big pieces of hardwood.
Discounted $100, this toolkit is a great offer that will equip you for future projects and save you money for leisure time in between.
Shop Craftsman 8-Tool Combo Kit

Brandon Russell is a freelance writer covering gear and technology. He started his journey as a news writer at a small newspaper and later began reviewing smartphones, movies, and video games. In his free time, he enjoys the slower, more intentional experience of using a 35mm film camera and making short videos about movies he grew up watching.