The unexpected start of Mission: Impossible—Dead Reckoning Part One is an electric-powered Fiat 500.
The seventh film in the Mission: Impossible franchise opens on July 12. Here's a teaser showing the behind-the-scenes filming of the car chases.
The unusual hero car is a vintage Fiat 500, built specially with electric power to be faster and wilder, and it's shot for visceral thrills with real, practical stunts rather than CGI effects.
Opening next month, Mission: Impossible—Dead Reckoning Part One looks to replicate the box office success of Top Gun: Maverick. Top Gun was all about real stunts over CGI, and this latest entrant in Tom Cruise's long-running thriller series looks to also have genuine vehicular carnage. The latest teaser goes behind the scenes of the centerpiece car chase set in Rome, and it also shines a light on the unlikely hero car: a cheeky little vintage Fiat 500.
Powered by a two-cylinder engine that never got a displacement bigger than a bottle of wine, even in the hottest Abarth-tuned models, the average 500 moves slower than a four-course Italian lunch. But in the world of Mission: Impossible, there's a trick up every sleeve. We first encounter the little yellow Fiat parked up beside a gray Ferrari F12 TdF. Having ditched a battered 5-series, Tom Cruise and Haley Atwell—handcuffed together for greater drama—head straight for the Ferrari as a potential getaway car. Ah, but wait, here comes the Fiat.
Gone is the clattery two-cylinder engine, and based on the whir of acceleration, it seems to be powered by an electric motor. Judging by the tire-roasting antics as the Fiat 500 drifts over the cobblestones of Rome, there's significantly more power on tap here. The thing sounds like an enraged hand blender and goes like a wasp. In the teaser, Cruise describes the 500 as "wild."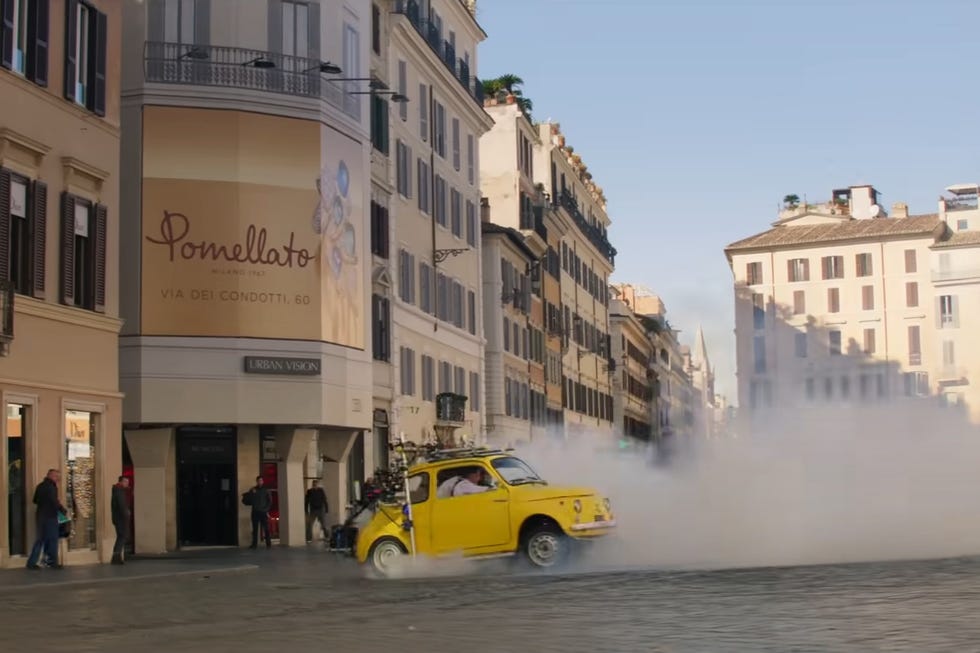 Paramount Pictures//Car and Driver
It's not the first time a Fiat 500 has starred in a wild car chase. We see the choice of the 500 as a nod to one of the best animated car chases of all time. The 1979 film The Castle of Cagliostro marked the directorial debut of Japanese animator Hayao Miyazaki, who would go on to co-found Studio Ghibli. Notable for films like Spirited Away and My Neighbor Totoro, Miyazaki is as beloved in Japan as Disney is here.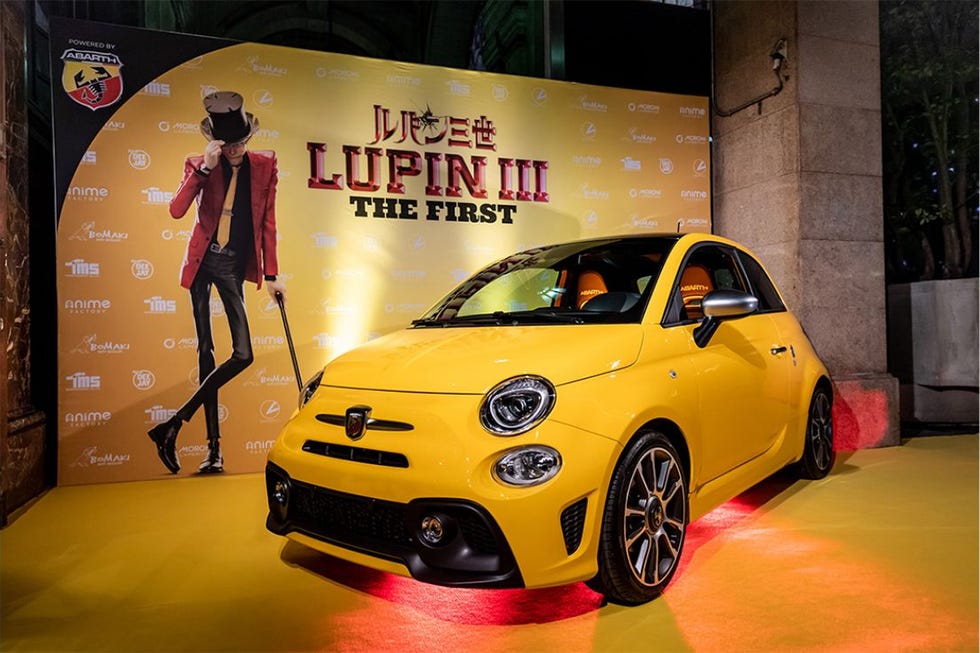 Stellantis//Car and Driver
The central character in Cagliostro is the rascally master thief Arsène Lupin III, grandson of the character originally created by a French writer in 1905. Miyazaki dials down the original menace of Lupin by plonking him in a yellow Fiat 500, which he uses to chase down the bad guys.
The pairing was so successful that Fiat actually made a series of Lupin-themed modern Fiat 500s, including a 165-hp Abarth 595. Appearing together in some 20 movies, Lupin III and his yellow Fiat are inseparably linked.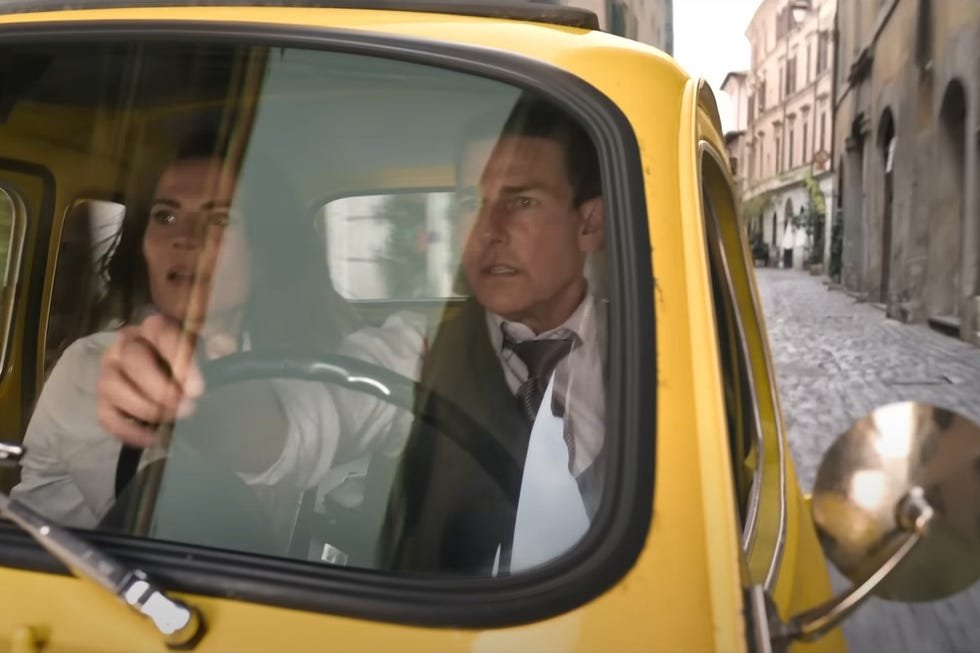 Paramount Pictures//Car and Driver
Back in Rome, with one wrist handcuffed, Cruise has to one-hand-drift the car around corners in non-animated real life. Director Christopher McQuarrie, who collaborated with Cruise on both previous Mission: Impossible movies and Top Gun: Maverick, says in the trailer, "Everything we shot is completely practical."
"We built this Fiat 500 so that it would be faster—some would even say the car is possessed."
And it is, possessed by the spirit of a beloved anime anti-hero. Mission: Impossible—Dead Reckoning Part One opens July 12. If it can manage to be Top Gun: Fiat 500, it'll be a smash hit.

Contributing Editor
Brendan McAleer is a freelance writer and photographer based in North Vancouver, B.C., Canada. He grew up splitting his knuckles on British automobiles, came of age in the golden era of Japanese sport-compact performance, and began writing about cars and people in 2008. His particular interest is the intersection between humanity and machinery, whether it is the racing career of Walter Cronkite or Japanese animator Hayao Miyazaki's half-century obsession with the Citroën 2CV. He has taught both of his young daughters how to shift a manual transmission and is grateful for the excuse they provide to be perpetually buying Hot Wheels.