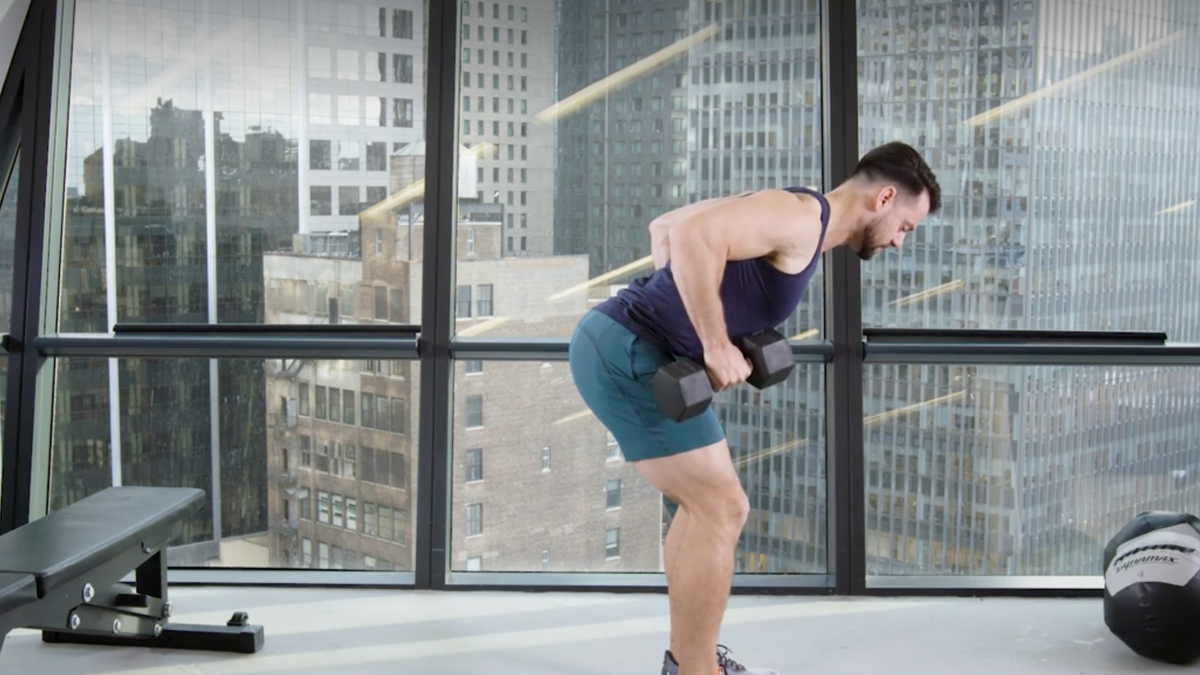 YOU WON'T ALWAYS have all day to work out. You still probably have fitness goals you're aiming to achieve, though—so how can you go about building muscle and strength on a limited schedule?
Quick-hitting, super effective protocols like this upper body AMRAP workout from trainer Mat Forzaglia, NFPT-CPT can be the key. This type of session is representative of the programming Forzaglia designed for his new Men's Health MVP Premium training plan, All Out Studio's 20-Minute Muscle: Volume 2.
The AMRAP protocol is simple. The acronym is more than just a fun slogan—it means "As Many Reps As Possible." You'll set a timer, and gut through as many rounds of the prescribed movements as you can with good form. In this case, you're adding a superset into the mix, and stacking one exercise back-to-back with the other with little to no rest for maximum efficiency.
You'll perform a high volume of movements in a short amount of time, and all you'll need is a pair of dumbbells and a timer. You'll pump your chest, shoulders, and back, giving your upper body a balanced challenge.
The Upper Body AMRAP Pump
2 minute AMRAP
Pushup
3 reps
Bent-Over Dumbbell Row
5 reps
If you have more than just the two minutes, Forzaglia recommends taking a quick one minute breather, then attacking another set. Want to up the ante? Track the number or rounds you finish the first time, then try to beat it on the second go-around. Just make sure that you keep your form picture perfect throughout.
You'll find fast-moving routines like this—and a whole lot more—with the Men's Health MVP Premium membership.

Brett Williams, a fitness editor at Men's Health, is a NASM-CPT certified trainer and former pro football player and tech reporter who splits his workout time between strength and conditioning training, martial arts, and running. You can find his work elsewhere at Mashable, Thrillist, and other outlets.
Advertisement – Continue Reading Below
Advertisement – Continue Reading Below