In a recent social media post, a Twitter user accused actor Hugh Jackman of being a hypocrite for endorsing Bill Gates' new book on climate change while owning a private jet and a super yacht. However, the user was not prepared for the swift and fiery response they received from an unexpected source.
A world champion boxer stepped in to defend Jackman and put the Twitter user in their place. The exchange has garnered attention not just for celebrity involvement, but also for the way it highlights the problem of online criticism and the impact it can have on individuals.
'The Tartan Tornado' Defends Hugh Jackman from Critic
ADVERTISEMENT
Article continues below this ad
Twitter user Bernie's Tweets recently took a shot at Australian actor Hugh Jackman for his public support of Bill Gates' book on climate change. Bernie's Tweets accused Jackman of hypocrisy, citing his ownership of a private jet and super yacht, and suggesting that he was simply trying to clear his conscience.
HYPOCRISY – Private Jet owning, super yacht sailing Hugh Jackman pushes Gates Climate change science.

To clear his conscience, obvs.

We see you Hugh.

— Bernie's Tweets (@BernieSpofforth) March 19, 2023
In the same thread, Josh Taylor defended Hugh Jackman and told the Twitter user to "get to f*ck."
The exchange continued when another user, Jonny Birks, accused Taylor of being a hypocrite himself, "Hypocrisy indeed! Just like you calling yourself undisputed champion when you only have one belt and you clearly lost to Jack Catterall anyway."
And you've what with your life? Wanking in your mums attic criticising others from your couch. What a fat sad waste of life.

— Josh Taylor (@JoshTaylorBoxer) March 19, 2023
ADVERTISEMENT
Article continues below this ad
Josh fired back, questioning what Jonny had achieved in his life and calling him out and saying "you've what with your life? W*nking in your mums attic criticizing others from your couch. What a fat sad waste of life." It was a heated exchange that quickly gained attention on social media.
DIVE DEEPER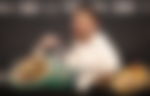 Undoubtedly, a commendable feat is observed in Hugh Jackman's utilization of his expansive platform to raise awareness about the pressing issue of climate change, despite the choices that pertain to his personal lifestyle.
ADVERTISEMENT
Article continues below this ad
The incident highlights the ongoing debate surrounding climate change and the role of celebrities in advocating for climate action. While some criticize celebrities for promoting climate change initiatives while simultaneously leading lavish lifestyles, others argue that it's important to use their platform and influence to raise awareness about the issue. In this case, Josh Taylor's defense of Hugh Jackman and criticism of Bernie's Tweets highlights the importance of using social media responsibly and respectfully, even when sharing differing opinions.
Watch This Story: Was Hugh Jackman Natty When He Got Insanely Ripped for Wolverine?