Josh Dobbs' Vikings debut was nothing short of incredible.
Dobbs led a game-winning drive to seal an unlikely victory after arriving in Minnesota just days prior. On Wednesday it was announced Dobbs won NFC Offensive Player of the Week after throwing for 158 yards, two touchdowns and zero interceptions while running for a career-high 66 yards and a touchdown.
But what head coach Kevin O'Connell did deserves as much praise, if not more.
I'm not sure the Vikings win that game if they don't have a former quarterback at head coach. Dobbs said afterward that O'Connell was translating plays in real time for him, going so far as to tell him the checks based on what the defense was doing because O'Connell can see the game like a quarterback.
"It was like Madden," Dobbs said on his Torchbearers Podcast.
"My job in that moment is to eliminate the chaos," said O'Connell after the game. "It is going to be a very chaotic situation, no matter how you want it to go. So my job in that moment is to provide as much clarity for not only our players but our staff."
Very few people on the planet can bridge the gap between player and coach in the NFL. O'Connell did it in real time — and seamlessly. If the Vikings finish with a wild-card berth, it'd be hard to make a case against O'Connell for Coach of the Year.
"Kevin O'Connell did one heck of a job during that game," offensive Coordinator Wes Phillips said this week. "A situation like that is not easy."
Minnesota was faced with the worst possible scenario just a week ago. Quarterback Kirk Cousins, playing some of the best football of his career, suffered an Achilles tear in the Vikings' win over the Green Bay Packers. It threw the surging Vikings into a tailspin and with backup quarterback Nick Mullens on IR, fifth-round rookie Jaren Hall was scheduled to start against the Falcons as the only quarterback on the 53-man roster. Then the team made a move right before the trade deadline and acquired Josh Dobbs from Arizona for a late-round pick-swap. The low-risk move may end up saving their playoff hopes.
[Auman: Joshua Dobbs rallies Vikings to improbable win over Falcons days after joining team]
The process for getting Dobbs up to speed would have to be a quick one, but even Minnesota didn't want to throw him into the fire that quickly. Usually, the player will spend hours scouring the playbook. He'll then focus on that week's game plan during meetings. He'll get on the practice field and start explaining his ticks and tricks to his line, his receivers and his running backs. Coaches will build a plan that helps ease him in as much as they can afford. 
The Vikings weren't going to have time to do all that with Dobbs before Sunday's game in Atlanta. And besides, they wanted to see if the chance they took on Hall would pay off.
So Minnesota went ahead with their plan to start Hall last Sunday. However, with less than three minutes left in the first quarter, disaster struck again. Hall suffered a concussion and was ruled out for the remainder of the game. The Vikings were forced to play Dobbs with virtually no preparation. He had never thrown a pass to a Vikings receiver. The offensive line had never heard his cadence. Dobbs didn't know the playbook language or any of the calls.
O'Connell stepped up alongside his players.
"It was great that Kevin played quarterback," Dobbs said. "He obviously knows what I'm going through, so he's able to communicate effectively like, 'Hey, this what you're looking at. This is what you have on this side of the [field]. This is what you have on that side of the [field].' He's able to talk in lingos that I come from to be able to simplify it for me."
Keep in mind, O'Connell doesn't have the benefit of an end-zone view or even a birds-eye view. In addition to managing the game, he was now having to identify pressure looks and Mike linebacker points from the sideline. It helps to be 6-foot-5.
Dobbs will have the benefit of a full week of preparation going into the Vikings' next game against the Saints this weekend. He also can rely on a defense that has found their footing under defensive coordinator Brian Flores. Maybe Dobbs will even have learned his teammates' full names. 
With the benefit of O'Connell as his coach, things will be easy on Dobbs from a team perspective and for much of the rest of the season. Minnesota plays the Denver Broncos and Chicago Bears before getting their bye in Week 13. Those are all winnable games that can cushion the Vikings' record. It's conceivable they have eight wins before the bye. They then have to face the Raiders, Bengals, Packers and Lions twice. Nine wins could potentially secure a Wildcard spot in the NFC.
Incredibly, the Vikings aren't out of it — thanks in large part to their coach.
Carmen Vitali covers the NFC North for FOX Sports. Carmen had previous stops with The Draft Network and the Tampa Bay Buccaneers. She spent six seasons with the Bucs, including 2020, which added the title of Super Bowl Champion (and boat-parade participant) to her résumé. You can follow Carmen on Twitter at @CarmieV.
---
MINNESOTA VIKINGS trending
---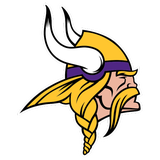 Get more from Minnesota Vikings Follow your favorites to get information about games, news and more
---