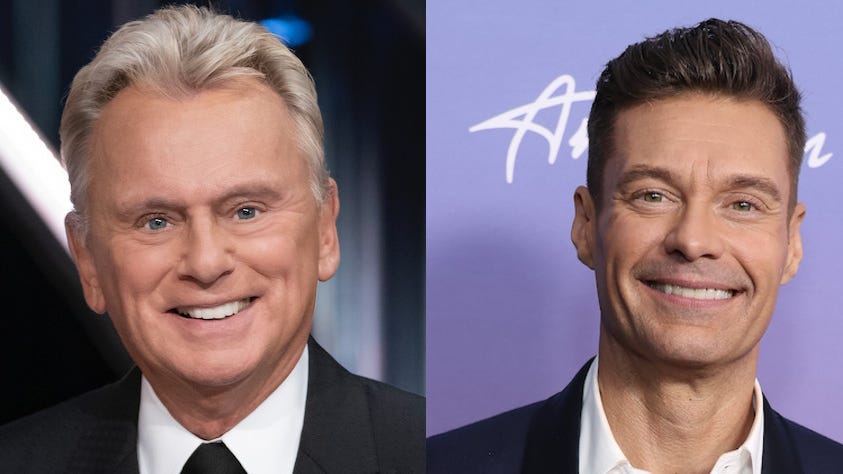 It's officially the end of an era, Wheel of Fortune fans. After more than 40 years of hosting the game show, Pat Sajak announced that he plans to retire at the end of the 2023-2024 season next summer.
The TV personality delivered the news on June 12 on Twitter, leaving many viewers emotional over him leaving the long-running series. What's more, his co-star Vanna White paid tribute to Pat's dedication to Wheel of Fortune since his 1981 debut. But as the veteran host gets ready to step down from the role, folks have a lot of thoughts about the show's future. Mainly, they want to know who will replace him as the host of Wheel of Fortune.
Although there were several names tossed around for the job, an official replacement for Pat has been announced.
Who will replace Pat Sajak as Wheel of Fortune host?
On June 27, Ryan Seacrest revealed that he will be taking over for Pat. In an Instagram post featuring a photo of the game show's iconic wheel, Ryan shared a heartfelt message about what the historic news.
"I'm truly humbled to be stepping into the footsteps of the legendary Pat Sajak," he wrote. "I can say, along with the rest of America, that it's been a privilege and pure joy to watch Pat and Vanna on our television screens for an unprecedented 40 years, making us smile every night and feel right at home with them."
"Pat, I love the way you've always celebrated the contestants and made viewers at home feel at ease. I look forward to learning everything I can from you during this transition," Ryan added.
He continued: "Many people probably don't know this but one of my first jobs was hosting a little game show called 'Click' for Merv Griffin 25 years ago, so this is truly a full circle moment for me and I'm grateful to Sony for the opportunity. I can't wait to continue the tradition of spinning the wheel and working alongside the great Vanna White."
Before Ryan was announced as Pat's replacement, multiple reports indicated that he was the frontrunner for the Wheel of Fortune gig. With more than two decades of hosting experience on American Idol, his former Live co-star Kelly Ripa had no doubt that he would be fit for the job.
She told Access Hollywood that it not only "makes perfect sense" for him to host, but she "could see him sliding in there."
Among the other names being floated around for the role was Tom Bergeron, but the Dancing With the Stars alum didn't hesitate to throw his support behind Ryan.
"Are you getting in shape to spin the Wheel of Fortune? You'd be great for that job. 😊," one person wrote in his Instagram comments. "I'm hearing @ryanseacrest is in line for that one. Which is good 'cause the kid needs the work… 😉," Tom quipped.
As for Pat, despite his journey on camera coming to an end soon, it doesn't mean he will be leaving the show entirely. According to Deadline, he'll stay on as a consultant for three years following his final episode, which will probably air in June 2024 if the show follows its usual schedule.
As Suzanne Prete, EVP Game Shows at Sony Pictures Television, said in an official statement: "Pat has agreed to continue as a consultant on the show for three years following his last year hosting … We're thrilled to have him remaining close to the Wheel of Fortune family."
Editorial Assistant
As the entertainment and news editorial assistant for Good Housekeeping, Adrianna (she/her) writes about everything TV, movies, music and pop culture. She graduated from Yeshiva University with a B.A. in journalism and a minor in business management. She covers shows like The Rookie, 9-1-1 and Grey's Anatomy, though when she's not watching the latest show on Netflix, she's taking martial arts or drinking way too much coffee.

Entertainment & News Editor
Selena is the entertainment and news editor for Good Housekeeping, where she covers the latest on TV, movies and celebrities. In addition to writing and editing entertainment news, she also spotlights the Hispanic and Latinx community through her work. She is a graduate of CUNY Hunter College with a B.A. in journalism and creative writing.