The following story contains slight spoilers for Barbie.
---
BY NOW, ANYONE who's seen Greta Gerwig's Barbie knows that it's far more than your typical movie based on a toy. No offense to Transformers: Rise of the Beasts, but typically this is a subgenre where what you see is what you get; when you hire a filmmaker like Gerwig (whose last two films, Lady Bird and Little Women, both earned Oscar nominations), digging a bit deeper comes with the price of admission. While Barbie isn't an earth-shattering epic character study like its "Barbenheimer" co-headliner, it nonetheless tells an important story for our modern times: a satirical comedy adventure about how women and men fit together (and sometimes don't) in modern society.
The movie's main conflict comes when the Kens of Barbieland—led by one played with miraculous commitment by Ryan Gosling—learn how the "real world" operates, before brainwashing the Barbies, installing a patriarchy and spreading the gospel of horses, Sylvester Stallone, and Zack Snyder's Justice League.
But its essential to note that the simplistic-minded Kens aren't the only men in Barbie. Jump over to the real world, and there's a room full of Mattel toy executives led by a nameless CEO played by Will Ferrell. America Ferrara's Gloria also has a husband (played by her own real-life husband) eagerly teaching himself to speak Spanish. And then there's Allan.
Allan, played by the perpetually awkward (and perpetually delightful) Michael Cera, resides in Barbieland alongside the Barbies and the Kens. Helen Mirren tells us early on in narration that while there are all these different Barbies and Kens, there's only one Allan ("I'm still pretty confused about that," he says in response). Gerwig makes it clear early on: if Barbies think one way, and Kens think another way, then Allan—the one and only Allan—has his own way of thinking too.
His character and POV prove vital to both the movie itself and the message it's sending. When the Kens attempt their takeover of Barbieland—planning to turn it into the "Kendom"—Allan is visually disturbed by the changes that have been implemented. And when Barbie (Robbie), Gloria, and Sasha (Ariana Greenblatt) try to leave the increasingly-demented Barbieland, Allan reveals that he's snuck along for the ride; he wants to get out of there just as badly as they do. He's Ken's best friend (the company line is that all of Ken's clothes fit him), but the Kens acting like stereotypically entitled jerks makes him sick.
Gerwig is using Allan to make an important point: not every dude out there is a Ken. Some dudes do, in fact, get it. They understand that you don't have to be a macho-brained show-off in a male-dominated world to have an OK time. And Cera's awkward charm that evolves into a perturbed annoyance is the perfect depiction in his handful of scenes.
Michael Cera plays Allan in Barbie.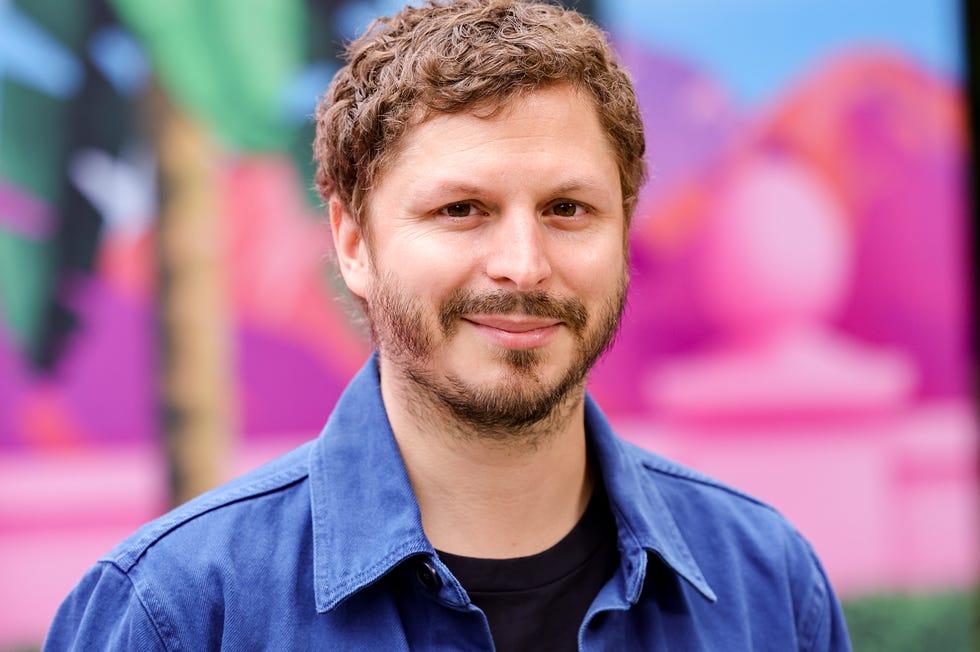 Matt Winkelmeyer//Getty Images
While Gerwig (and her co-writer Noah Baumbach) write Allan in a way that really serves the movie well, we have to also give some major credit for just how well this supporting character worked to actor Michael Cera, who may have just given his best performance since his 2007 breakout in Superbad in Barbie.
Everyone knows that Cera's signature is his awkward, lovable charm; he first displayed it in Arrested Development, and roles in Superbad and Juno etched it into the public's memory. If you're looking for a lovable dude who can never quite say the right thing, Michael Cera is the pick.
While he's generally played roles along those same lines through the years, he's also had some success playing against type. Edgar Wright's Scott Pilgrim vs. the World cast him as the titular character, an early 20s dude whose essentially become a womanizer who treats the women in his life as objects without even realizing it. The movie is super inventive and fun, and Cera's flawed protagonist helps to make it something not like many other offerings out there. He also played a truly deranged version of himself in Seth Rogen and Evan Goldberg's apocalyptic satire This Is The End, which is just an absurd and daring role that he totally knocked out of the park.
But with Allan, Gerwig takes the awkward charm that Cera is known for and uses it to really brilliant effect. By putting it next to the macho posturing display that Kens played by Gosling, Simu Liu put on throughout the film, his quiet style pops even more. Why be a Ken when you can be an Allan?
It was reported recently that Cera only landed the role after Jonathan Groff (Mindhunter, Knock at the Cabin) had to drop out; ultimately, we'd say the right guy got the part.
Is Allan a real Barbie doll/Mattel toy?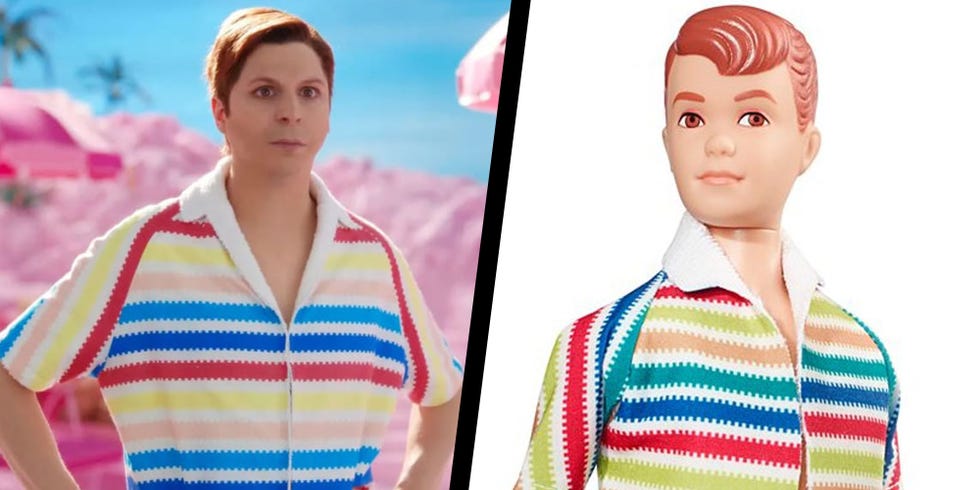 Warner Bros./Mattel
Allan is, indeed, a real Mattel toy. Allan was named after Ruth Handler's son-in-law, and was introduced in 1964 (after Barbie in 1959 and Ken in 1961) as Ken's best friend—who could also fit into all of his clothes. Everyone loves versatile toys! Unfortunately Allan only lasted a few years on the shelves his first go-around before being discontinued by Mattel. But he would return multiple times, of course.
Barbie Barbie The Movie – Hi Allan Premium T-Shirt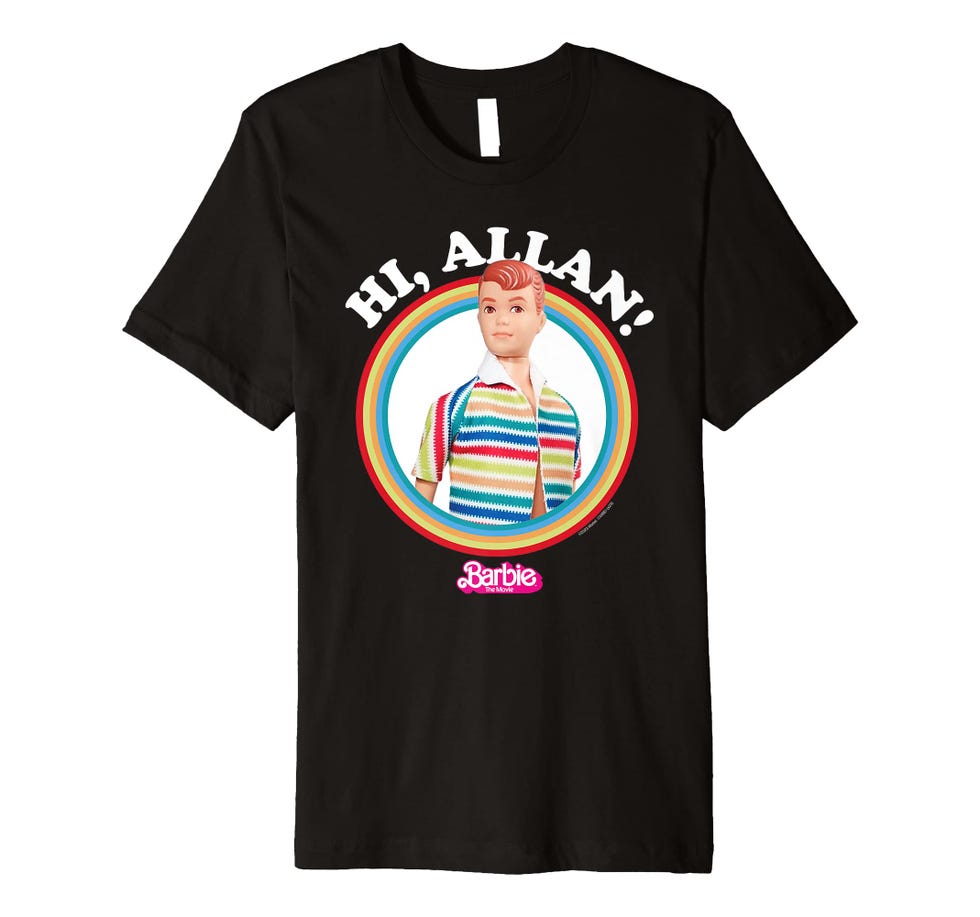 Barbie Barbie The Movie – Hi Allan Premium T-Shirt
Interestingly enough for anyone who's seen the Barbie movie but doesn't usually get this deep into Barbie lore: Allan (sometimes just spelled as 'Alan,' reason for change/inconsistency unknown) is actually married to Midge, Barbie's pregnant friend (whom Barbie made the point of noting was discontinued, actually). They don't share a single scene together (outside of the "Dance the Night" dance scene) in the movie, so we'd never know if not for some hard-hitting research.
Allan has returned to shelves everywhere throughout the years, usually for some kind of family-related endeavor with Midge (which usually manages to stir up controversy and end with another discontinuation). And while there's no Allan available widely right now, we'd assume that after Mr. Cera made him such a popular commodity, it won't be long until Allans are all over the shelves—even if there's still only one of him.

Evan is the culture editor for Men's Health, with bylines in The New York Times, MTV News, Brooklyn Magazine, and VICE. He loves weird movies, watches too much TV, and listens to music more often than he doesn't.